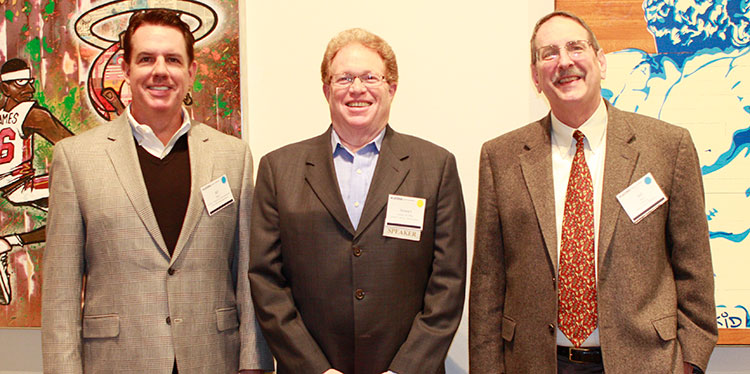 Marketing Alumni Event Makes an Impact on Students
On March 25, UConn marketing faculty, alumni, students, and professionals gathered in the Benton Art Museum for the annual Marketing Student and Alumni Networking Event to exchange ideas, experiences, and advice. Surrounded by a Husky Basketball exhibit, "In the Paint: Basketball in Contemporary Art," delicious food, and good company, all attendees enjoyed conversation about careers, school, and the terrible spring weather. This event strengthens relationships between all involved, and provides students the opportunity to build relationships at UConn and beyond.
Keynote speaker Stewart Lander, class of 1980, challenged the group with the line: "If you skipped class, took off work, or stayed out instead of going home, would you be missed?" In essence, what sets you apart from others? Stewart stressed the importance of finding your passion, building quality and lasting relationships, pursuing lifelong learning, and providing service to those around you.
Lander, who earned his master's degree from UConn, has more than 30 years of experience in selling and leading large sales teams in the financial services industry. Named the 2013-2014 Outstanding Alumnus by the Marketing Department, his involvement in the school and community reflects the foundation of his speech. His words resonated with both professionals and faculty, who have experienced the truth of his words, and with the students, who look to follow the framework as they enter new careers.
About the event, Lander noted that, "the networking events give me a chance to interact with students and hear their enthusiasm regarding their vision for their futures. Alumni have much to offer these students, and want to assist students, just as they were helped when they were students."
Senior marketing student Paige Gregory agrees: "Networking is incredibly valuable, but it can also be somewhat stressful. Networking with UConn alum, however, takes off some of the additional pressure. These are people who have, quite literally, walked in our shoes and are eager to help in whatever way they can."