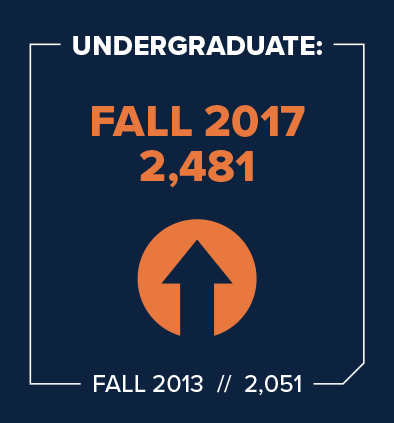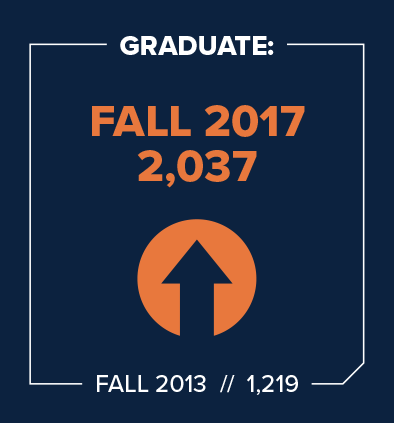 Student Enrollment
Not only has undergraduate enrollment in business programs grown by 21% over the last five years, but the profile of each entering class has become more competitive as well.
During the same period of time, graduate student enrollment increased by 67%, driven in large part by new master's degrees in financial risk management, business analytics & project management, and human resource management.
Faculty
The School's faculty offer a wealth of academic and business experience to students and the business community.
Over 96% of them have earned a Ph.D. or the highest degree in their field, and all are actively involved in scholarly activities including authoring books, college textbooks, articles, conference papers, and original research projects; business, government and industrial consulting; and sponsored research for academic programs.
Such scholarly activities enable faculty to stay current in and contribute to their fields of knowledge, as well as to bring a balanced perspective between theory and practice into the classroom.
To help meet the teaching needs of unprecedented enrollment growth in recent years, the business school faculty grew by 13% between 2013 and 2017.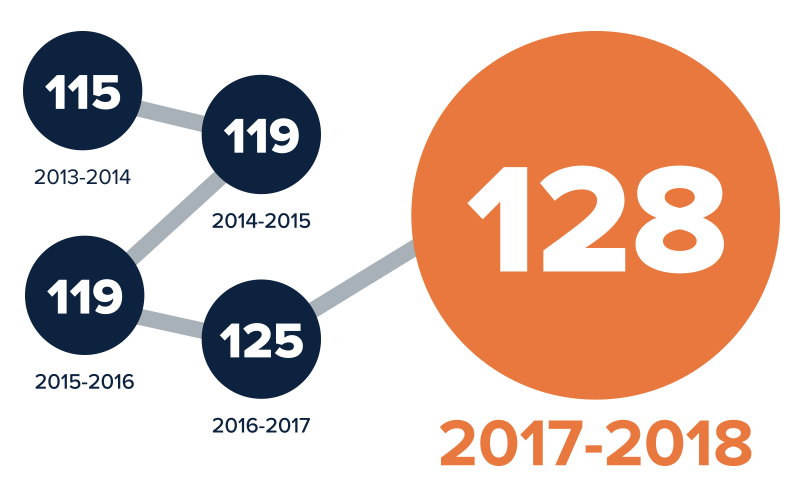 Placement
Over the last five years, both undergraduate and full-time MBA students saw overall increases in average compensation.
Top Employers
IBM
Aetna
Cigna
Hartford Financial
Covidien
Pitney Bowes
Walmart
SS&C Technologies
GE
Northeast Utilities
NASDAQ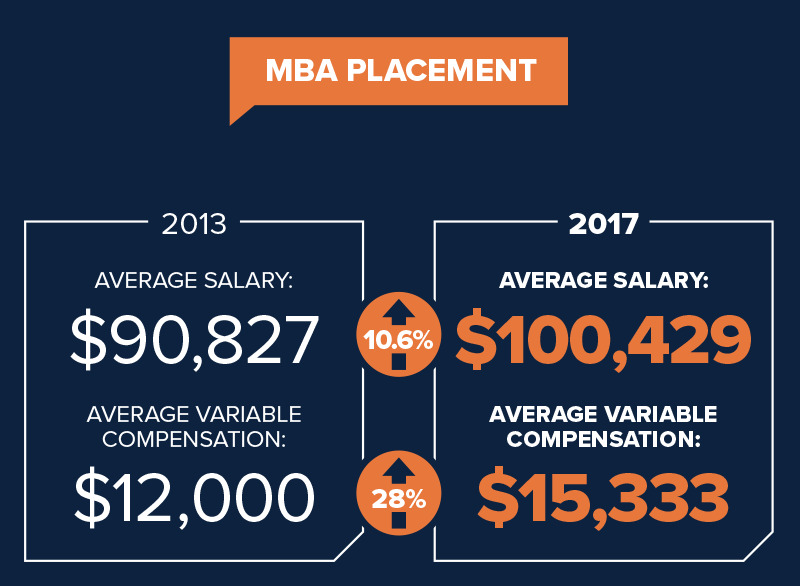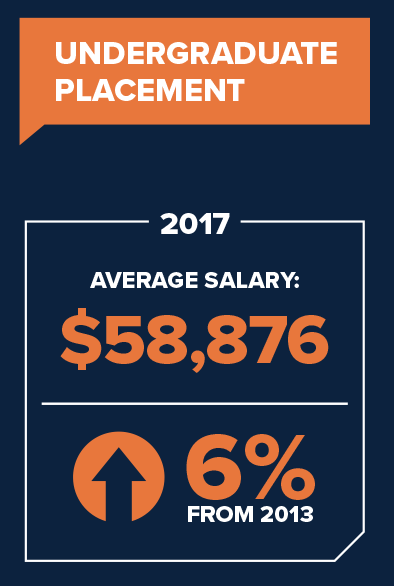 Alumni
37,000+ worldwide including:
Jonathan E. Beyman '76; Managing Director, Institutional Clients Group, Citigroup Inc.
Mark L. Boxer '87; Executive Vice President, Global Chief Information Officer, Cigna
Melinda T. Brown '77; SVP and Controller, Coach, Inc.
M. Kathleen Carey-Reid '86; Senior Vice President, Tax Exempt Markets, VOYA Financial
Mark P. Coville '79; Managing Director & COO, Global Securities, BlackRock
Robert E. Diamond Jr. '77 MBA; Founder & CEO, Atlas Merchant Capital
Keith R. Fox '80; CEO, The Fox Family Foundation
Lyn A. Fox '02 MBA; APAC Head of Equity and Credit Risk Management HSBC
John Y. Kim '87 MBA; Vice Chairman and Chief Investment Officer, New York Life Insurance Company
Grace P. Lee '82 MBA; Vice President, Corporate Planning, Trilogy Communications, Inc.
Denis J. Nayden '76, '77 MBA; Managing Partner, Oak Hill Capital Management, and former Chairman and CEO, GE Capital
Arnaud T. Schvartz '90 MBA; CFO, GE Money Bank Spain, A subsidiary of General Electric Co.
Retired Alumni
Janet A. Alpert, '78 MBA; President, LandAmerica Financial Group, Inc.
Bruce M. Bentley '68; Vice President, ProMach, Inc.
Janet M. Hansen, '78 MBA; President & CEO, Aquarion Water Company
Timothy A. Holt '75; SVP, Chief Investment Officer, Aetna Inc.
Margaret M. Mager '85; Managing Director, Global Investment Research, Goldman Sachs Corp.
William S. Simon, Jr. '81, '88 MBA; Retired EVP and COO, Wal-Mart Stores, Inc.
Derek Slap '12 EMBA

Derek Slap '12 EMBA was sworn into office on March 1 as the Democratic state senator of the 5th State Senate District.  He was elected to replace former Democratic state Senator Beth Bye.  Mr. Slap is focusing on the public health crisis of teen vaping, as well as fighting age discrimination in the hiring process....  […]

Kenneth S. Hyne '84 MBA

Kenneth S. Hyne '84 MBA has joined SageView Advisory Group as managing director in the Connecticut office.  Mr. Hyne has over 30 years of experience in the investment consulting field, specializing in plan development, implementation and investment monitoring for defined benefit and defined contribution plans.  He began his career at the investment and retirement divisions at CIGNA, then went...  […]

Rodney A. Butler '99

Rodney A. Butler '99 is currently the Chairman of the Mashantucket Pequot Tribal Council and interim CEO of Foxwoods Resort Casino. Mr. Butler has been named a Citizen of the Year by The Chamber of Commerce of Eastern Connecticut. The award is presented annually to someone "who has made outstanding strides on behalf of the...  […]
Upcoming Alumni Events
Friday, March 22nd, 2019
06:00 PM - 09:00 PM
Downtown HartfordHartford Marriott Downtown
The UConn School of Business Hall of Fame was established in 1993 to recognize alumni who have achieved outstanding success in their business careers, made a significant impact on their industry or field of business and have been actively involved in their communities.
To date, over 100 UConn alumni have been inducted into the Hall of Fame from around the world and in a myriad of fields and industries. The celebration is the School's signature event and has proven to have the most valuable networking opportunities making this a can't-miss opportunity. Top School of Business alumni, students, and corporate contacts are all in attendance.


Dean John A. Elliott cordially invites you to the School of Business
signature networking event of the year, the 2019 Hall of Fame Celebration.

All are welcome to join us for this exciting and engaging evening with fellow UConn alumni, faculty, staff, students and corporate partners.

Pricing: $160 per seat

Register at: https://alumni.business.uconn.edu/hof/
Wednesday, March 27th, 2019
06:00 PM - 09:00 PM
OtherBobby V's
Calling All Stamford Huskies!

We are returning to Bobby V's for a night of networking and camaraderie in Stamford.
Unwind with fellow alumni and soon-to-be alums as we celebrate Giving Day.
Registration includes complimentary drinks and light appetizers.

Wednesday, March 27, 2019
6:00 PM to 9:00 PM

Bobby V's Restaurant & Sports Bar
268 Atlantic Street
Stamford, CT

Reg Link: https://www.eiseverywhere.com/ereg/index.php?eventid=400723&;
Monday, April 1st, 2019
06:00 PM - 08:30 PM
Downtown HartfordThe Hartford Marriott Downtown
The School of Business Office of Alumni Relations and the UConn Chapter of NAWMBA invite you to join fellow UConn alumni, current students, and friends for an informative keynote presentation and cocktail reception.

Register: https://www.eiseverywhere.com/ereg/index.php?eventid=393090&

We are pleased to announce Amal Grammas, MBA, as our keynote speaker. Amal has more than 25 years of business and consulting experience in healthcare. She is the President of Grammas Executive Coaching, LLC and a Strategic Partner at Recombinators Consulting, LLC.
All Events »
Milestones
| | |
| --- | --- |
| 1941 | School of Business established with Laurence J. Ackerman as Dean. |
| 1958 | The School's undergraduate program earns accreditation by AACSB International – the Association to Advance Collegiate Schools of Business. |
| 1960 | Full-Time MBA Program is launched and is only open to Air Force officers. |
| 1993 | School of Business Hall of Fame is established. |
| 2001 | The School opens its doors for a new state-of-the-art, $27 million learning and research facility on Hillside Road |
| 2002 | BusinessWeek ranks UConn among the "Best B-Schools" in the country |
| 2004 | UConn School of Business Graduate Business Learning Center and SS&C Technologies Financial Accelerator open in downtown Hartford |
| 2011 | Undergraduate Program ranked in Top 25 by US News & World Report. |