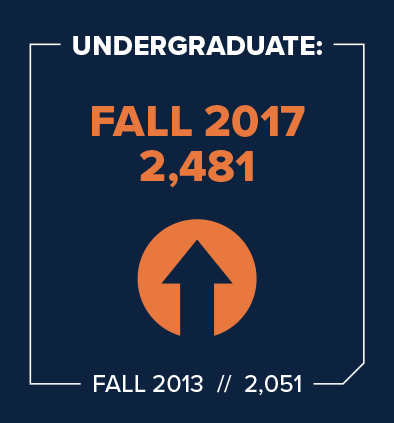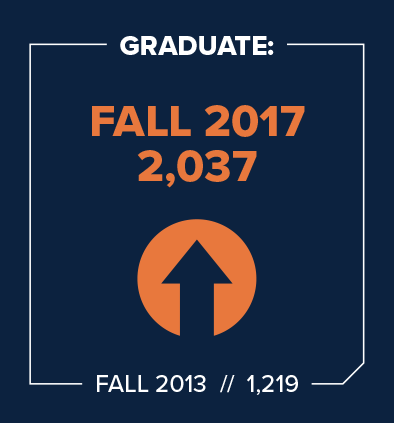 Student Enrollment
Not only has undergraduate enrollment in business programs grown by 21% over the last five years, but the profile of each entering class has become more competitive as well.
During the same period of time, graduate student enrollment increased by 67%, driven in large part by new master's degrees in financial risk management, business analytics & project management, and human resource management.
Faculty
The School's faculty offer a wealth of academic and business experience to students and the business community.
Over 96% of them have earned a Ph.D. or the highest degree in their field, and all are actively involved in scholarly activities including authoring books, college textbooks, articles, conference papers, and original research projects; business, government and industrial consulting; and sponsored research for academic programs.
Such scholarly activities enable faculty to stay current in and contribute to their fields of knowledge, as well as to bring a balanced perspective between theory and practice into the classroom.
To help meet the teaching needs of unprecedented enrollment growth in recent years, the business school faculty grew by 13% between 2013 and 2017.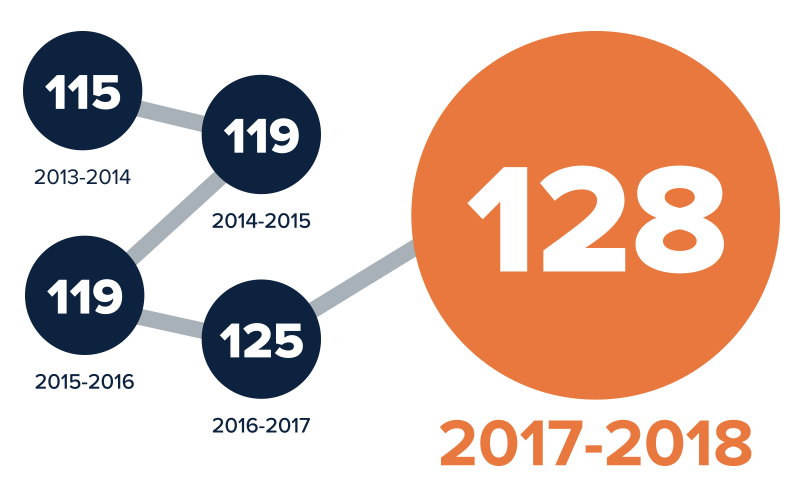 Placement
Over the last five years, both undergraduate and full-time MBA students saw overall increases in average compensation.
Top Employers
IBM
Aetna
Cigna
Hartford Financial
Covidien
Pitney Bowes
Walmart
SS&C Technologies
GE
Northeast Utilities
NASDAQ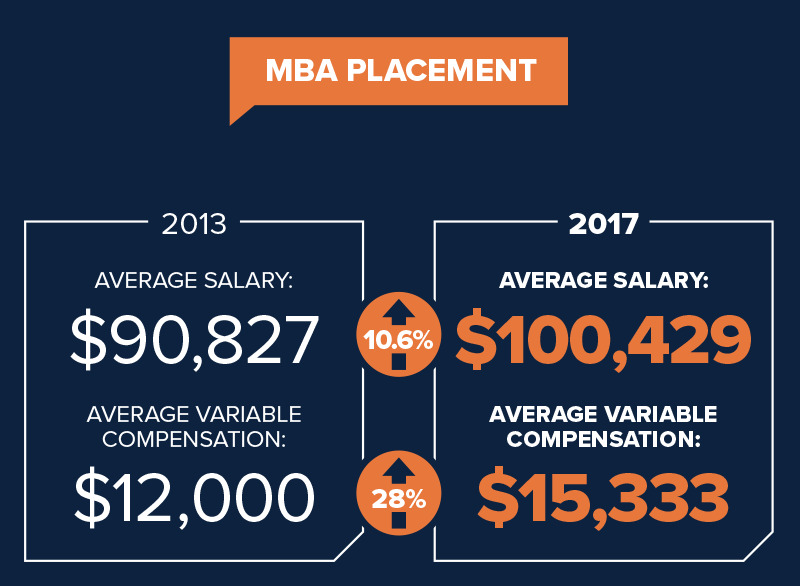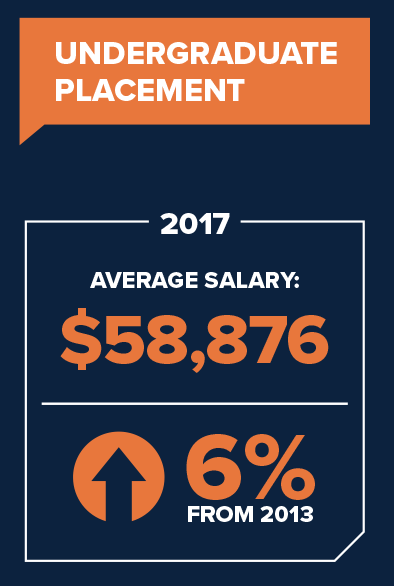 Alumni
37,000+ worldwide including:
Jonathan E. Beyman '76; Managing Director, Institutional Clients Group, Citigroup Inc.
Mark L. Boxer '87; Executive Vice President, Global Chief Information Officer, Cigna
Melinda T. Brown '77; SVP and Controller, Coach, Inc.
M. Kathleen Carey-Reid '86; Senior Vice President, Tax Exempt Markets, VOYA Financial
Mark P. Coville '79; Managing Director & COO, Global Securities, BlackRock
Robert E. Diamond Jr. '77 MBA; Founder & CEO, Atlas Merchant Capital
Keith R. Fox '80; CEO, The Fox Family Foundation
Lyn A. Fox '02 MBA; APAC Head of Equity and Credit Risk Management HSBC
John Y. Kim '87 MBA; Vice Chairman and Chief Investment Officer, New York Life Insurance Company
Grace P. Lee '82 MBA; Vice President, Corporate Planning, Trilogy Communications, Inc.
Denis J. Nayden '76, '77 MBA; Managing Partner, Oak Hill Capital Management, and former Chairman and CEO, GE Capital
Arnaud T. Schvartz '90 MBA; CFO, GE Money Bank Spain, A subsidiary of General Electric Co.
Retired Alumni
Janet A. Alpert, '78 MBA; President, LandAmerica Financial Group, Inc.
Bruce M. Bentley '68; Vice President, ProMach, Inc.
Janet M. Hansen, '78 MBA; President & CEO, Aquarion Water Company
Timothy A. Holt '75; SVP, Chief Investment Officer, Aetna Inc.
Margaret M. Mager '85; Managing Director, Global Investment Research, Goldman Sachs Corp.
William S. Simon, Jr. '81, '88 MBA; Retired EVP and COO, Wal-Mart Stores, Inc.
Peter J. Sena II '05

Peter J. Sena II '05 is the Co-Founder, CEO, and Chief Creative Officer of Digital Surgeons, the cutting edge Elm City innovation and marketing firm. Digital Surgeons is moving into District New Haven, a former bus garage, which been transformed by an investment of $19 million and aims to bring the spirt and style of...  […]

Lauren E. Miller '03

Lauren E. Miller '03 is now a Certified Gallup/Clifton StrengthsFinder coach. This strengths-based approach to management and leadership powers the greatest teams in the world's most successful organizations. In addition to applying this certificate to her role at Salesforce, one of the largest and most respected tech companies in the country, Ms. Miller is also...  […]

Dwight A. Pike '78 MBA

Dwight A. Pike '78 MBA  is an experienced professional with over 35 years of investment experience, has been hired by Lantern Investments, Inc., a full service retail and institutional broker-dealer. Prior to joining Lantern, Dwight was affiliated with Westport Resources Investment Services, Inc.
Upcoming Alumni Events
Thursday, April 26th, 2018
05:00 PM - 08:00 PM
OtherCity Steam, Hartford, CT
Join current Full and Part-time MBA students and fellow alumni
for an evening of networking while enjoying complimentary beer, wine and appetizers.

Registration required: https://www.eiseverywhere.com/322748

Thursday, April 26, 2018
City Steam Brewery
942 Main Street
Hartford, CT | Directions

If you have any questions please contact Amanda Spada in the Office of Alumni Relations at Amanda.Spada@uconn.edu or 860-486-5498.
Thursday, April 26th, 2018
05:00 PM - 08:00 PM
Storrs CampusRome Ballroom
Register here: http://events.r20.constantcontact.com/register/event?oeidk=a07ef5exstmff71b392&llr=yoz4l8rab

Join us as we honor and recognize the following Real Estate Center Alumni & Associates:
  
Lifetime Achievement Award - Nicholas Morizio, Colliers International, President, Hartford and New Haven
  
Distinguished Alumni of the Year - Richard Van Steenbergen, HIMCO, Executive Vice President, Head of Private Real Estate Production Team
  
Alumni of the Year - Justin Salvato, Redwood Kairos, Investment Director, Co-Head Investment Group

Early Career Alumni - John DesRochers, Silverpeak Argentic, Senior Originator
  
Indivdual Partner of the Year -   Mark Duclos, Sentry Commercial Real Estate, Mananging Director 

Individual Partner of the Year -Â  Â  Deanna Polizzo, Whitehat Capital, Founder

Industry Partner - UBS Realty Investors

Excellence in Research -  Katherine Pancak, University of Connecticut, Professor, Finance Department

Students of the Year -Â  Jordan Angel and Kelly Yates

Other Student Award Recipients-Â  Kyle Ernest, Theo Felopulos, William Golonka, Katherine Lynch, Stephanie Maule, Caci Rhuda, Alejandro Romero, Hannah Schmidt and Zitao Jang
Thursday, April 26th, 2018
06:00 PM - 09:00 PM
OtherSign of the Whale
Calling All Stamford School of Business Alumni!

The UConn School of Business Office of Alumni Relations
invites you to a night of networking and camaraderie in Stamford.

Unwind with fellow alumni on the rooftop of Sign of the Whale.

Sign of the Whale
6 Harbor Point Road
Stamford, CT

Register here: https://www.eiseverywhere.com/ereg/index.php?eventid=317139&
All Events »
Milestones
| | |
| --- | --- |
| 1941 | School of Business established with Laurence J. Ackerman as Dean. |
| 1958 | The School's undergraduate program earns accreditation by AACSB International – the Association to Advance Collegiate Schools of Business. |
| 1960 | Full-Time MBA Program is launched and is only open to Air Force officers. |
| 1993 | School of Business Hall of Fame is established. |
| 2001 | The School opens its doors for a new state-of-the-art, $27 million learning and research facility on Hillside Road |
| 2002 | BusinessWeek ranks UConn among the "Best B-Schools" in the country |
| 2004 | UConn School of Business Graduate Business Learning Center and SS&C Technologies Financial Accelerator open in downtown Hartford |
| 2011 | Undergraduate Program ranked in Top 25 by US News & World Report. |