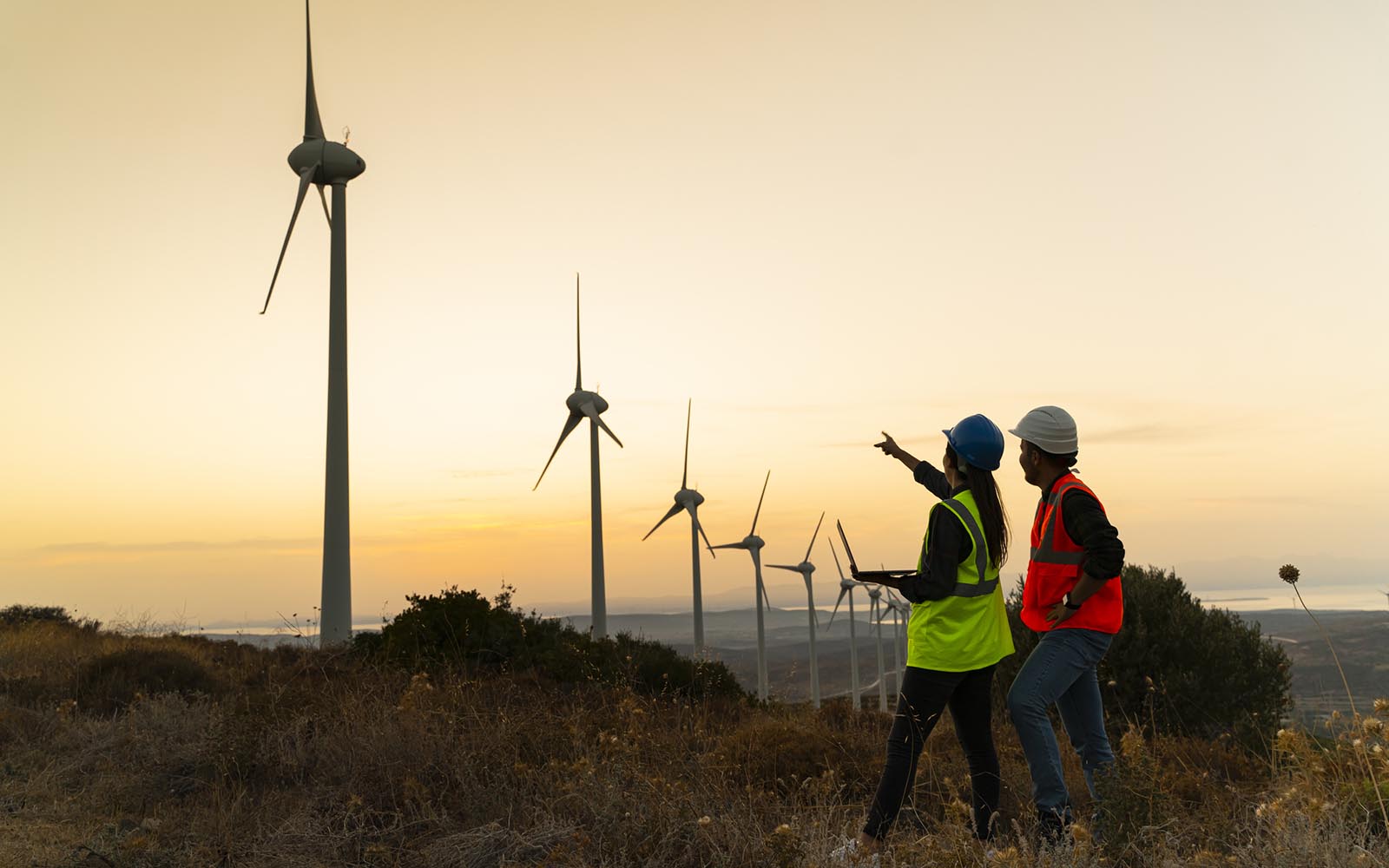 It comes as no surprise to senior Brandon Hermoza-Ricci that his peers are extremely invested in sustainability, particularly in the wellbeing of the planet.
"We've seen what the world used to be, and what it is becoming, and we want to keep it the way it should be," said Hermoza-Ricci. "That's what inspires us."
Hermoza-Ricci, a civil-engineering major who is interested in earning a master's degree in sustainable finance, said he hopes to blend his passion for the environment with the knowledge of how to fund improvements.
As an undergraduate researcher at UConn, he is working on an energy-mapping project for Eversource, discovering the best towns in which to install new solar panels to decrease the state's energy dependence.
200 Attend Fast-Paced Conference
Hermoza-Ricci was one of dozens of UConn students and recent alumni attending the School of Business' inaugural Global Business Leadership in Sustainability Summit on Friday.
The half-day event drew sustainability professionals, including many industry innovators and disruptors, and business faculty who discussed initiatives that are shaping 'business for good' both locally and beyond. The fast-paced conference drew more than 150 people, who attended in person or via live-stream.
"UConn's dedication to sustainability and human rights education is unparalleled in the region," said Arminda Kamphausen, associate director of global business programs and the conference organizer. "Our commitment to 'business for good' has been significant and impactful, and this summit is the culmination of years of investment in this area."
"Our students have a tremendous passion to work in a business that is serving the greater good. This was an incredible opportunity to introduce these talented students to professionals who share their passion and are changing the business world," she added.
'Things Are Going to Be Changing for the Better'
"There's no better time than now to look for a career in the sustainability field," said alumnus Brian Paganini '03, vice president at Quantum Biopower. The state's first food-to-energy plant, Quantum opened in December 2016 and will soon be expanding.
There is financing available for new sustainability ideas and businesses, Paganini said, and the industry is eager to welcome new talent.
"In the past 24 months, my phone is ringing off the hook and my email inbox is full with folks wanting to do business with us," he said. Paganini predicted that within the next five years, companies won't be able to get funding without a strong ESG (environmental/social/governance) plan. "Things are going to be changing for the better."
Alumna Margo Bailey '17, corporate citizenship manager at Pratt & Whitney, said working in corporate sustainability is extremely rewarding.
"Business has so much power to make things happen, and those public-private partnerships are key," she said. "People who go into this work are very open to collaborating and working together. It is a friendly ecosystem."
Sustainability offers strong career potential with seemingly endless problems to resolve, she said.
School of Business Dean John A. Elliott said it has long been the mission of the School of Business to convene important conversations, such as the partnership between business and responsibility. From 2009 on, the School has worked to extol the values of the United Nations-supported Principles for Responsible Management (PRME) and has added courses, lecture series, and more to meet the growing needs of forward-thinking business leaders. The School has launched a new undergraduate minor in Social Responsibility and Impact in Business as part of this broad-based effort to address these needs.
"For us, our values have consistently paired global prosperity and the world we want to live in," he said. "Our School is unusual in its long-term commitment and connection to human rights—from the environment to entrepreneurship, from equity to social responsibility."
The summit addressed a vast array of topics from the war in Ukraine to the demand from employees that their organizations live up to their values.
Professor Michael Willig, executive director of the Institute of Environment at UConn, said business is uniquely positioned to address these issues. "Business offers a level of organization that can act quickly, globally and with agility," he said. "Sustainability requires leadership to think of the future and long-term perspective is interwoven in business. Business and the environment are not enemies; business is a manifestation of human enterprise."
Alumnus Brian Farnen, '97, '03 MBA/JD, general counsel and chief legal officer for Connecticut Green Bank, said nine times out of 10, businesses wants to do the right thing. It is important that they get buy-in across the organization. "You can't put solar panels on the roof but then have the leakiest windows in the world," he said.
Michelle Nagger Reichenbach, principal at Impact with Integrity Consulting, urged students to thoroughly investigate future employers. Look for a CEO who is committed to sustainability and a CSO who is deeply invested in all aspects of the company, she said. "Ask, 'How am I going to be able to contribute to the organization's sustainability values?,'" she advised.
Professor Stephen Park, the Satell Fellow in Corporate Social Responsibility and Director of the Business and Human Rights Initiative at UConn, said the summit provided both employers and ambitious students the opportunity to connect and share their interests and ideas.
"This was an inspiring event that I hope that we will able to build on," he said. "This growing but tight-knit community of sustainability leaders—present and future ones—will surely do tremendous things in the years to come."