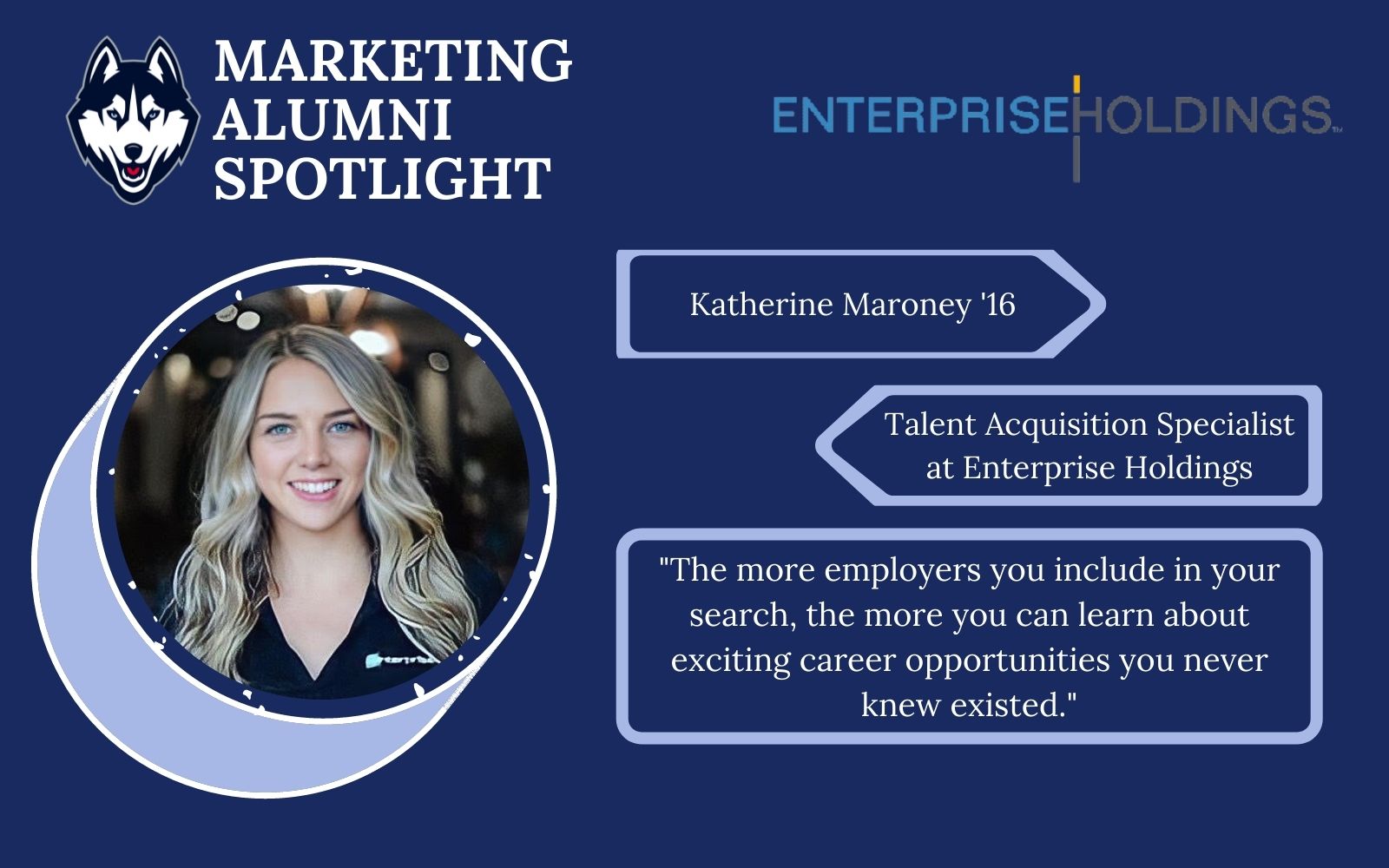 Katherine Maroney '16 is now a Talent Acquisition Specialist at Enterprise Holdings, but she attributes her successful transition from undergrad to professional life to her time at UConn. She encourages students to get involved, whether that be in organizations that directly relate to your major or not. Katherine was involved in both a sales, marketing, and management fraternity as well as other clubs that helped her build skills in communication and leadership.
As for her path to her current role with Enterprise Holdings, she was first exposed to the company at the UConn career fair. She met with a representative that had graduated from UConn and within a year and a half with the company, was running her own store and driving a company car. As a senior, Katherine wasn't sure exactly what type of career she wanted to pursue and was attracted to Enterprise because of the options that they had, allowing her to learn every aspect of a business and move her career forward based on what part interested her most.
In her current role, Katherine acts as a business partner to the hiring managers of Enterprise's rental divisions and departments. She recruits and hires for Enterprise, National, and Alamo locations across three states, Connecticut, Rhode Island, and Western Massachusetts, using reporting to assist hiring managers in determining staffing needs. In addition to this she attends career fairs and networking events on college campuses to recruit students for management and sales trainee programs, staff accountant roles, and auto detailer opportunities. Aside from recruiting and interviewing, she also coaches managers and employees on best interview practices, providing support for external applicants or interviews for promotions.
For undergraduate students looking for summer internships or full-time roles, Katherine advises them to get in front of as many employers as you can. "The more employers you include in your search, the more you can learn about exciting career opportunities you never knew existed," she says, "the more you participate in career fairs and networking events the more comfortable you will become." Follow up and engagement with different employers can set you apart from other students that are applying for the same roles, helping you secure that dream position.