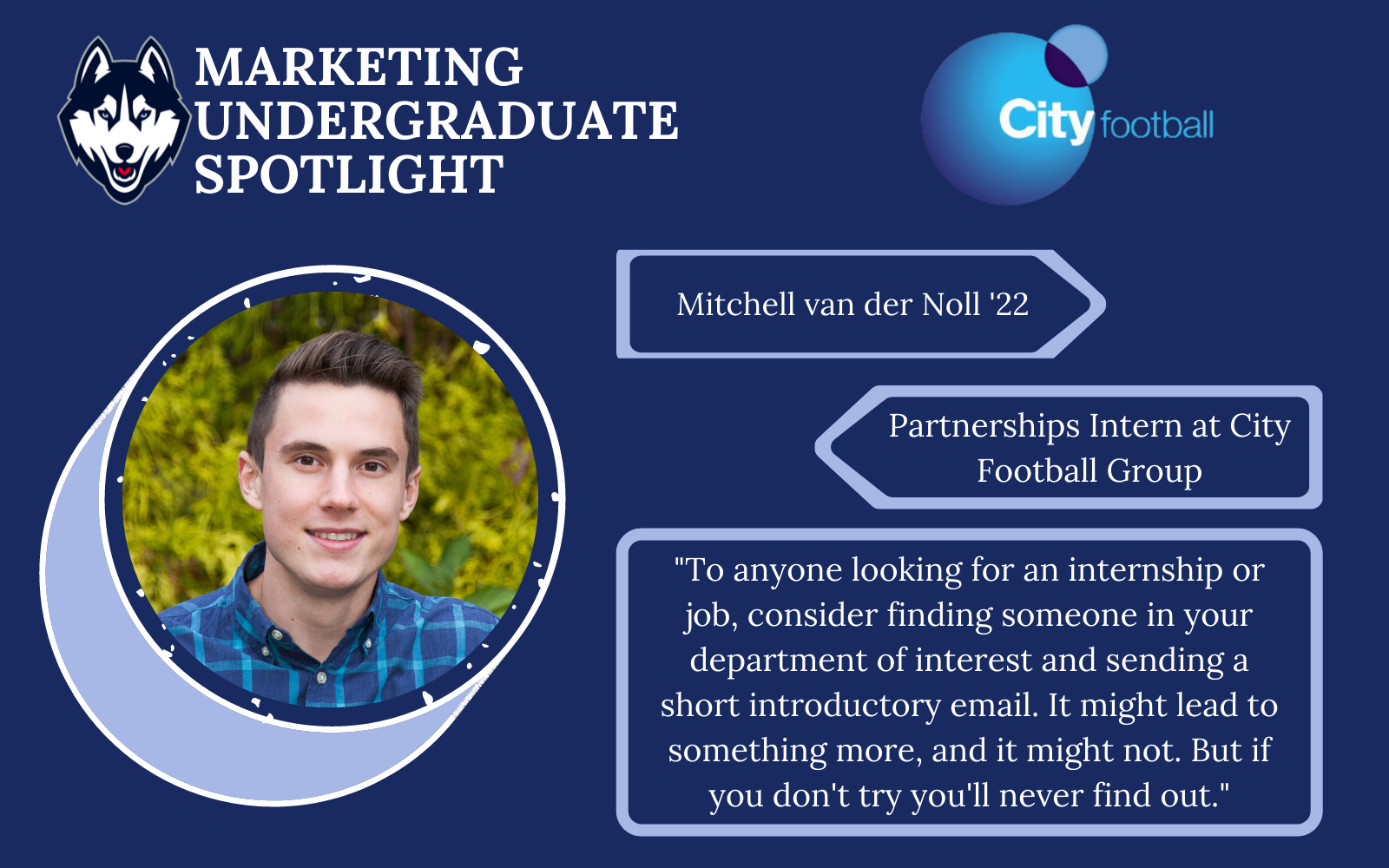 Mitchell van der Noll is a senior Marketing major with an interest in sports and entertainment. This past summer, Mitchell interned at City Football Group, the owner of football-related businesses in major cities around the world, including Manchester City Football Club and New York City Football Club.
As a Partnerships Intern, Mitchell assisted his supervisor in reaching out to new partnership prospects and establishing connections. He would research companies and brands leading up to their meetings with his supervisor, and used this information to help in creating outreach emails to further establish a knowledge base on potential partnerships. Major projects are where he feels he learned the most, as himself and another intern went through the full process of researching 2 companies, Logitech G and Airbnb. Their research culminated in a presentation on CFG and partnership activations between themselves and other brands, given in the form of a roleplay to everyone on their team who gave them constructive feedback to help them in similar settings moving forward.
Mitchell worked with about 10 people regularly in his position, collaborating closely with his supervisor, the department head, and the Director, Partnership Sales. The team covered all the responsibilities associated with partnerships and sports, with tasks ranging from current partnership activations to social media and event marketing. Mitchell found himself welcomed in quickly, and found the team to be ambitious and passionate for what they do.
One of the biggest takeaways from Mitchell's position was recognizing the value in asking for feedback and advice. Throughout his projects, there were times where he was unsure of next steps, but through connecting with his colleagues he was able to stay on track, and learned more in the process.
Outreach and networking were key factors in Mitchell securing this position, and he emphasizes the value of reaching out to people at brands you are interested in working for directly. "Completing an application is great, but it doesn't establish a personal connection," he says, "To anyone looking for an internship or job, consider finding someone in your department of interest and sending a short introductory email. It might lead to something more, and it might not, but if you don't try, you'll never find out."