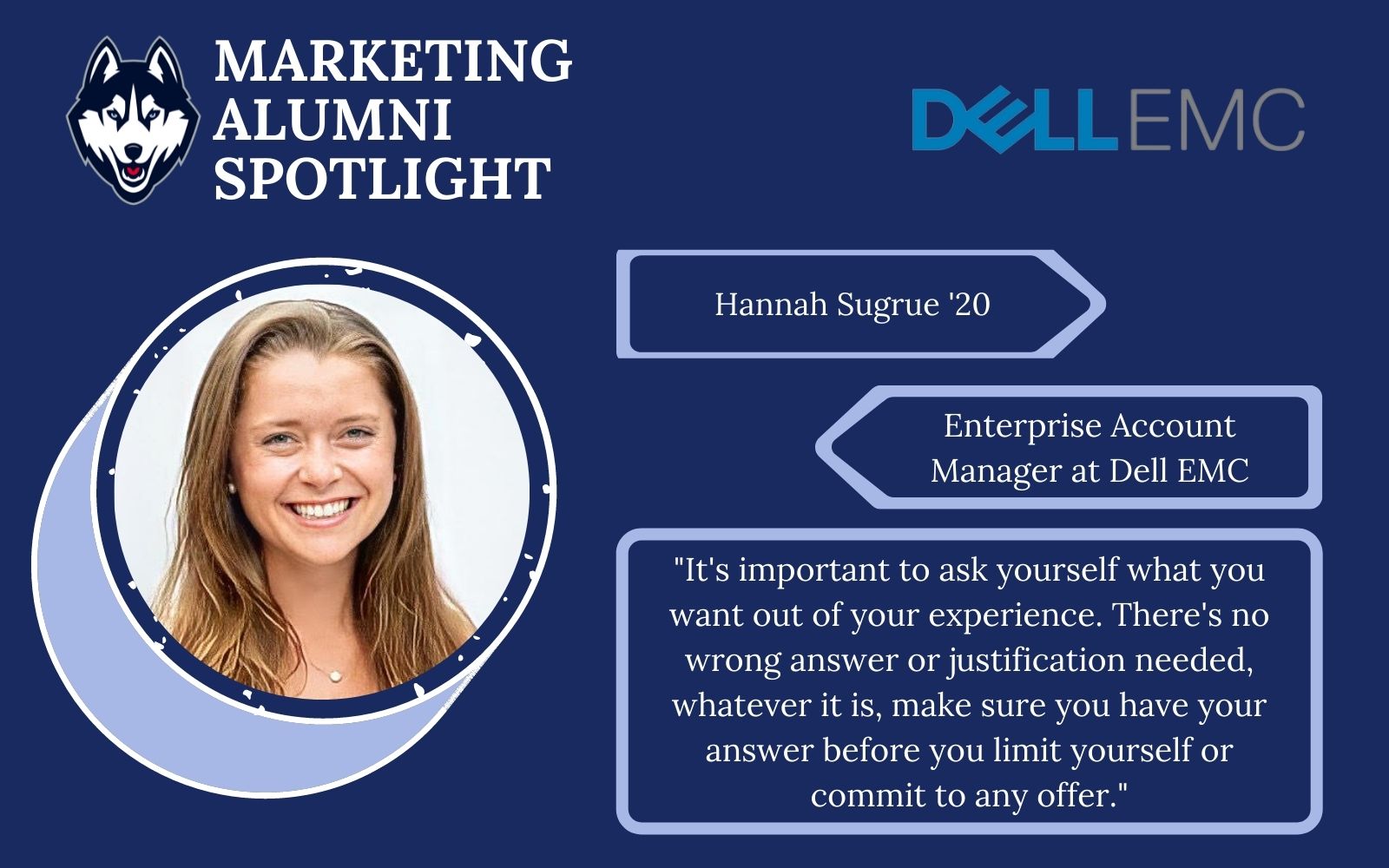 Hannah Sugrue's summer internship with Dell turned into the start of a career in sales with one of the largest tech companies in the world.
From an outsider perspective, tech sales is assumed to be a more male-dominated industry, but through her internship Hannah found that almost all of the leaders she met were women, something that still holds true today two years later. As a rising senior, seeing those women succeeding and leading inspired her to take a full-time role.
Hannah has a set of steps to consider when it comes to ensuring a successful start to your professional career while you are still completing your undergraduate program. First, she emphasizes the importance of listening, using the resources available in the School of Business and connecting with your professors. Additionally, learning is important, going out of your comfort zone to find a new area that sparks your interest. Finally, she says, "Lean in, when it comes to a job search, you get back what you put in, so raise your hand and get involved, do your research, attend a networking event, and get engaged."
In Hannah's current role as an Enterprise Account Manager, she can enjoy flexibility, with the ability to work from home, maintaining a work-life balance that works for her. She works with several field teams based in New York and New Jersey to support 12 Enterprise accounts. Although she works a normal 8-5, every day is different depending on individual customers and their needs.
Thus far, she has been able to get more involved in the inner workings of the company by joining several Employee Resource Groups (ERGS). Just recently, she was named a Pillar Leader for Future Women of Sales. In this position, Hannah organizes and supports mentorships between the women of Dell's inside sales program and those in the field. Not only has this helped the group itself grow, but the mentorships have made a difference for so many women.
Finally, Hannah advises undergraduate students looking for internships or full-time roles to be open to different opportunities. "You might be surprised by what you you find," she says, "it's easy to be influenced by those around you so make sure to check in with yourself and allow for some self-reflection along the way." She stresses the importance of asking yourself what you want out of your experience, what is the most important and what are non-negotiables. "There's no wrong answer or justification needed when it comes to what you want," she says, "Whatever it is, make sure you have your answer before you limit yourself or commit to any offer."