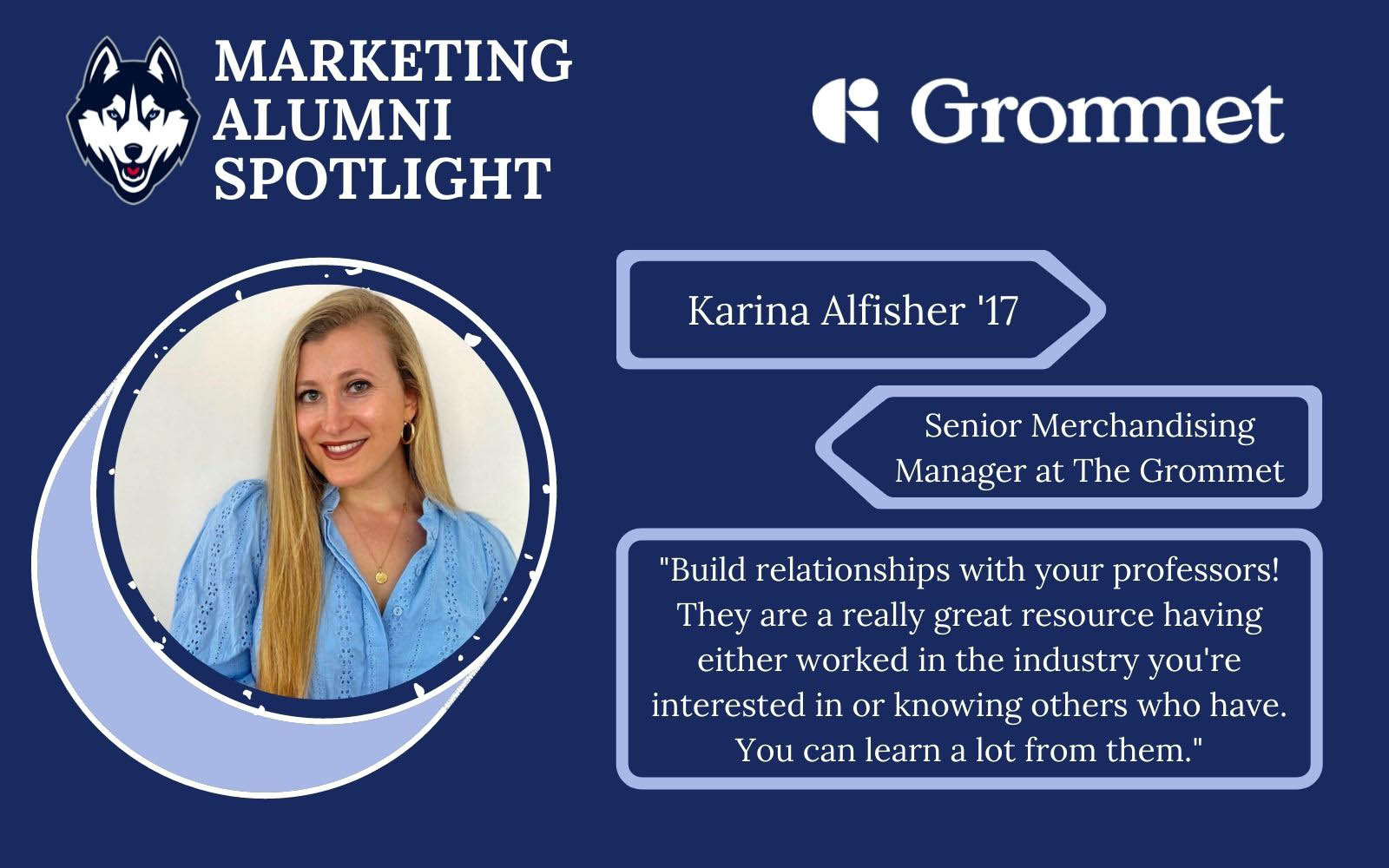 Alumni Spotlight: Karina Alfisher '17 Senior Merchandising Manager at The Grommet
Karina Alfisher '17 knows all about the importance of getting an early start acquiring work experience. As an undergraduate, she was committed to advancing her professional career as early as possible, starting her first internship at Reebok HQ her sophomore year. From there she was able to stick with the company for two more summer internships as well as receive a full-time job offer upon graduation.
From her time at Reebok to her current role as Senior Merchandising Manager at The Grommet, an online marketplace and discovery platform for consumer products, Karina has gotten a taste of working at both large and small companies. There are certainly advantages and disadvantages of both and the decision depends mainly on the type of environment and role you're seeking. For Karina, her move to the Grommet had her looking for a role that would allow her to have her own part of a business and challenge her with goals she could control. In terms of some of the benefits she sees with a smaller company, she says your everyday contributions have a larger impact on the company's success, and you can immediately see the results of your work. One of the advantages of a larger company, however, is having more strict processes and structure, which for some people can help with staying organized.
In Karina's current position, each day can be different. Her team works with almost every team at The Grommet, allowing her to work on a variety of projects at once. At it's core, her group is responsible for discovering unique consumer products from small businesses and partnering with them to onboard them to their site. Some of her typical tasks include online research, attending trade shows, and networking with industry leaders to identify the latest trends helping to deliver products that will be most impactful for consumers. One of her favorite things about her job is working with small businesses, she was even able to partner with an old friend during the pandemic helping her boost her candle-making company.
As for advice she has for current undergraduates looking for summer internships or full time roles, she emphasized the importance of starting internships or rotational programs as early as possible, as they can be helpful in figuring out what roles and industries you like. Additionally networking and building relationships with your professors can be beneficial, she says, "they are a really great resource having either worked in the industry you're interested in or knowing others who have. You can learn a lot from them."