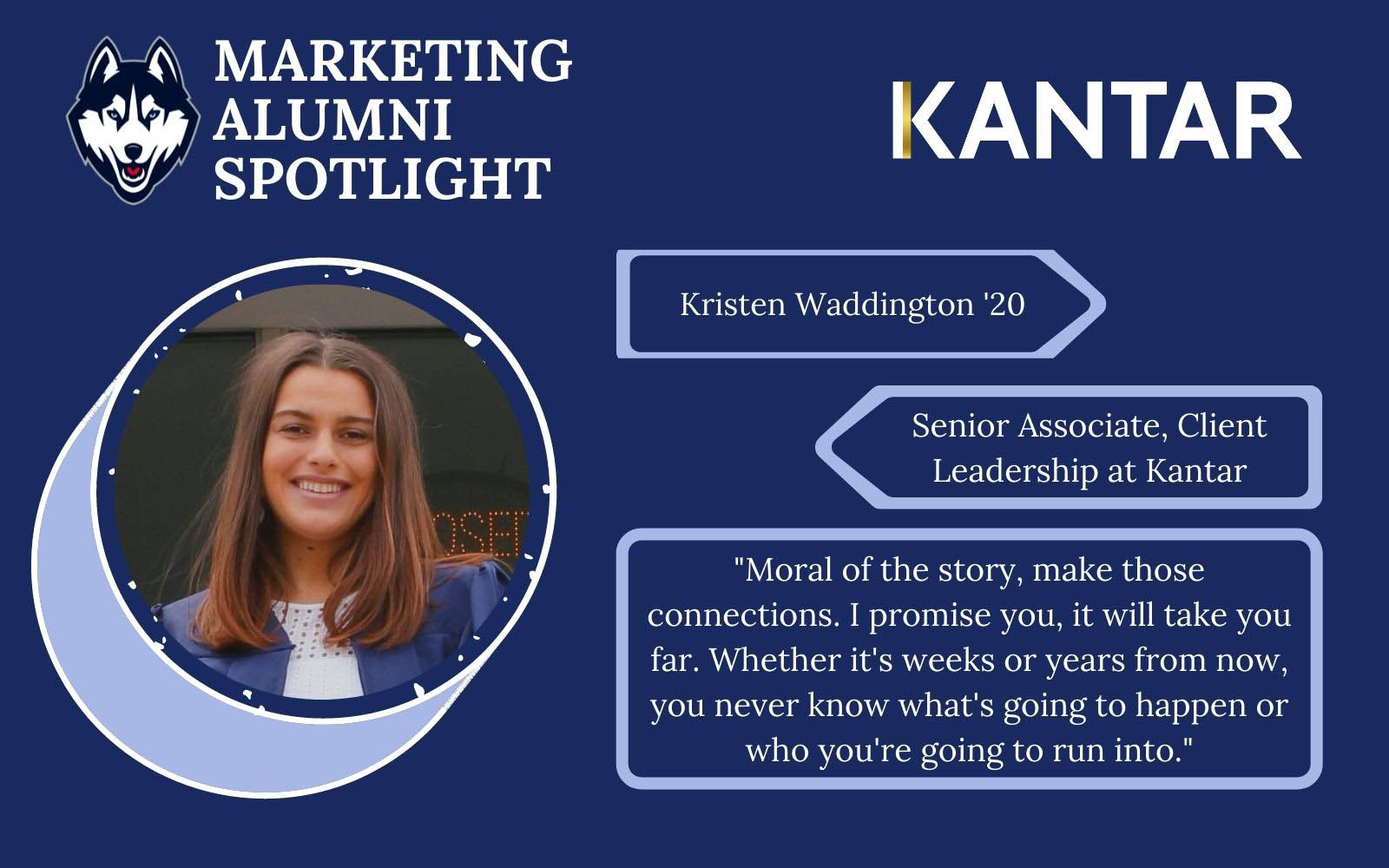 Alumni Spotlight: Kristen Waddington '20 Senior Associate, Client Leadership at Kantar
Kristen Waddington '20 didn't always know what career path was her best fit. She entered the UConn Business in London Program wanting to focus on public relations but eventually switched gears. After working on a survey analysis project, she found a passion for marketing research. Returning for her senior year, she took on a rigorous course load, minoring in Data Analytics and choosing a concentration in Digital Marketing and Analytics to expose herself to as much of the data process as possible.
This led her to her current role as a Senior Associate, Client Leadership at Kantar, a marketing research firm located in New York City. From the moment she interviewed, Kristen recognized Kantar as an excellent match, saying, "the people were very kind and upbeat and cared about what you were saying." As she has spent more time at Kantar in both their Health and Insight sectors, she has only good things to say about the support system at the company despite the fact that it is a large firm with around 30,000 employees. Her boss during her time in Kantar Health is someone she believes "holds the gold standard of what a boss should be like," and is a personal example of the welcoming and comfortable environment at the company.
In her current role, Kristen handless the Marketing Research process from start to finish in a client facing role. This consists of running kick off calls and coordinating with clients to make sure their goals are aligned. Additionally, she will work with a program leadership team to ensure surveys are programmed directly. The most important aspect of her position is producing final reports for clients by analyzing data and communicating results with them.
As for current students looking for internships or full-time roles, Kristen's advice is simple: build genuine connections. During her search, she applied to over 200 jobs, and the only ones she heard back from were those where she made a connection with someone at the company or applied through UConn Handshake. Early 2020, she was able to connect with a UConn alum who worked in Marketing Research in New York for the past 10 years. That allowed her to get her resume sent to Kantar internally and interview before the formal interviewing process begun for other applicants.
Finally, she stressed the importance of preparing for interviews, discussing how she accumulated over 50 pages of company background and interview question prep in a word document to prepare for her Kantar interview. The biggest takeaway from her experience is to not get discouraged, keep making connections, and keep persisting even in the face of burn-out and rejection. "Practice makes perfect. The more interviews you do, the more confident you will get which I promise will take you far."