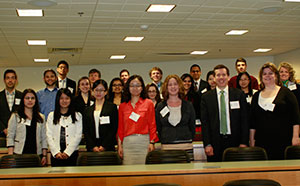 The best and brightest of UConn School of Business were honored Friday morning, April 25 at the 2014 School of Business Awards & Honors ceremony. Honorees, family and friends gathered in the Dave Ivry Seminar Classroom at the School of Business in Storrs for the annual celebration, where 2014 Student Hall of Fame Fellows were recognized, Ackerman Scholars were awarded, Faculty Awards were presented, and new members were officially inducted to the Beta Gamma Sigma honor society.
Following an introduction by Assistant Professor in Residence Clifford Nelson, Beta Gamma Sigma faculty president, awards were presented by School of Business Dean John Elliott and Associate Dean Larry Gramling, who personally congratulated the recipients on their achievements.
Guest speaker Marcia Marien, CPA, '84, partner at O'Connor Davies, LLP, spoke to the honorees about the responsibility that comes with being a gifted student. Marien, an active member of the Connecticut Society of CPAs (CTCPA), encouraged inductees to "share their gift" by volunteering at organizations that need them and using their talents to help others.
Following the talk, the 101st Annual Beta Gamma Sigma New Member Induction ceremony took place.
About Beta Gamma Sigma
Beta Gamma Sigma is an international scholastic honor society that provides the highest recognition a business student anywhere in the world can receive in a baccalaureate or post-baccalaureate (graduate) program at a school accredited by AACSB International.
The objectives of the society are to encourage and honor high academic achievement by students of business, foster in its members an enduring commitment to honor and integrity, pursuit of wisdom, and earnestness, and to support the advancement of business so as to encourage life-long learning.
The induction ceremony follows a networking reception earlier this month which brought together Beta Gamma Sigma alumni, faculty, and current business students. Alumni spoke to their experience with the international honor society including professional connections, career opportunities, and academic prestige. Dean Elliott spoke to the prominence of the Beta Gamma Sigma organization in the business industry and its value to the UConn School of Business.
Please join us as we congratulate the following award winners and initiates:
2014 STUDENT HALL OF FAME FELLOWS
Undergraduate Program – Robert Byron Bunda, Paul R. DeSalvo, Kimberly A. Halpin
Hartford EMBA Program – Gregory J. Lancaster
Waterbury MBA Program – Nita F. Drakatos 
Full-time MBA Program – Michael Maczka
Hartford MBA Program – Sarah B. Jeffrey 
Stamford MBA Program – Tiffany Betz
MS in Accounting Program – Ricki Livingston
Ph.D. Program – Lauren D'Innocenzo
MS in Financial Risk Management Program – Sourav Sengupta
MS in Business Analytics and Project Management Program – Arda Zuber
2014 FACULTY AWARDS
Best Paper – Nicholas Lurie
Research Excellence – David Souder
Graduate Teaching – Girish Punj
Undergraduate Teaching – Eugene Salorio
Teaching Innovation – Shantaram Hegde, Nora Madjar
Service – Eugene Salorio, Zeki Simsek
Ackerman Scholars – Continuing from Fall 2013 to Spring 2015 – Sulin Ba, Joseph Golec, XinXin Li, Zeki Simsek, Jan Stallaert
Ackerman Scholars – New for Fall 2014 to Spring 2016 – Xue Bai, Qing Cao, Jose Cruz, Gary Powell, Suresh Nair
2014 BETA GAMMA SIGMA INDUCTEES
Undergraduate Inductees
Susana Arslanov, Stephannie Bennett, Andrew Bernardin, Stephen Birbiglia, Andrew Butterworth, Cassandra Dixey, Rebecca Ferland, Austin Flynn, Patricia Haire, Emily Jepson, Kevin Kibbey, Ryan Lange, Peter Liptack, Erica Luther, Anastasia Matskovich, Shannon Murphy, Jennifer Paris, Dayana Peykova, Akanksha Singh, Melissa Smith, Kristy Solomon, Erick Zadanowski, Yue Zhu
MBA Inductees
Guru Anginthayya, Kenneth Audo, Jennifer Bui, Donald Butts, Swatee Chachra, Harsh Chheda, John Cooley, Christopher Gaito, Eric Gehrmann, Sarah Jeffrey, Christopher Jones, Ruchi Karania, Amber Kocay, Lauren Kramer, Pronpong Lueang-A-Papong, Kelly Mirmina, Richard O'Keefe, Tugba Onder, Erik Peterson, Sunil Rao, Joshua Reed, Mitchell Riccione, Lisa Rinta-Tuuri, Peter Safe, Erin Santa, Ryan Sexton, Thomas Smith 
Executive MBA Inductees
Gregory Lancaster, Alvaro Santos, Caroline Ward
MSA Inductees
Dionne Conrad, Wei Dai, Jonathan DeAngelo, Jonathan Fraser, Zhechao Jin, Jaimie Kowalsky, Patrick Lee, Ricki Livingston, Michael McFarland, Ashley Muraswinski, Karishma Patel, Allen Ryan, Srishti Sarin, Anthony Spinnato, Hong Su, Ke Yao, Chenyue Zhang
Ph.D. Inductees
Jeff Carlson, Lauren D'Innocenzo, Norman Massel, Lei Wang, Tingyu Zhou