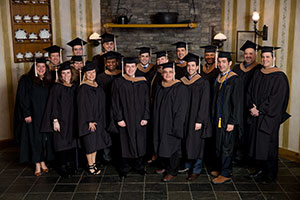 On the morning of Saturday, April 12, faculty, family and friends gathered at the Society Room in Hartford, Connecticut to celebrate the graduation of UConn's Executive MBA (EMBA) Class of 2014.
Joe Connolly '06 EMBA delivered the keynote address, "The Riddle of Leadership." After briefly reflecting on his time in the Executive MBA program, Connolly advised the newly minted EMBAs that their journey toward successful leadership has really just begun. After acknowledging the importance of being equipped with the tools and technical skills of an MBA, he also emphasized the role of intangible skills and strong self-awareness.
"Effective leaders get identified because they get things done. They don't make excuses. If they make a mistake, they fix it and move on. Leaders have a bit of a thick skin. They can take criticism. Leaders can connect with people. They can manage up and down. They communicate well," he said.
Connolly shared that to learn and grow as leaders is a personal journey; that leadership is "not about you, but all about you at the same time." He encouraged the students to explore their own beliefs, thoughts, and motivations, saying "…By learning to master and lead yourself you will be far better equipped to become the great leaders I know you all aspire to be."
Congratulations to the EMBA Class of 2014: James Borzelli, Kevin Charles Brinson, John Cappelli, Russell Melvin Carson, Michael Eugene Casey, Michael John Chase, Jessica Beth Ficarra, Tara Ann Gerber, Stephen T. Haeckel, Allison Joel Hannah, Lisa Jacobi, Gregory J. Lancaster, Perry Chris Leros, Patrick Joseph Packard, Chris Perone, Ritesh Ashwath Rao, Alvaro Santos, Timothy Michael Sasur, and Caroline Elizabeth Ward.