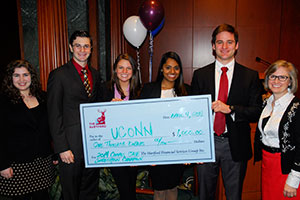 Congratulations to Katharine Coulter, Shailee Desai, Giovanni Sornatale, and Patrick Stimola! The four undergraduates kicked off Husky Weekend by winning the final round of an annual campus case competition sponsored by The Hartford Financial Services Group on Friday, April 4.
The UConn team, who placed first in the preliminary round of the two-part competition on February 14 before advancing to the final round, competed against students from Quinnipiac, Boston University, Bentley, and the University of Hartford. The team was mentored by Cari Goldner '13, Hartford Financial Services, and Kathy Hendrickson of the Business Career Center.
Congratulations to the winning team for an outstanding case presentation.