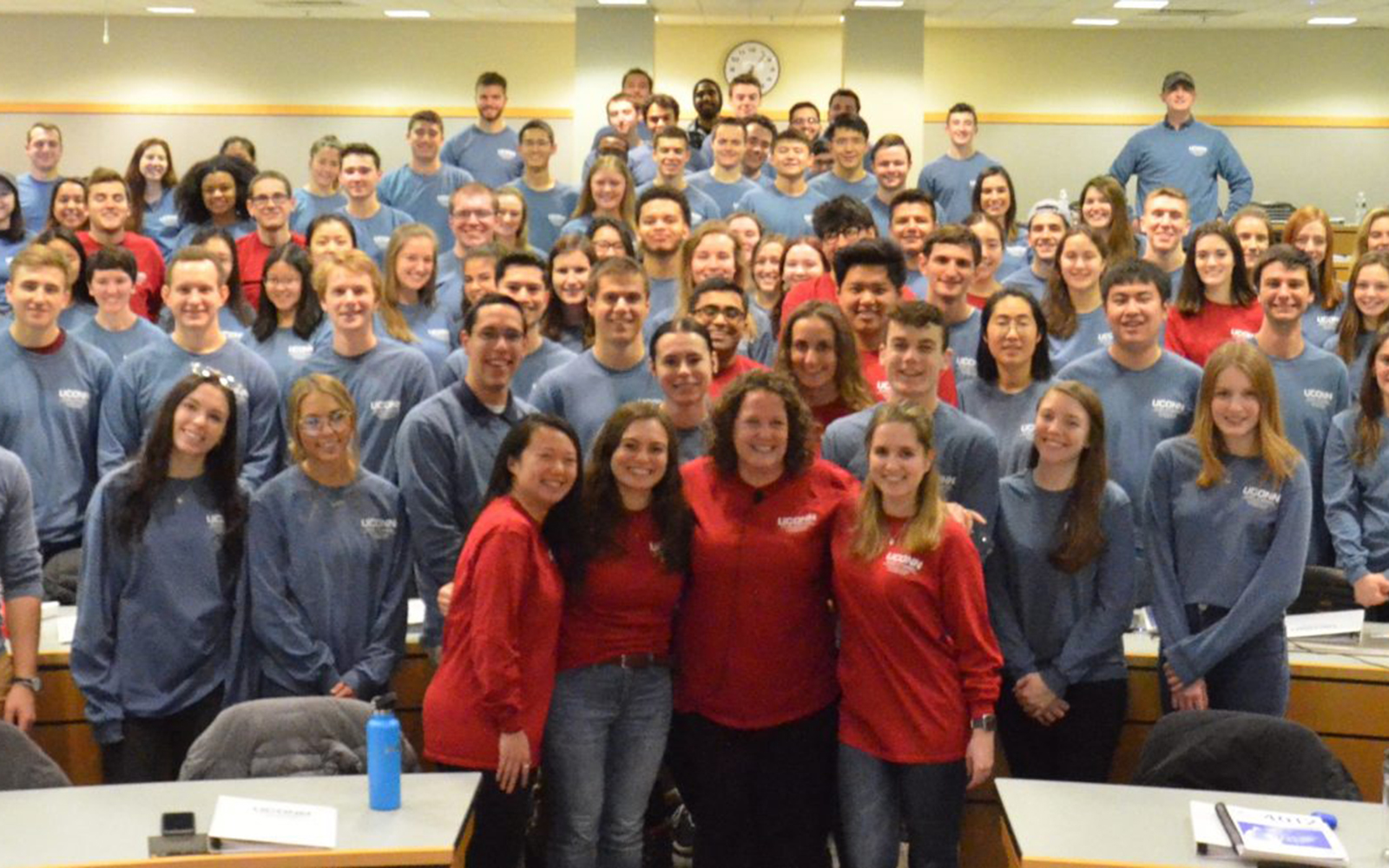 Professor Leanne Adams knew that her young accounting students were going to be facing more than just homework challenges during the pandemic.
She didn't want them to lose their motivation or feel disconnected in a world that seemed so drastically different.
Instead of teaching her 500-student introduction to accounting class asynchronously, she researched technology until she found a way to live-teach to hundreds of students. For those who couldn't commit to attending class in person, she created a series of short videos to reflect an in-class experience.
In addition, each Sunday night she would email her students some course tips for the week, and embed funny or touching video clips so they would feel connected, and to lift their spirits.
For these and other efforts, Adams received a Teaching Innovation Award from the UConn Center for Excellence in Teaching and Learning (CETL). She has been described by her colleagues as curious, fearless, knowledgeable, tireless, and genuinely caring.
Adams, a two-time alum, worked four jobs as an undergraduate student to pay for her education. She joined the accounting department as an administrative assistant in 2001, and became an adjunct professor two years later. In May 2017, she earned her master's degree in accounting (MSA) and was hired by the university as an instructor-in-residence.
"The students are what motivates me," Adams said. "When you really invest in your students, they run with it, and reward you exponentially."
"My biggest concern for 2020-21 was how were we going to share that excitement with our students when they we weren't going to see them in the classroom? Were we going to lose them?," she said. "My goal was to make sure that didn't happen."
Adams said she strives to teach to the best of her abilities.
"My job is to facilitate their learning, without holding their hands, to be demanding and tough, but give them every tool I can come up with to help them succeed and to become critical thinkers," she said.
Professor Amy Dunbar, who is both a colleague and a friend, said Adams' "heart and soul belong to UConn." She noted that Adams also found a way to help her student volunteers to do their service-learning project, preparing income-tax forms for more than 500 people, remotely.
"I find it astonishing that Leanne has the wherewithal to not just survive but to succeed in an area where there was no guide to follow," Dunbar said. "As instructors, we have examples of how to teach online. Leanne had no one to help her determine how to synchronously connect her Volunteer Income Tax Assistance program volunteers with clients who needed tax preparation services. My admiration for her is unbounded."
Adams, whose parents are alums, and whose sister also works at the School of Business, lives just 2 miles from campus. She often tells new students, "I've worked here for nearly 20 years, I earned my undergraduate and graduate degrees here, my parents met and graduated from here, and I live right down the street. If I can't help you, I'll find someone who can."
"I'm so incredibly grateful to be able to do this, to teach UConn students, to be here, to impact their futures," she said. "I often walk around campus, on the same sidewalks that my parents walked over, and I think 'Wow, how lucky am I?'"