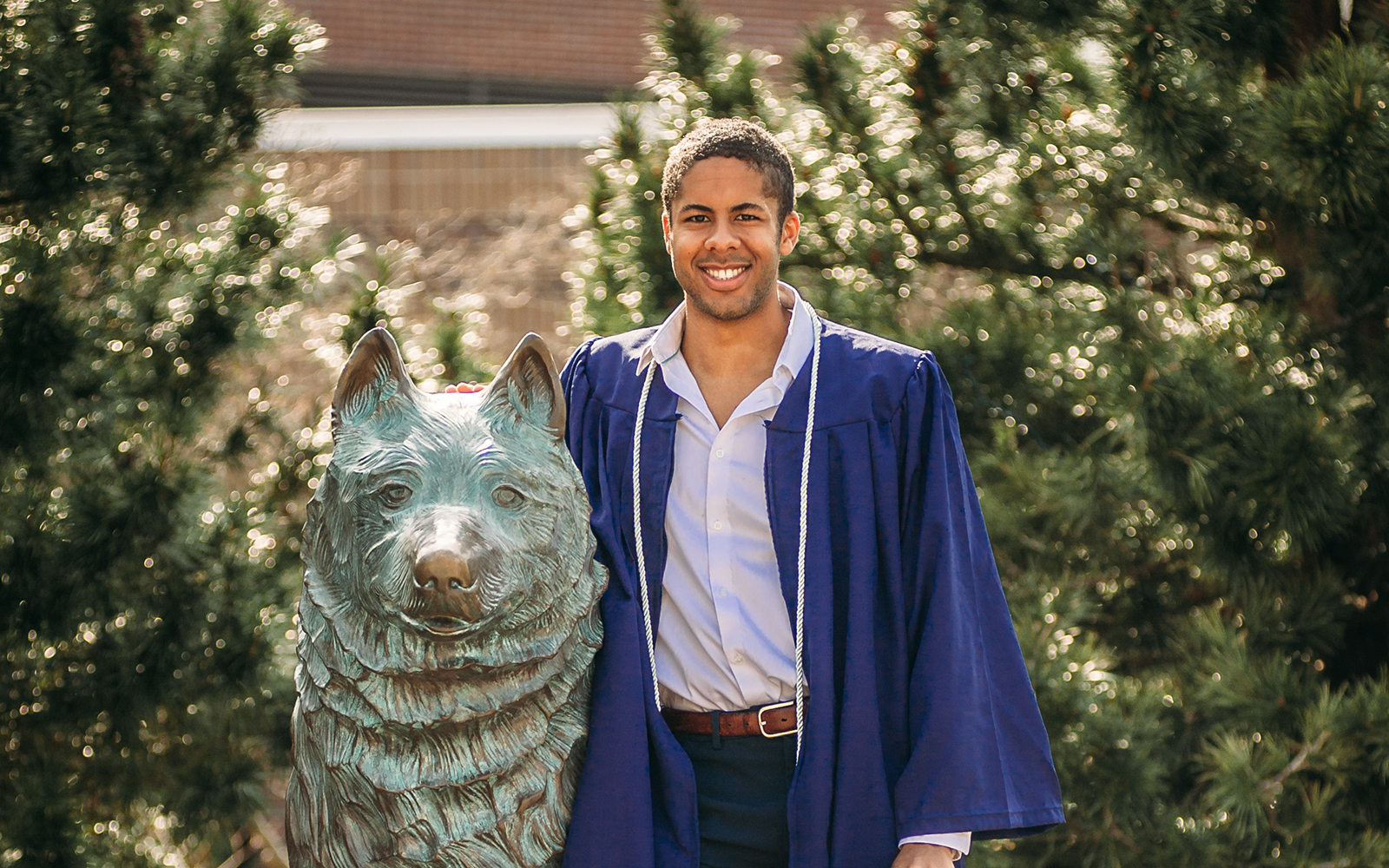 Senior Michael Greaves '21 (BUS) outperformed more than 1,000 other applicants to win a coveted job in a leadership-rotation program at Ogilvy, the prestigious global advertising, marketing, and public relations agency in New York City.
"Did I think I had a chance? Absolutely not," said Greaves, a marketing major with a concentration in digital marketing and data analytics. He will start his new job in September.
"I tried to be myself, to be authentic, and establish a genuine connection. I like to make people feel welcome and included; I want that to be my legacy," he said. "I've never been through such an intensive interview process, and it was extra rewarding to succeed."
Greaves said he hopes to further his knowledge about campaign strategy, digital production, and marketing data analytics. He aspires to one day become the in-house marketing director for Calvin Klein.
Greaves, who is versed in photography and videography, said he typically starts his day seeking creative inspiration from Pinterest and Instagram, and catching up on TikTok and other favorite brands.
"Then I put my own twist on it," he said. "I always loved art and drawing but I wasn't very good at it. I wanted to use creativity to express myself and create cool content and something that was meaningful to people. I love fashion, also, because it helps people express themselves."
Studying Abroad Taught Him How to Handle the Unexpected
One of the highlights of his UConn experience was studying abroad for a semester sophomore year. A Spanish minor, he always wanted to travel to Spain and took advantage of UConn's affiliation with Universidad de Granada.
" had the best time ever and made so many connections," he said. "Going to Paris was always a dream. I visited London, Barcelona, Dublin, Morocco, Portugal and Amsterdam. I didn't sleep much that semester."
"One of the biggest things that you gain from international travel is a better knowledge of yourself, both personally and professionally, and you become very independent," he said. "You can hold your head higher. You find yourself in unusual or unfamiliar situations and you learn to handle yourself. I loved all the places I visited and the experience was tremendously rewarding."
'Bring Passion to What You're Doing'
Greaves applied to UConn thinking he would be a computer science major. But a disappointing grade in his AP high-school class led him to reconsider. He decided a marketing major would capitalize on his creativity as well as interests.
During his time at a small high school in Greenlawn, NY, Greaves said he was somewhat introverted. He realized he would need to become more outgoing in college.
"I have grown out of my shell by coming to UConn," he said. "I had to throw myself out there. I learned to become comfortable with being uncomfortable and to take the initiative, say hi, asking how you are. In that process I learned more about myself. I tried never to limit myself. I tried to be open minded. If I haven't done something, why say no to it. I approached opportunity with an open mind."
During his college years, Greaves interned at Canon and Enzo Life Sciences. He was on the UConn executive board for Habitat for Humanity and worked as a teaching assistant in a Career Development in Business class. At the beginning of the year, Kelly Kennedy, the associate director of student development and outreach, gave him a mug that said, "Actually, I can do this!" It will move to New York with him, and stay on his desk for inspiration.
'Like She Drank 10 Cups of Coffee'
One of his favorite courses was "Marketing 3362: Strategy and Planning" with professor Cinthia Satornino. The capstone course pulled together the skills he had learned from all of his previous classes.
"She brings such passion and energy to class, it's like she drank 10 cups of coffee," he joked. "I really enjoyed her energy, that she gave great feedback, and that she treated her students as professionals, as practitioners. She told us we can do whatever we want and that's empowering as a student."
Those skills were put to a test during a day-long interview with Ogilvy when Greaves had just 20 minutes to prepare a presentation and slide deck about what kind of campaign he would orchestrate if he were a social-media influencer. He chose his favorite brand, Calvin Klein, and devised an inclusive marketing campaign for the LGBTQ community.
Before Greaves began the interview process, he reached out to previous Ogilvy associates and asked about their experiences and for their advice. "They stressed how inclusive and welcoming everyone was and the importance of being yourself and bringing passion to the work you're doing. That's exactly the kind of place I want to work," he said.
'Walk Away Knowing You Did Everything'
Greaves is a bit emotional when he thinks about the short time he has left at UConn.
"I think I'll most miss the friends and the people I've met here and being able to walk across campus and see friends and professors. It's going to shift and not see them every day," he said. "After this it will be harder but I will maintain those friendships."
To the students who remain, he has a bit of advice.
"Seize the moment!," he said. "It sounds so corny, but it's one of the things I tried to do every day. Taking risks. Get involved in something you wouldn't otherwise. You want to walk away knowing you did everything you wanted to do."