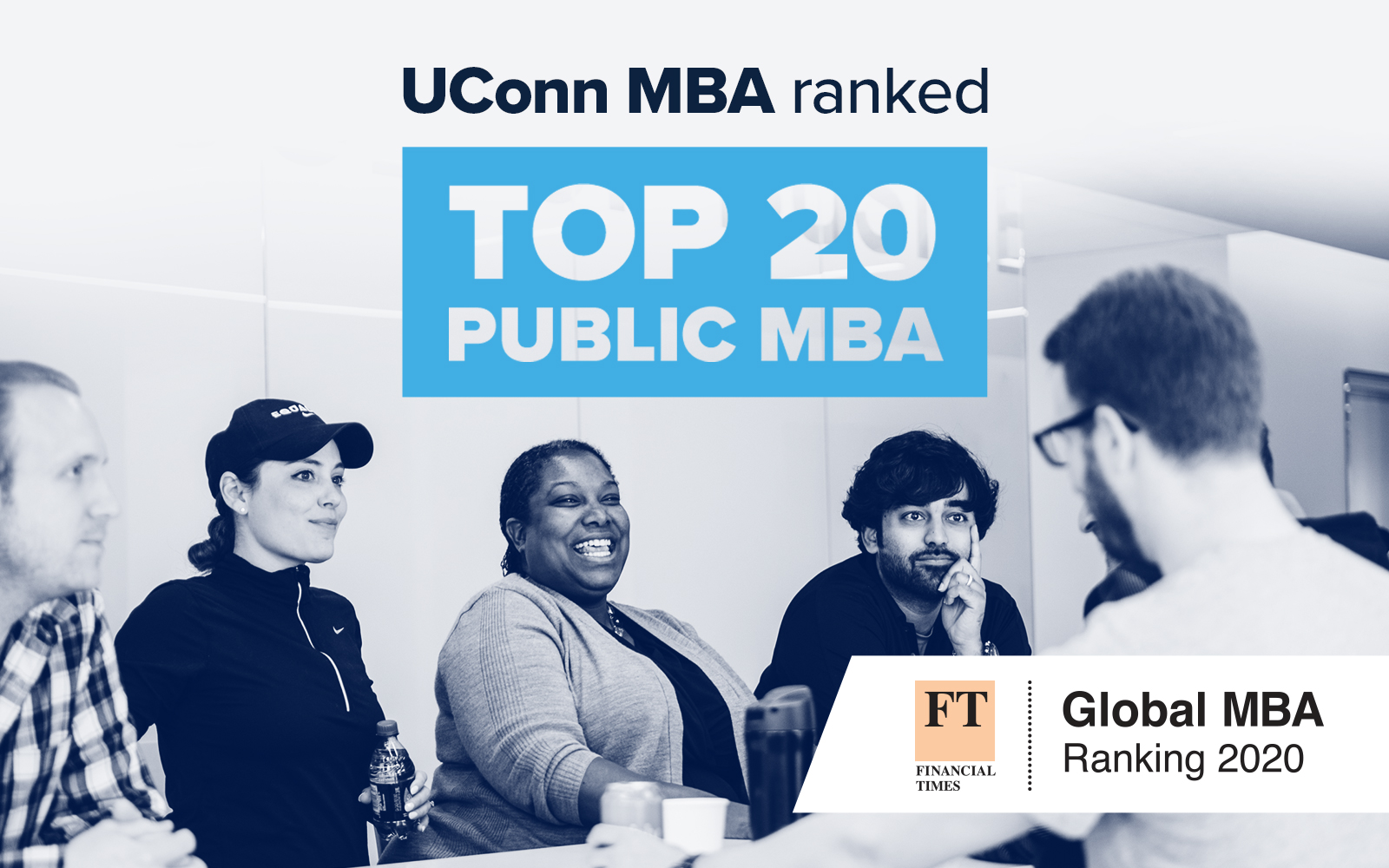 The Financial Times released its highly regarded 2020 MBA rankings today and the UConn MBA program was among the Top 20 public universities for its academic rigor.
The UConn MBA ranked No. 16, up from No. 20 last year, in the category of public MBA programs in the U.S. It also ranked No. 5 in value for the money compared with its public peer institutions.
"The UConn MBA has a laser-like focus on what matters to students. We provide students in-demand skills and connect them to opportunities that let them find great jobs in growth industries," said Professor Greg Reilly, head of the management department. "As a flagship state university, we enable students to achieve incredible return on investment through reasonable tuition costs and placement in jobs well above the salaries our students were earning when they arrived."
"Our location in the Insurance Capital of the World lets students explore opportunities ranging from Fortune 50 corporations to innumerable Insurtech startups," he said. "More broadly, we are perfectly positioned in the dynamic Northeast Corridor to provide access to any important industry or firm operating in Boston, New York, and everything in between."
The UConn MBA program has produced alumni who are impacting global companies in technology, manufacturing, consulting and more, said Professor Jose Cruz, associate dean for graduate programs in business. Graduates are working for Amazon, Bank of America, CVS Health, Dell Technologies, ESPN, Ford, Google, Johnson & Johnson, Shell, the United Nations and United Technologies Corporation, to name a few.
"Our MBA program is preparing students for an eco-system where innovation and environmental, social, and economic sustainability must co-exist," Cruz said. Hartford's powerful incubator programs, including Fintech and Insurtech, have given UConn students the opportunity to demonstrate their leadership as they work toward their degrees, he said.
The Financial Times is a London-based newspaper that serves the international business community. The rankings included top business programs across the world. The publication ranked UConn's MBA program No. 16 among public colleges in the U.S.; No. 42 among all U.S. MBA programs; and No. 77 on the global stage.
The Financial Times also examined value for the money, and in that category, UConn also excelled. The UConn MBA program ranked No. 5 among public-college programs in the U.S. and No. 6 for value among both public and private colleges. On the international front, UConn ranked No. 20 for value.
In addition, the Financial Times recognized that UConn MBA students command notably higher salaries upon graduation. Our MBA program ranked No. 12 in salary increases among public university grads and No. 32 among all U.S. MBA programs.
The UConn MBA program's emphasis on attracting talented students and recruiting faculty and staff who are deeply committed to student success, has created a highly regarded program, said Michael Bozzi, director of UConn's Executive and Full-time MBA programs.
Furthermore, as they approach commencement, the UConn MBA program assists students in defining and communicating their strengths to prospective employers in a way that distinguishes them as professionals and aspiring leaders, said Theo Menounos, associate director of career management.