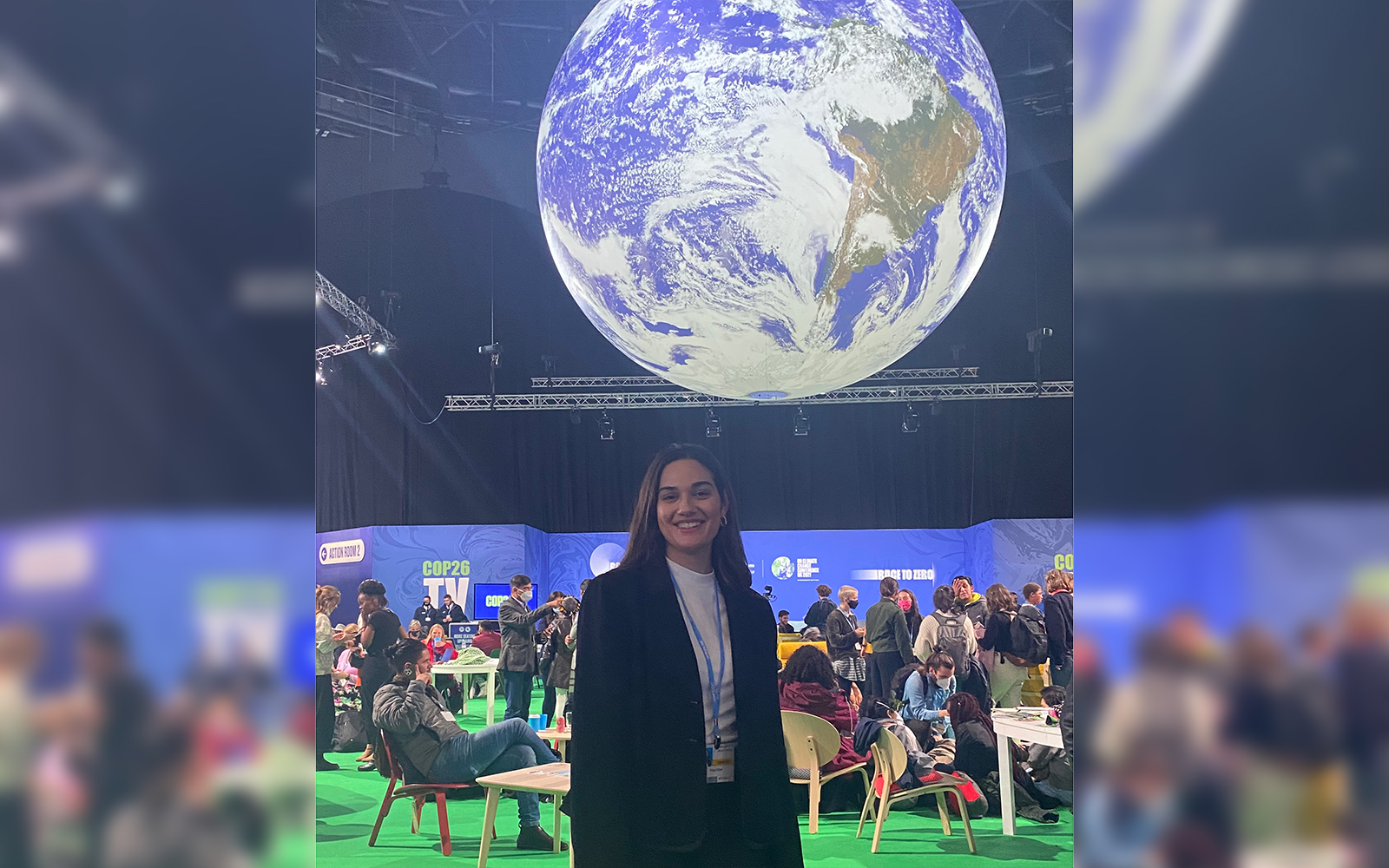 Management major Duygu Ozcan was among 14 UConn students selected to attend the United Nations' Climate Change Conference, nicknamed COP26, in Glasgow, Scotland, last month.
With access to the conference's prestigious Blue Zone, where key negotiations between world leaders take place, Ozcan said the experience heightened her professional and personal interests in the intersection of business and sustainability.
"I am originally from Turkey and immigrated to Connecticut with my family when I was 12 years old," she said. "I grew up in a country where caring for our communities and neighbors was the most important value, so I applied that to the initiatives I took on within my career and school.
"I wanted to study business because it represents various sectors and provides solutions to people every day. My experience interning at a sustainable consumer- goods company in London sparked my interest in researching corporate sustainability," she said.
Ozcan, who is pursuing minors in global studies and economics, is active in several campus organizations related to her interests. She leads the Sustainability Committee in UConn's Global Ambassador program, where she presents on initiatives companies can take to contribute to tackling climate change. As the President of the International Business Association at UConn, she also helps organize events featuring global organizations. And as the vice president of UNICEF Campus Initiative, she contributes to fundraising efforts and presents about key global human rights issues around the world to create awareness among students on campus.
"The UConn@COP Fellowship Program has provided an opportunity for UConn's brightest student environmental leaders to learn more about global climate policy on an international stage," said Patrick McKee, senior sustainability program manager at UConn. "Since its inception five years ago, the program has sent more than 80 UConn students to the UN Climate Change Conference in a different international host city each year. Students often tell us that the program is the highlight of their educational experience at UConn, and for some even life changing."
"We're proud of the way our fellows have represented not only UConn, but the U.S. during its period of withdrawal from the Paris Climate Agreement, and the efforts they've made to put their lessons learned into practice on campus and in their communities after returning," McKee said.
Below Ozcan shared highlights of her COP26 experience.
Based on your experience at the COP26 conference, are you more optimistic or pessimistic than before you went–and why?
I am more optimistic because I observed an increase in involvement of people from diverse sectors. The agreements that came from it, such as reducing methane emissions and net zero commitments, are significant, but to speed up the process it is important for everyone to actively participate. There was a great emphasis on the actions of the private sector and initiatives such as sustainable finance. People who are directly impacted by climate change were given a voice in large panels. Personally, I felt the most hope when I shared my experience on social media and students reached out to me to ask how they can get involved.
You mentioned that you spoke with some prominent CEOs about their progress with sustainability. Can you share any insight from those conversations?
I was surprised to see such a large number of startups and sustainable innovations that exist in the business world. I often see large companies advocating for their green missions, but the newer ones do not get enough media coverage. There were multiple professionals who had started a company focused on financing for the Global South [Latin America, Asia, Africa and Oceania], whose natural resources are at risk due to climate change and deforestation. They stated the importance of thinking beyond our personal lives, identifying a problem, and setting a strong mission to implement a solution for it.
From the consumer-goods side, it was the first time in 10 years that a fashion company, House of Baukjen, won the UN Global Climate Action Award. When I spoke with the CEO, Geoff van Sonsbeeck, he told me to pay attention to B-Corps during my job search because they have made serious climate-action commitments. He encourages competitors or anyone else in the industry to reach out to his team so they can help them adopt similar circular production models. I think that is the kind of collaboration we need.
As the only UConn business student in the group, how did that shape your experience/perspective at the event?
I wanted to apply to the program as a business student to show that climate action should be important to all students and prospective leaders, regardless of our major or sector.
Prior to joining COP26, I was aware that some climate activists have a negative view of corporations. For one of the business organizations I am a part of, I had reached out to some climate-activism clubs on campus because we were hosting a corporate sustainability panel. We never got responses back. Considering all of it, I was worried about being associated with a negative corporate image.
To understand the disconnect between climate activism and corporate sustainability, I decided to listen to both sides during the conference. Activists were frustrated with the lack of results they saw from companies that had made commitments and who still use 'greenwashing' initiatives. While some CEOs knew exactly what they had to do to achieve net-zero emissions and beyond, others were disconnected from the idea of sustainability.
The solution then appeared to be collaboration. The companies who are creating positive change should mentor others to do so as well, and set an example rather than using being sustainable as a marketing tool. Most importantly, young leaders like us should demand or create change within the organizations that are disconnected and support those that are doing good.
What is your background as a student/environmental advocate? How passionate are you about sustainability? And how do you think it will impact your career?
I have always been interested in working for the consumer-goods sector and at the beginning of my sophomore year, I started seeing articles regarding the environmental impacts of consumer-product waste on my social media feed. I wanted to do further research, so I signed up for free online courses about corporate sustainability, focusing on fashion and beauty. I then interned for a sustainable cleaning-products company which served as my source of inspiration.
My advisor, Arminda Kamphausen, who is the director of Global Business Programs at UConn, and I brainstormed about creating a space where students learn about climate action and sustainability as prospective business leaders. We then started the Sustainability Committee within the Global Business Ambassadors Program. Every other week, we watch a documentary or read a paper and discuss it among ourselves along with releasing monthly newsletters. When I graduate in May 2022, I hope to commit to a company that is actively improving and trying to do better for our planet.
Is there anything else you would like UConn students/faculty and staff to know about your experience and insight?
Graduating from the UConn School of Business, I would wish that all of us have the knowledge to make positive changes in our future workspaces. I hope that sharing my experiences upon my return will inspire students to get involved, but it will not be enough. I would love to see required business courses or workshops within our school covering sustainable business models. Change starts with learning; although there is an increasing demand for the topic, there is also a lack of understanding, which we can address.
Did you leave the conference with a broader network and/or any new goals or interests for the next year?
I was lucky enough to be in a group where I learned from every single person and they allowed me to expand my perspective through open conversations. When I listened to certain companies' initiatives, I understood that it is possible to create positive change and the tools are provided. It is a matter of establishing and creating goals. I will continue to spread awareness through organizing events and creating content on social media, putting more of an emphasis on the stories of those who are directly affected by climate change.
Lastly, how were you selected to attend? I imagine an experience like that could be intimidating. Did you find people were receptive to you and your colleagues?
I applied to UConn's COP Program, which occurs every year, and provided an essay regarding why I think I would be a good fit. Upon selection, we received passes to attend the Blue Zone [where the key negotiations between world leaders take place] of the conference as observers. We could observe panels regarding various topics and had the opportunity to ask questions at the end or speak to the leaders directly. There were not a lot of students in the blue zone because it was not open to the public, and we were often surrounded by media officials. It was intimidating at first, but speakers were often very happy to see us there since we represent future leadership.