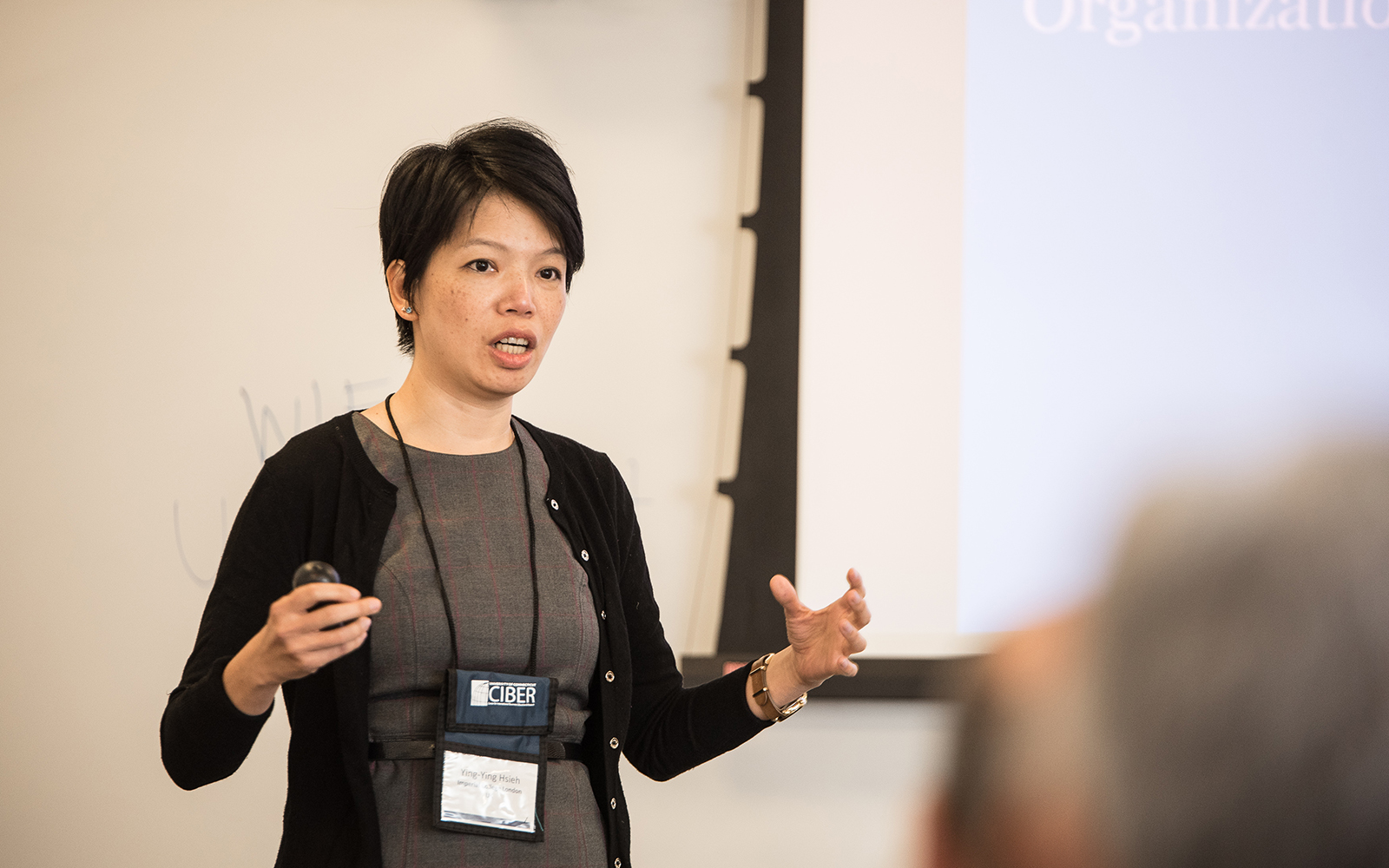 More than two dozen researchers from around the world gathered at UConn's Stamford campus last week to discuss one of the hottest topics in business:
How will the powerful and quickly-emerging Blockchain technology revolutionize businesses, both within organizations and between them?
Sponsoring the first academic conference on Blockchain puts UConn squarely in the center of the emerging technology evolution, which Professor David Noble said is in its infancy.
"The impact of this technology is going to be astounding," said Noble, head of UConn's Werth Institute for Entrepreneurship and Innovation, co-organizer of the conference, and owner of a Blockchain start-up.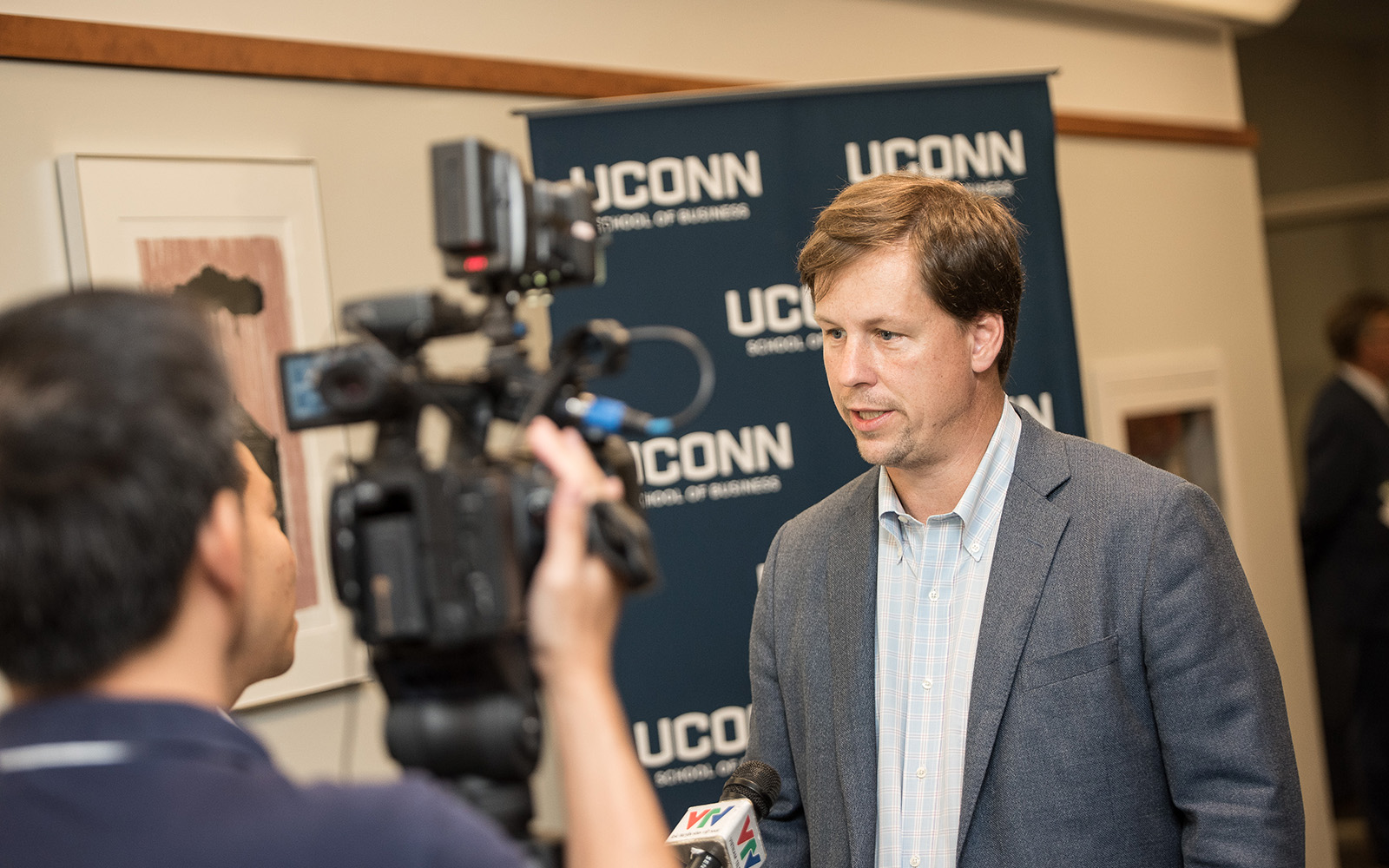 "This technology offers greater privacy, security, and transparency in financial and data distribution, but the biggest shortcoming is our ability to scale it for commercial use," he said. "I think we're in the early phases, like when we used dial-up to access the web."
The conference drew top scholars and Ph.D. students Stanford, Princeton, Virginia Tech, and from 10 nations, including England, Israel, Switzerland, China and Norway. State-run news agencies from Vietnam and China also covered the two-day event, called "Blockchain Technology & Organizations Research Symposium."
"We expect this conference will have a tremendous impact through the presentation of papers, but especially because of the opportunities to collaborate with other thought-leaders on this technology," Noble said. "It is exciting to be in the center of this emerging community."
Blockchain research papers addressed technology business models; reconceptualizing organizational governance; building on the blockchain; cross-border mergers, acquisitions and transactions, and blockchain disruption in the venture capital industry.
"The symposium was designed to encourage scholars to work in this area, but also to create an efficient system of feedback from their most informed colleagues in the field," Noble said.
Ying-Ying Hsieh, a professor at Imperial College London, registered within hours of hearing about the conference. She said she has been eager to meet with like-minded researchers since she began exploring Blockchain in 2014.
Alex Murray, Chair of Entrepreneurship at ETH Zurich and co-organizer of the event with Noble, said the two felt strongly about getting the Blockchain community together to start conversations.
"There has been a lot of talk about bitcoin and tokens, but less about the actual technology which is Blockchain," Murray said. "How can protocols and rules change between organizations, and within organizations, with the adoption of this new technology? These are some of the questions we need to talk about."
"This is a great outlet to get feedback, to be challenged, and to find new angles for research," he said.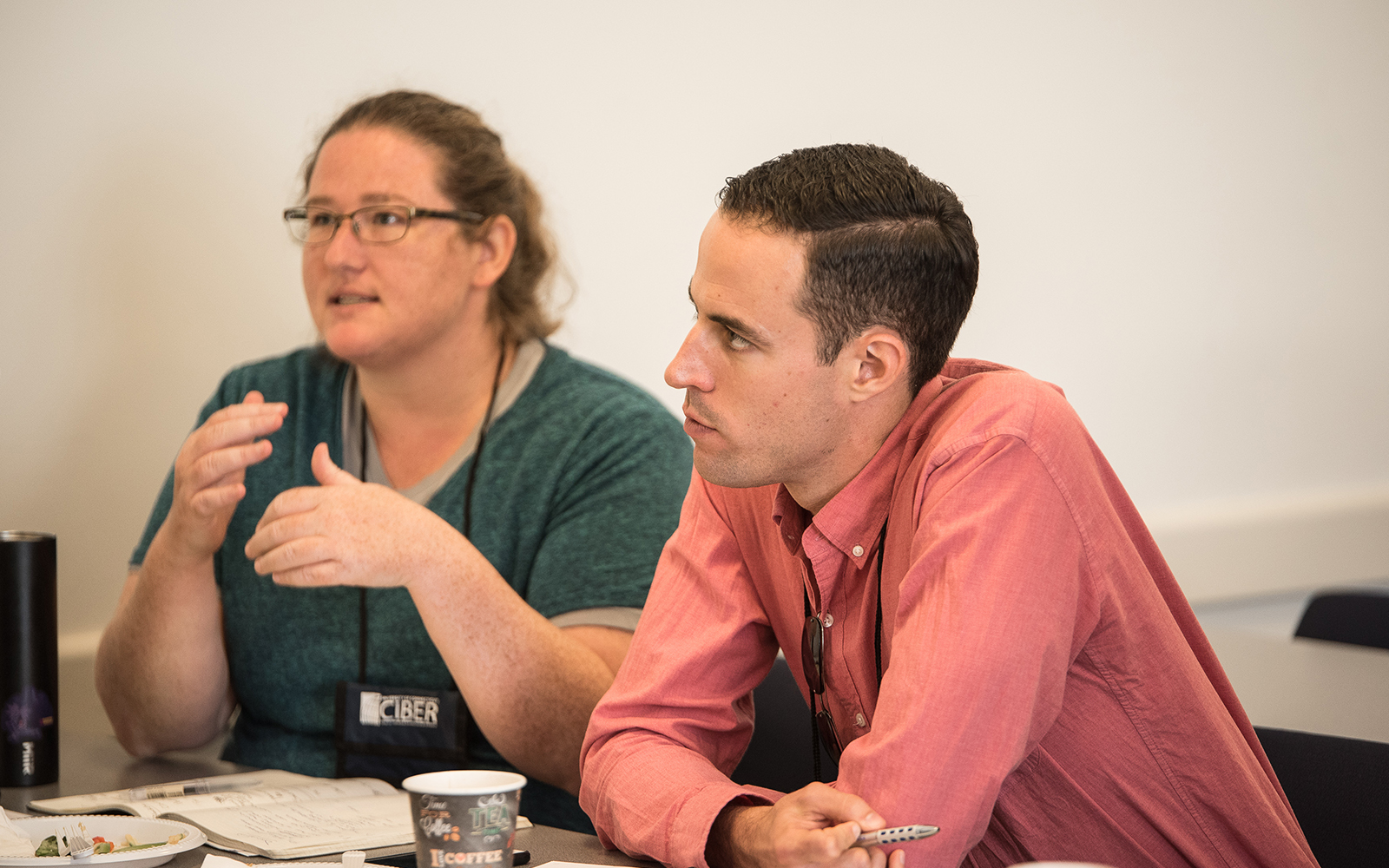 Jen Rhymer, a Ph.D. student at the University of Washington, said she is particularly interested in what Blockchain will mean within an organization and how it will impact structure. Many academics are intimidated by the new technology, she said, and she was pleased to be around others who embrace it.
Murray said he and Noble were pleased with the conference attendance. "We came up with idea in April and we were hoping to attract a dozen experts. Instead, we got double that number," he said. "I think it will continue to grow. I hope UConn is a catalyst as we move forward."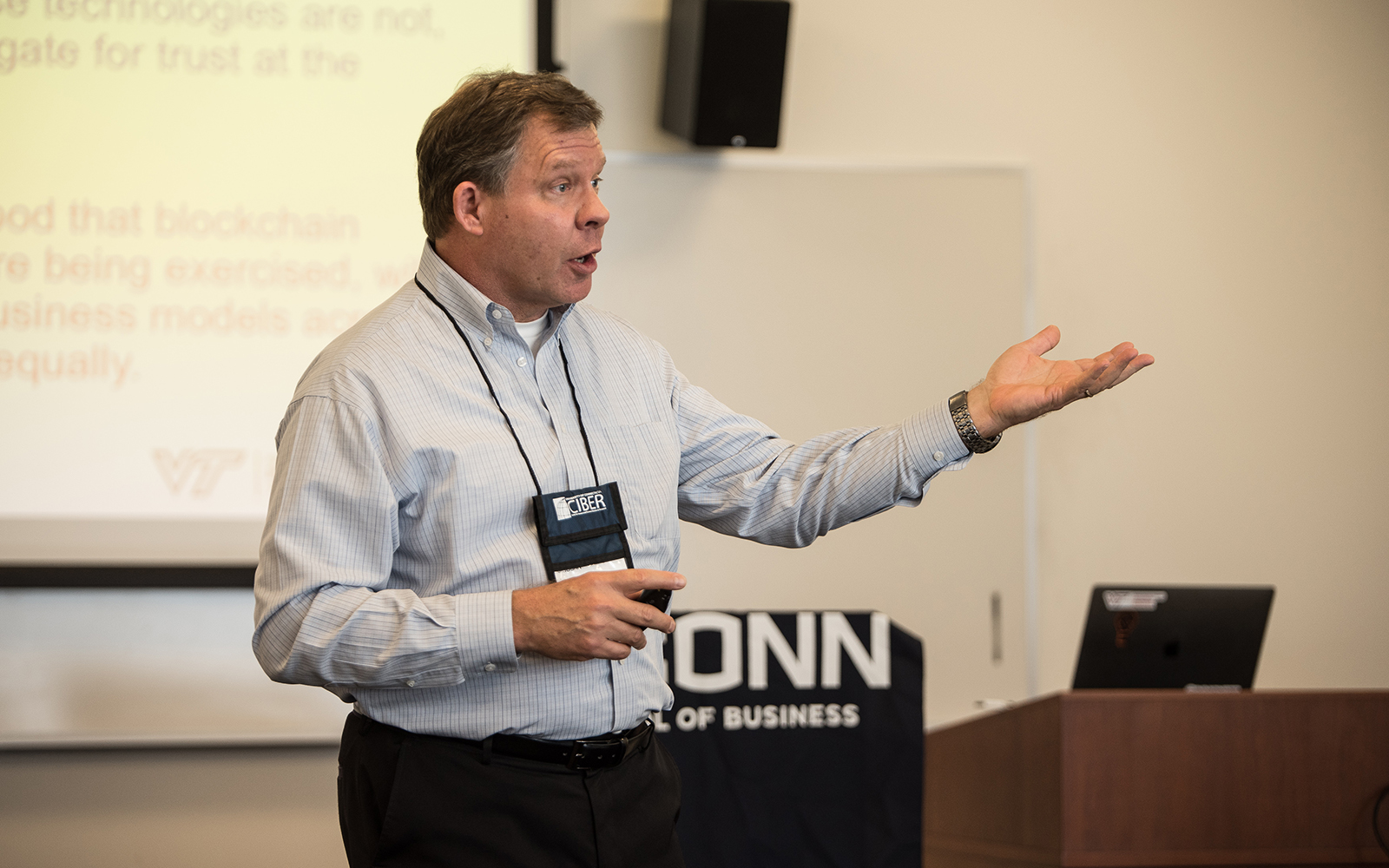 Mark Mondry, a Virginia Tech professor, spoke about trust and smart contracts. While the technology is thrilling, he said, companies from startups to global firms will have to face a countercurrent of mistrust simply because the technology is so different.
"It seems that picking your partners, and getting them to play, is a bigger issue than the technology itself," he said.
Hsieh agreed, saying that while investors value decentralization, there is tension between the philosophy and the management.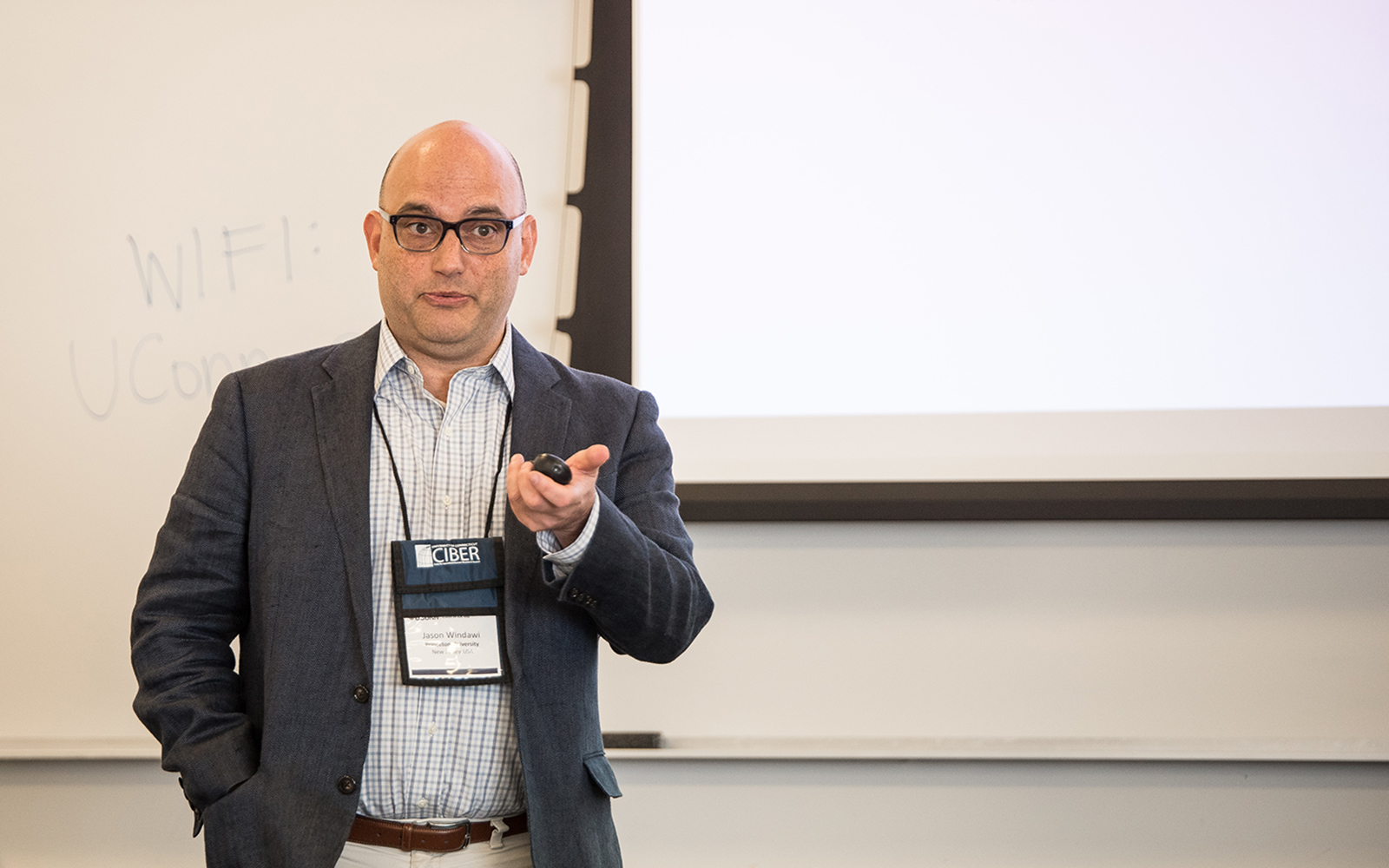 Jason Windawi, a Princeton University Ph.D. student, discussed the interplay of organization and technology in emergent fields. "This is a rare opportunity to meet other researchers whose work aligns with my own," he said.
The symposium was sponsored by the School of Business and its subsidiaries, including the Connecticut Center for Entrepreneurship and Innovation, the Connecticut Information Technology Institute (CITI), the Center for International Business Education & Research (CIBER) at UConn; and the Peter J. Werth Institute for Entrepreneurship and Innovation.
Willow Wu, a Ph.D. student at Stanford University, was eager to learn from those with different perspectives. She said she is particularly intrigued by how Blockchain will impact organizational management.
UConn Professor Tim Folta, who holds the Thomas John and Bette Wolff Family Chair in Strategic Entrepreneurship and is the faculty director of the Connecticut Center for Entrepreneurship and Innovation, said the conference was a success.
"It attracted scholars from some of the world's top universities, such as Stanford, Princeton, Imperial College (London), Fudan University (China), and Tel Aviv University (Israel). It was also notable for the variety of disciplines represented: sociology, strategic management, economics, and marketing," he said. "UConn is proud to be a leader of this research effort on this transformative technology."
"UConn has deep assets in blockchain thought-leadership, and becoming the global home for business research across the globe is a natural extension of that leadership," Noble agreed. "The symposium is designed to be a collaborative conversation that builds the theoretical linkages to existing literature in the field. Based upon the strong response of amazing doctoral students and junior scholars, we expect this will become an annual event."