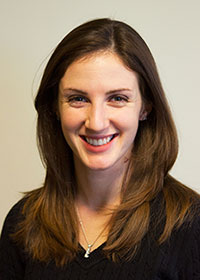 Margaret ("Maggie'') Luciano, a doctoral candidate at the UConn School of Business, has been awarded two scholarships in recent months recognizing her achievements in the field of organizational behavior.
The Society for Industrial/Organizational Psychology's (SIOP) Lee Hakel Graduate Student Scholarship recognizes achievement in a graduate career and is intended to assist doctoral students in the field of industrial and organizational psychology with the costs of carrying out their dissertation work. She received the award in January.
It is the second recognition for Luciano, who, late last year also received an award from the Society for Human Resources Management for her dissertation proposal. She was selected as one of four promising researchers.
Her dissertation research focuses on understanding and improving cross-unit coordination between hospital units, and the dynamics between such groups.
She has investigated patient "handoffs'' as they move from surgery to a recovery room. During baseline assessments, upwards of 20 percent of these handoffs were found to be lacking in one or more important ways, jeopardizing patient care.
"Margaret's dissertation is a stellar example of cutting-edge applied research,'' said John Mathieu, professor of management and Luciano's adviser. "Conceptually, Margaret tests theoretical questions concerning the integration of employees' individual differences and how they combine to perform interdependent actions. Practically, she devised and implemented a work process improvement which essentially orchestrated how different parties should function during these handoffs.''
"Her dissertation represented a serious organizational change for the hospital, involving everyone from top management to the nurses and doctors performing the handoffs. Her field experiment revealed that her intervention reduced the percentage of problematic handoffs to approximately 4 to 5 percent—a 75 percent decrease from baseline,'' Mathieu said.
Both the Society for Human Resource Management (SHRM) and the Society for Industrial/Organizational Psychology (SIOP) awarded her competitive research grants on the basis of her proposed work. The criteria for both awards are that the work should advance both the science of human behavior in organizations, while also advancing practice and human welfare, Mathieu said.
Her research on these and related topics has appeared in the Journal of Applied Psychology and other peer-reviewed journals.
Luciano will join the management faculty at Arizona State University after completing her doctoral program at UConn. She earned her bachelors degree in psychology in 2009 and her MBA in 2010, both from Clark University in Worcester, Mass.