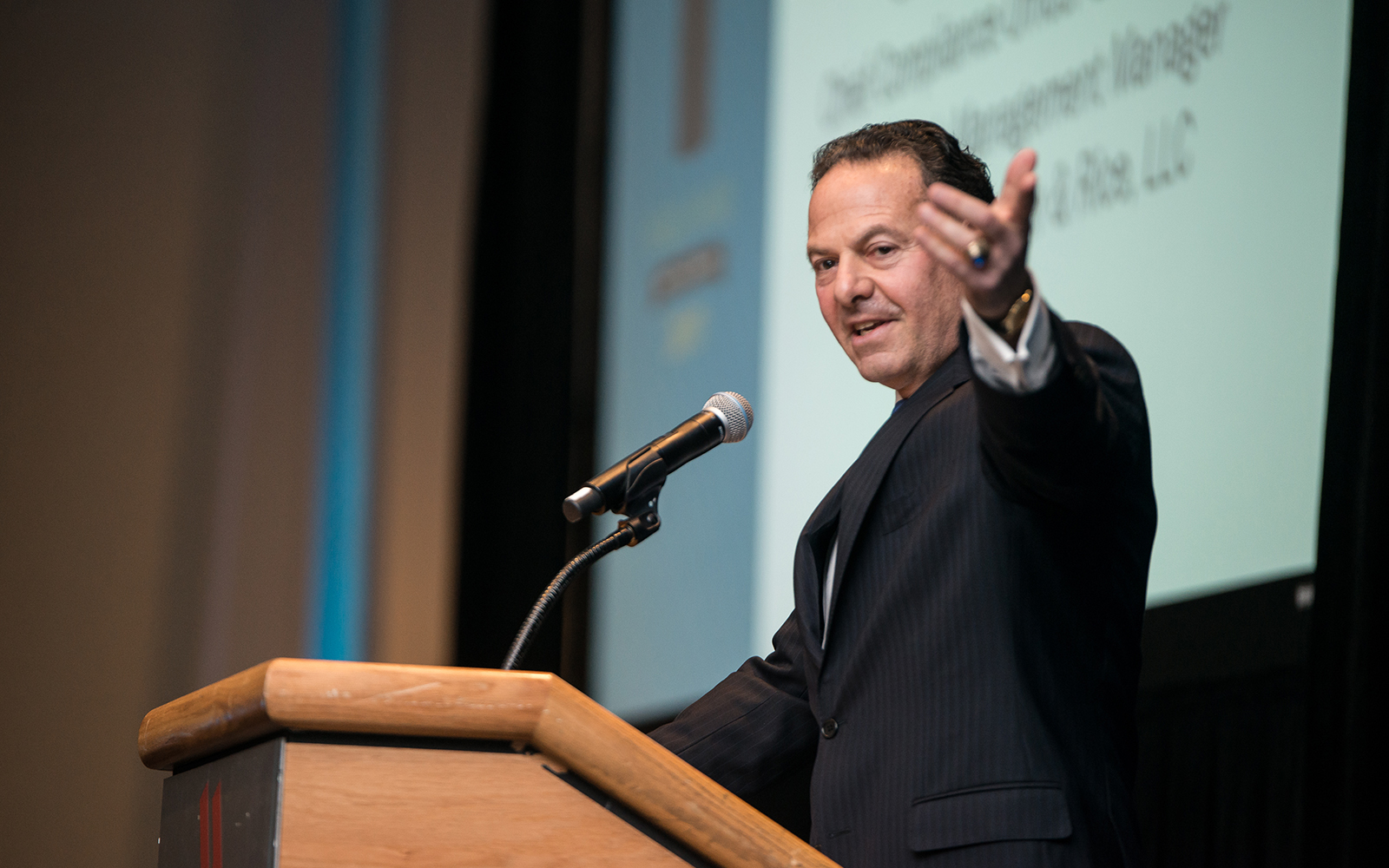 John Malfettone '77 became chair of the board of the UConn Foundation, the fundraising entity for the University of Connecticut, in October. Malfettone is a senior managing director at Clayton, Dubilier & Rice of New York City, one of the world's Top 10 leveraged buyout private equity firms, from which he will retire at the end of the year.
In a recent interview, Malfettone shared his goals for the Foundation, including finding a new leader to replace the Foundation's President and CEO after the departure of Josh Newton; focusing on the University's relationships with corporations and leaders in Fairfield County; the reasons why he is so committed to his alma mater; and even his most vivid memories of Meat Loaf, the singer/performer, not the dinner option.
Q: Since you graduated from UConn in 1977, magna cum laude, and began your accounting career, you've maintained close ties to the university, even serving on the Foundation Board for eight years. What's fostered your loyalty to UConn?
I wouldn't be where I am today without the education, the network and the friendships I've made here, and, of course, meeting my wife Rina as well. UConn gave all of that to me. It all started here.
What I remember most are the amazing professors I had as an accounting major. Dick Kochanek, was inspiring; Corrine Norgaard, was tough, but fair, and taught us so much; business law professor Edwin Tucker, wrote the textbook on law; Vincent Carrafiello, stood on top of the lectern to give instructions… they were fantastic educators who turned accounting from a career my mother wanted me to pursue into something that I became passionate about.
Of course not all my memories are of academics. One of my favorite recreational activities to reduce stress during the cold winters in Storrs was to sled on cafeteria trays down the hill by McMahon during an ice storm.
Q: Each leader brings a unique goal and approach to the job. What will the Foundation leadership be like under your direction?
I believe UConn could be the economic engine to cure the state's woes and get it back to the thriving place it used to be in the 1970s, when we had a high concentration of Fortune 500 companies.
One of the key things that I would like to focus on is the Foundation's relationship with Fairfield County. The University graduates many students whose talents would benefit Fairfield County-based companies, particularly in the financial sector. I believe there are many opportunities there that have been untapped. We have the ability to help Fairfield County businesses to grow and remain strong, and, in turn, they may be able to help our students who cannot afford a university education, or help fund programs and research that can benefit the Connecticut economy.
The University is striving to provide the education, research and products that the 'new economy' needs. We have programs in digital marketing and cyber risk and we have undergraduate and graduate students with tremendous talents. We also have so many distinguished alumni. I feel the Foundation is about sharing UConn's collective resources, including, but not limited to, finances.
Q: What is the biggest challenge you face today?
We are searching for a new Foundation leader with the departure of long-time President Josh Newton. Under Josh's leadership, we took a huge leap forward. He reorganized the Foundation and restructured and advanced our use of data, so that we can easily access information about a prospective donor. We have good people in place. Now we need a top leader who will take us to the next level. We have raised $80 million in a year, and hope to create a fundraising business that can generate $100 million annually.
The economic climate in the state does impact us. We feel tremendous pressure. The state wants to be funding less of UConn, and thinks we, the Foundation, should be filling the gap. Our donors are seeking to make the university even better, stronger. We don't want it to be a zero-sum game.
We want to educate our students and keep them in state. We hope what [donor and entrepreneur] Peter Werth has done, with the generous gift that led to the creation of the Werth Institute for Entrepreneurship & Innovation, is just the start of things. Let's see the places we can go with this.
Q: Do you think the legislature and the people of Connecticut recognize the value of UConn?
I think we could do a better job of making our legislators, and our state residents, aware of the advantages that UConn offers the state. Some 78 percent of our in-state graduates stay in Connecticut to begin their careers, and that's a staggering number. A strong UConn is an investment in the success of the state. We have a mutual goal—a strong state with good jobs and a booming economy that benefits our students and our state.
Q: As a father of five and grandfather of two, what advice did you give your children that you would also share with UConn students?
I told my kids, and I would tell our students, that you have to be passionate about something. You can't succeed without it. You have to work hard and put effort into it. I'm a firm believer that hard work can trump IQ.
Q: When you were inducted into the UConn School of Business Hall of Fame in 2017, you spoke passionately about the importance of giving back to your alma mater. Why?
I believe I told the audience that none of them would have enjoyed the career success they have today without higher education. A lack of education creates an impassable bridge for the poor to move into the middle class, and creates a despair that contributes to crime, drug use, and even terrorism. I feel that people who have done well in life should give a helping hand to others. Part of that is supporting the college or university that gave you your start. Giving back should begin commensurate with graduation, even if a small amount.
Q: What is one of your most funny memories of your time at UConn?
When I was a student at UConn, I was on the Board of Governors, and we were responsible for bringing entertainment to the Storrs campus. One semester we brought National Lampoon to campus. Admittedly, I might not have done enough diligence because the show might not have met the standard you'd expect at the Jorgensen.
The star of the show was a guy named Michael Lee Aday, who went on to a very successful musical career as the singer Meat Loaf ("Paradise by the Dashboard Light"), but this is how he got his start. After the show, we took him to the Rathskellar and I recall he had some beer, perhaps too much beer. He started picking up pitchers of beer and throwing them at students. We had to get him out of there, fast. The last time I saw him that night, he was rolling down a hill not far from Buckley Hall.
Q: What would you say if Meat Loaf wanted to make a donation to the UConn Foundation?
I'd say, 'Come on in and let's talk about your passions.' We'd welcome a contribution to the music program or any other appropriate gift he'd want to make. No hard feelings, my friend, for rolling you down that hill!