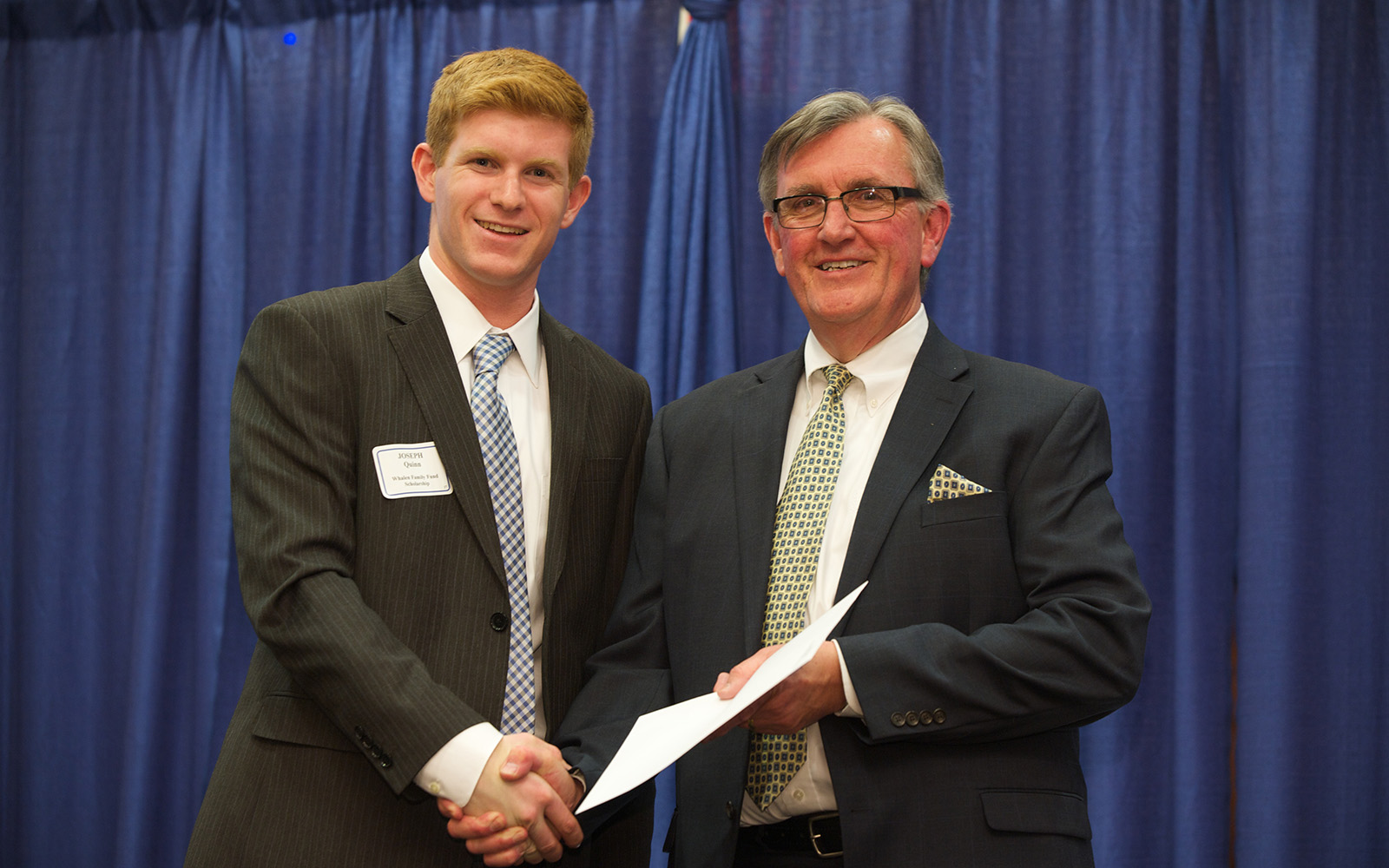 It was supposed to be a friendly game of touch football.
As Larry Gramling recalls it, the accounting faculty challenged their peers in finance to the game, which took place at Holiday Hill in Mansfield in the early 1980s.
"Our accounting department head, Hal Wyman, was a very, very social guy. He was a former actor and had been a football player in college. He and his counterpart in finance, Keith Johnson, came up with the idea of the game," Gramling said.
"Our team was a bunch of skinny accountants," Gramling recalled. "But on the finance team, Steve Messner was burly, and his colleague Neil Murphy was even bigger."
"Us skinny guys were run over by Steve and Neil," he said. "At the end of the day, I had some broken ribs and [professor] Mo Hussein had a broken wrist!"
"That was the first, and the last, accounting-versus-finance football game. I'm not sure what the final score was, but we came in second," Gramling said, laughing. "We probably should have done something else, like ping pong."
Gramling Retires After Impacting UConn
Gramling, who retired on Sept. 1 after 38 years at the School of Business, has been reminiscing about the many events that have shaped his time at UConn. He estimates that he taught accounting to tens of thousands of students since 1980. He also served as Associate Dean of Undergraduate Studies at the School of Business for six years.
His impact also extended beyond the School. Among his volunteer positions were working on the President's Athletic Advisory Committee; interim director of the University Honors Program; and as a member of the University Senate for more than 15 years, including serving on the Scholastic Standards Committee.
He also served as President of the Connecticut CPA Society, the first academic to hold the honor, further strengthening the relationship between UConn and professionals in the field.
"One of the real rewarding things to me is to watch some of the students become so successful, to become partners in CPA firms, presidents of insurance companies, really top jobs," he said. Gramling's students have included: Doug Elliot, president of The Hartford; Jeff Muzio, partner at PricewaterhouseCoopers; and Frank Milone, one of the founding partners at Fiondella, Milone and LaSaracina.
For many years, Gramling taught the large, introductory accounting courses, both financial and managerial, to thousands of students. It isn't easy to hold the attention of students in a packed auditorium, he said. He adapted the techniques of his colleague and mentor Dick Kochanek, by bringing real-life stories to the classroom, culled from his four years as a public accountant.
Hussein recalled Gramling as so popular with students that his office was always brimming with them. "I wanted to buy him a candy dispenser, because he had so many people in his office all the time it was like a barber shop!," Hussein quipped.
In a more serious moment, he spoke about how the Gramling family had welcomed Hussein, an immigrant from Sudan, and his family and taught them American customs. The two families even shared Thanksgiving dinner together. "In all the years I've known him, we've never had an argument," Hussein said.
Gramling Almost Didn't Come to UConn
Gramling said he wouldn't have changed a thing about his time at UConn, but he came very close to not being here at all. He had been offered an accounting faculty job at UMass, and sealed the deal with a handshake but not with a formal offer letter. Before he could get a formal offer letter, the then-governor enacted a hiring freeze, and Gramling was out of a job. The UMass Head of the Accounting Department then called his friend, Wyman, who invited Gramling to interview here.
"If it weren't for that governor of Massachusetts, I wouldn't have been here. It's really kind of crazy," Gramling said.
Gramling's wife, Cathy, taught nursery school and kindergarten in Tolland for 35 years prior to her own retirement last year. Four of her students (Rachel Rubino, Brendan McCarthy, Jason Gould, and Matthew Bradford) ended up in Gramling's accounting classes. "We call them our 'book-end' students," said Cathy Gramling.
"They all started with Cathy and ended with me. We book-ended their academic careers," Gramling said. "I tell her she was really the one who set them up for success!"
At Gramling's retirement party on Sept. 28, accounting department head George Plesko said Gramling is like a cool uncle to the students, serving them with empathy and compassion, and helping with curriculum and even personal issues.
"Larry's life and concern centered around the undergraduates," Plesko said. "His concern for our students was at the forefront of everything he did."
Instructor-in-Residence Leanne Adams had Gramling as a professor twice, worked with him when she was a student officer in Beta Alpha Psi, and later worked with him as the accounting department administrator for a number of years before she joined the faculty. She describes Gramling as one of her staunchest career supporters when she pursued the MSA program, and, ultimately, a faculty position.
"Larry is one of those rare people who effortlessly uplift everyone around them," she said. "As a professor, you simply knew he was on your side, which afforded you the courage to take on otherwise intimidating challenges. As a mentor, Larry guides and advises with a respect that makes you believe in yourself. Working with Larry is to know you have a supportive, resourceful colleague. To know him is to become a better person."
At the party, Gramling's friends and family announced that they are endowing an accounting scholarship in his name.
Dean John A. Elliott said Gramling was instrumental in helping him assimilate to UConn when he arrived. He said Gramling was at the forefront of getting professional accountants to engage with UConn students, he supported the MSA program, improved education, shaped curriculum, helped create the Business Connections Learning Community (BCLC) and chaperoned their international trips.
Gramling is equally impressed by Elliott, describing him as one of the most incredible bosses he could imagine. "His ability to care for people and show interest in their wellbeing is phenomenal. I was blessed to work here and to work with John," he said.
Students Displayed Professionalism Beyond their Years
"What I'll miss most is the interaction with the students, particularly those in the BCLC," said Gramling. He traveled internationally with the students almost every summer, immersing them in global experiences from Italy to Germany, Ireland to Spain.
The program focused on business immersion and company executives were always favorably impressed by the UConn students.
"To see the students, mostly freshmen, with tremendous professionalism was always such a point of pride," he said. "When our students presented a consulting case to improve the marketing at a vineyard in Austria, the executives could not believe their work. They said they were better than an MBA team. It was a tribute to everything we're doing at UConn."
"I hope whomever directs the state, and the University, in the coming years keeps in mind the upward trajectory of UConn, and wants it to continue," he said. "I hope we're given the support to continue on as a great university."
Retirement Offers New Projects, Goals
In his retirement, Gramling hopes to launch a project with Human Development and Family Studies Professor Michael Ego, Head Baseball Coach Jim Penders and the UConn baseball team, to help Alzheimer's patients strengthen their memories through discussions of their baseball heroes and championship games. Gramling, a big baseball fan, is doing it as a tribute to his long-time friend and best man at his wedding, who is now in the early stages of the disease.
Gramling said he is also looking forward to traveling with his wife, spending more time with his five children, Scott, Brian, Gary, Tim and Amy, their spouses, and his seven grandchildren, and working to improve his golf game.