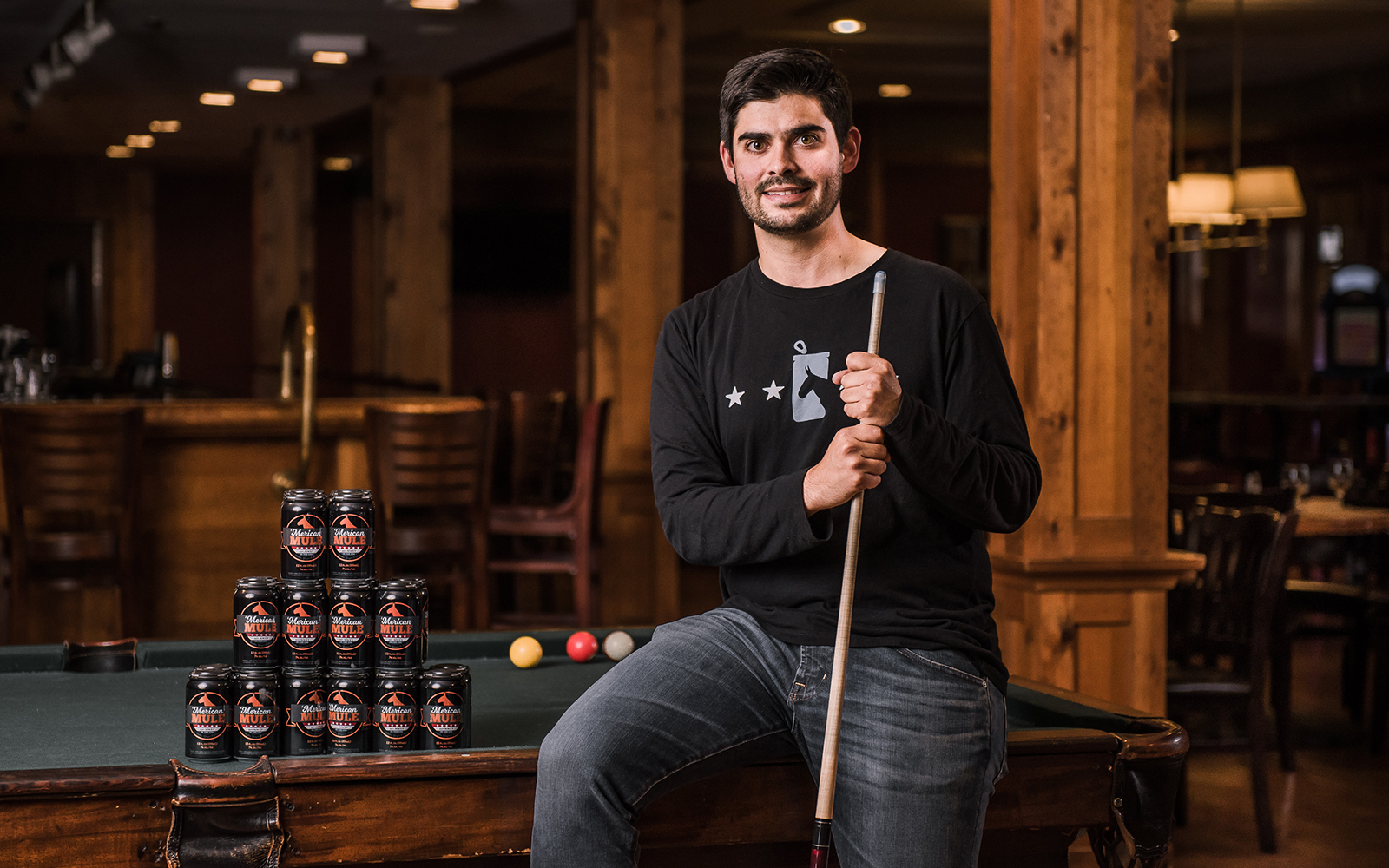 Sometimes in business, and in life, you have to swallow your mistakes. Even if there are 700 of them!
For entrepreneur and UConn alumnus Dean Mahoney '09 that's the number of odd, not-quite-right, and downright disgusting drinks he and his friends consumed in their quest to taste—and make—the perfect Moscow Mule.
With only three ingredients—vodka, ginger beer and lime—initially it didn't seem like a difficult task.
"It's an easy drink to make, but a hard drink to make well," said Mahoney. "We became Moscow Mule connoisseurs, drinking hundreds at bars and restaurants. Most of them were terrible!"
Standing behind the bar at the Tavern, in Southbury, Conn., the town in which he grew up, Mahoney is eager for visitors to try his 'Merican Mule, a light, citrusy, alcoholic beverage, made with premium vodka, which resembles the popular Moscow mule cocktail. But although Mahoney's concoction can be enjoyed in a traditional copper mug, it is sold in liquor stores in a can. The company's slogan is 'Copper Mug Optional.'
"At first people think, 'No way is this going to be good.' They have a preconceived notion of what a pre-mixed beverage will taste like," said Mahoney, CEO and co-founder of 'Merican Mule. "The reward is seeing people's reactions. They are surprised by how much they like it. That's because unlike typical malt beverages, we use real vodka and all natural ingredients."
"We expect it to be a big seller because of the convenience of a premium beverage that's available in a can," he said. "It is popular with boaters on Nantucket and Martha's Vineyard because of its summer flavor and because they don't like having glass on a boat. It is also drawing interest among beverage managers at golf courses, pool bars, cinemas that serve alcohol, catering companies and stadiums and arenas."
Entrepreneurship in his Blood
Born into a family of entrepreneurs, Mahoney said he always knew he would own a business; it was simply a matter of how he would stake his claim.
"My dad owns his own media agency, representing Fortune 500 clients," he said. "He's my biggest inspiration for becoming an entrepreneur. He always made it look easy. His philosophy is always, 'You can get through any challenge. Nothing is impossible.' He has great wisdom."
His mother also had a business making children's stick pony toys, and his brother runs a freelance graphic-design business in addition to a full-time job.
"Everyone in our family believes that you're in control of your own destiny. A lot of people say that, but not a lot of people believe it," said Mahoney, who now lives in South Norwalk. "I think the key to success is that you have to strike the right balance between strategy and execution."
Best Friends Came from UConn
At UConn, Mahoney majored in finance, and said he enjoyed both the academic challenge and the many friendships he formed.
"UConn was the best experience for me," he said. "I felt like I was never pigeonholed. I had the opportunity to try all sorts of new things. I even took jujitsu classes. I appreciated the constant investment in the university and that the business school was highly touted. Those were some of the best years of my life."
"Most of my best friends came from UConn. I met a lot of people from different backgrounds and varying perspectives," he said. "I had many friends in the School of Engineering and we'd debate which school was more challenging, engineering or business. I threw a lot of jabs!"
Professor-in-residence Mark Spurling, who specializes in business law, is among those who left a lasting impact.
"I still remember him saying that a verbal contract is a binding contract; and that you have a duty and responsibility to know and follow the laws," Mahoney said. "The liquor industry is a highly-regulated and serious industry, and those words have stayed with me throughout this venture."
Corporate Jobs Shaped Business Journey
After graduating from UConn in 2009, Mahoney entered a financial leadership rotation program at United Technologies, where he had interned and worked part-time from sophomore year on. His work there, which involved cost savings and reducing spending, has been tremendously helpful in taking 'Merican Mule to market.
Next, he worked for EMC for three years as a field account executive in California, as the tech world started to disrupt industry. "You have to have a certain DNA to be in sales," he said. "You just have to believe in yourself. You blast through the obstacles. You figure it out."
"UConn opened up these opportunities for me," he said. "The UTC internship experience taught me to build financial models and the social aspects that bring creativity to a business. The opportunity that UConn provided me brought me here. I have a viable product because I leveraged the network and the opportunities I had."
Business Started with a Bang
The inspiration for the drink came when Mahoney and friends were enjoying cocktails at a trendy Santa Monica bar and were surprised at how many people were drinking Moscow mules, a drink popularized in the 1970s. When they found out that the liquor stores didn't sell a mule in a can, they realized they had a great opportunity.
Among their funnier experiences was mixing a trial batch that contained too much yeast, and having the drink explode in the refrigerator.
"That wasn't a good day," Mahoney said, "but what I've always been good at is learning and recognizing that you can teach yourself almost anything you want to learn."
One of the biggest challenges that Mahoney and co-founders Pete Weil and Steve Pawlik face is entering the alcoholic beverage industry as newcomers. The industry is highly regulated and not particularly welcoming, compounded by liquor laws that vary greatly by state.
"We've used a lot of gut determination, persistence and negotiation skills to accomplish what we needed," said Mahoney, noting that the owners have funded the business. The brother of one of the founders even drove around to bars dropping off free cases of 'Merican Mule to build a following.
Mahoney returned to the East Coast to spearhead distribution here, and, at the end of 2017, Total Wine and More began to roll out the beverage in its stores. "They definitely put us on the map," Mahoney said. Today, 'Merican Mule is available in Connecticut, Massachusetts, California and Las Vegas, with plans to expand into Rhode Island and New York shortly.
They've had product endorsements on delish.com; have recently been made available at select Whole Foods, and can be purchased at hundreds of liquor stores, including Kappy's and Yankee Spirits in Massachusetts and Luke's Liquors on Cape Cod.
Although they believe that Mike's Hard Lemonade and Twisted Tea are their biggest competitors, Mahoney wants 'Merican Mule to have a distinct identity. Back in high school, he was a music producer and played in a band. At UConn, he would often work at 4 a.m. in his dorm on sound tracks. Some of his music has been used on VH1, the Discovery Channel, Beavis & Butthead and Teenage Mom.
"I believe that helped me in several ways, because when you bring a product to market, you need a key point of differentiation," he said.
"We want people to know that this is an American dream, something to believe in. It's on a back of a napkin and now it's a business," he said. "Our company is the ultimate definition of sacrificing everything to achieve the greatest of goals. For us, that goal is to impact and inspire others to pursue what they are really passionate about. We are David, in David vs. Goliath, and we have no plans to stop disrupting a beverage category that has not evolved in decades."
Today he juggles the beverage production with social and digital media obligations and expanding its apparel line. In addition, he's planning his wedding to fiancé, Lauren Veneziano. "At 30, life gets real," he quipped. Their wedding cocktail? 'Merican Mule of course.
Not Just a 'One Trick Pony'
Mahoney said he would encourage other UConn students to pursue their entrepreneurial dreams, but to do so with purpose.
"I think entrepreneurial students really need to think about what the end-goal is. What are you trying to accomplish? Then, set goals and benchmarks to get you there along the way. Benchmark your successes. And enjoy the ride," he said.
"Being an entrepreneur is a lot of responsibility, but offers a lot of reward in creating something from scratch and watching people's reactions," he said.
"When I worked in music, the enjoyment came from the experience. This is the same thing, creating enjoyment for someone else. But I also love the freedom to do anything I want to do, with no restrictions and endless possibilities."
The company's future plans are under wraps right now, but Mahoney promises they will be exciting.
"We're not just a one-trick pony," he said confidently. "The future looks like something you've never seen. What we're going to do will be incredible."