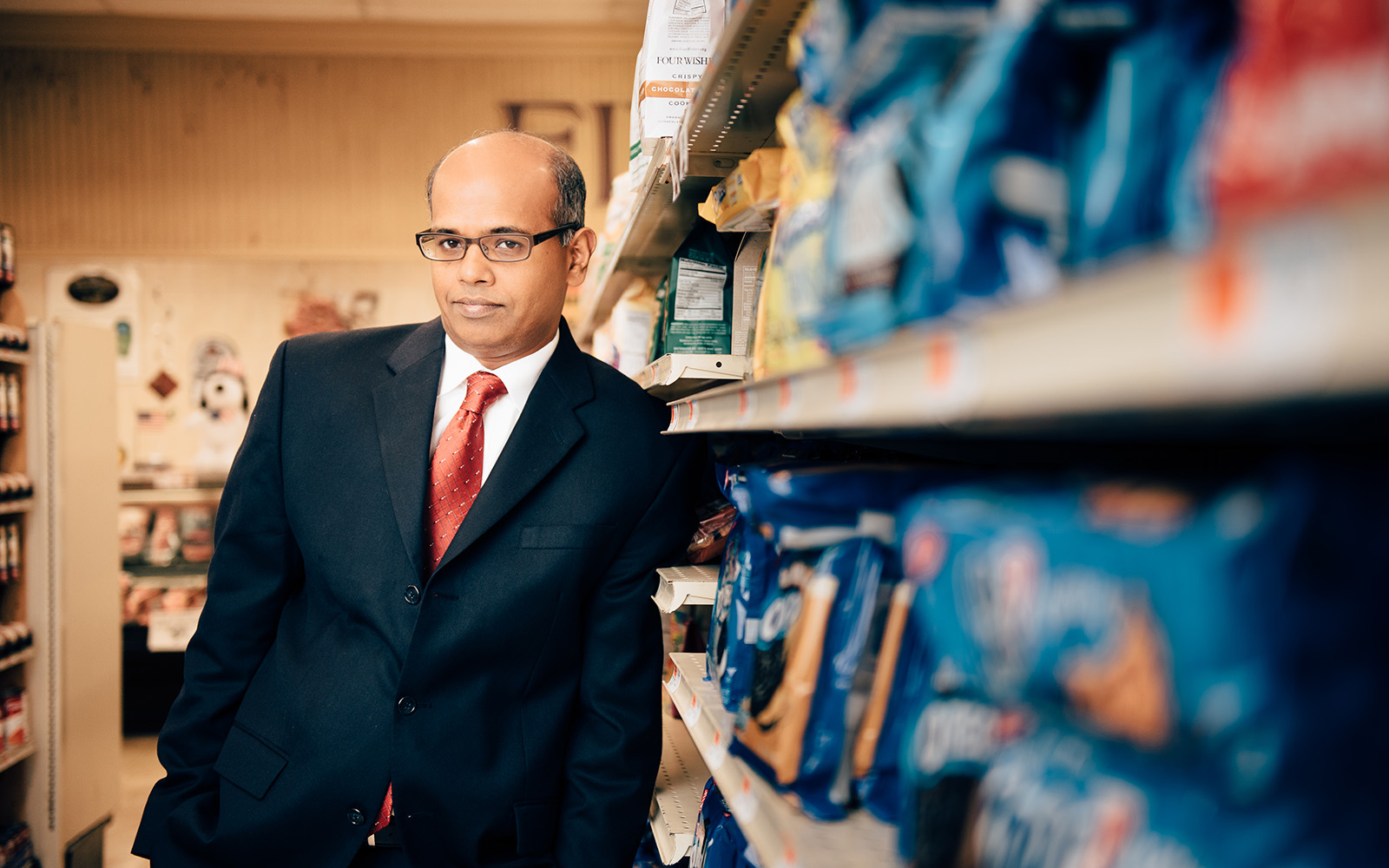 Professor Joseph Pancras Identifies Best Sale Items to Lure Customers Away From Other Grocery Stores
If you want to increase grocery store sales, offer a discount on beer. And then place a tempting display of salty snacks right next to it—at full price.
That's some of the well-researched advice that marketing professor Joseph Pancras and his colleagues offer grocery store executives in a newly published article in the Journal of Retailing.
Beer drinkers, it seems, rarely leave the grocery store without purchasing a salty snack or two, so a discount on beer will result in a significant boost in snack sales, more than compensating for the beer discount.
But that's not the only interesting finding. Sales on staple items (brand name, high frequency, commonly purchased items) such as milk, bread and soft drinks, often lure customers to different grocery stores in hopes of saving money. Many times people will apply that savings to the purchase of other items, leading to fuller baskets and bigger sales.
"The truth is that grocery stores are very competitive and operate on low margins, vying for customers among many players," Pancras said.
Consumers typically go to the store closest to home, usually in a 3-mile radius. To attract more customers, grocers must incentivize them.
"Most people will travel farther if they think they will save a significant amount of money," he said. "Sometimes they will 'trip chain' grocery trips with toy stores or mall visits, which I am researching currently in a separate study with a colleague."
Are Deep Discounts a Shopper's Delight?
Although conventional wisdom has always been that deep discounts will generate additional store traffic, there was little formal evidence to support the idea. Pancras and colleagues Dinesh Gauri of the University of Arkansas, Brian Ratchford of the University of Texas at Dallas and Debabrata Talukdar of SUNY-Buffalo set out to investigate.
The data for their study, titled, "An Empirical Analysis of the Impact of Promotional Discounts on Store Performance," came from 24 stores in a grocery-store chain in a mid-size metropolitan area in the Northeast. The market is dominated by two regional grocery chains, which account for more than 85 percent of the market share. The grocery chain that supplied 49 weeks of data has the largest share of the local market, has more stores in the area, and tends to have a favorable pricing image.
The researchers collected in-depth data on overall customer traffic, sales per transaction, and profit margin for a total of almost 14,000 transactions. They also studied the impact of promotions, frequency of purchases, impulse buying, stockpiling and the sale of store brands.
"This is an important strategic question," Pancras said. "Even 20 years ago, the data was limited to a few categories, which really restricted what retail scholars could discover. The availability of Big Data has changed what we know about grocery-purchase behavior."
"Our results validate the widespread use of price promotions, supported by feature advertising, that provides beneficial impact on store performance metrics," he said.
Which Discounts Motivate Shoppers to Buy?
Through their research, Pancras and his colleagues discovered that discounts on ice cream, soft drinks, bakery products and snacks are all associated with increases in grocery store traffic, sales and profit margins. Special promotions on meat create the largest customer draw, with produce, beer and fresh seafood also attracting significantly more shoppers, the researchers found.
Promotions for less frequently purchased categories such as soup, condiments, salad dressings, water, laundry products and pasta do not seem to draw a sharp increase in customers, and discounts on these transactions can decrease a store's profit margin, they discovered.
Stores need to be wary of attracting large numbers of "cherry pickers," the ultra-bargain hunters who will come in just to buy the sale items and leave. Serving a disproportionate number of them will damage the store's profits, he said.
One way to combat that is to feature "impulse buys," usually a new or unexpected item, which the shopper will add to the cart. These tend to be more profitable for grocers, and increase the customer's purchase total.
Among their other findings are that people will wait for rock-bottom prices on "storable items,"—often canned food—unless their inventory is depleted.
Cutting the prices on store brands also appeared to be an ineffective strategy for grocery stores, he said. Instead, well-known 'national brands' are better candidates for effective retail promotions because these are typically premium priced and so the promotions are perceived to be more valuable.
Future of Grocery Shopping May Be Much Different
"Grocery store traffic, revenue and profits are all important retail metrics and will perhaps be even more so in the future," Pancras said. The introduction of Walmart Supercenters, that offer extremely low prices every day, and Amazon's foray into the grocery-delivery business as well as its recent acquisition of Whole Foods, are putting grocers under increased pressure, he said.
"This is a fascinating field. Ultimately the customer is winning due to competition," he said. Grocers are grappling with the idea that busy families want good-quality food, reasonable prices, and a quick way to accomplish their shopping. Today, Walmart has started implementing "personal shopping," something that was previously offered only by super luxury retailers, where a store employee selects your grocery items and delivers it to your car at a drive through; in some areas it even stocks up a locked refrigerator outside your home, he said. It isn't far-fetched to consider that this will become even more seamless and someday a robot will select your groceries for you, Pancras said.
"The future of grocery shopping might be much different than what we're used to now," he added.
But, in the meantime, Pancras acknowledges that not all of his grocery store research is of a professional nature. He, like most people, does have a guilty habit that adds an expense to his family grocery cart.
"Desserts. Very rich desserts," he said. "I try not to purchase them often, so when I do, I don't feel too guilty about it!"