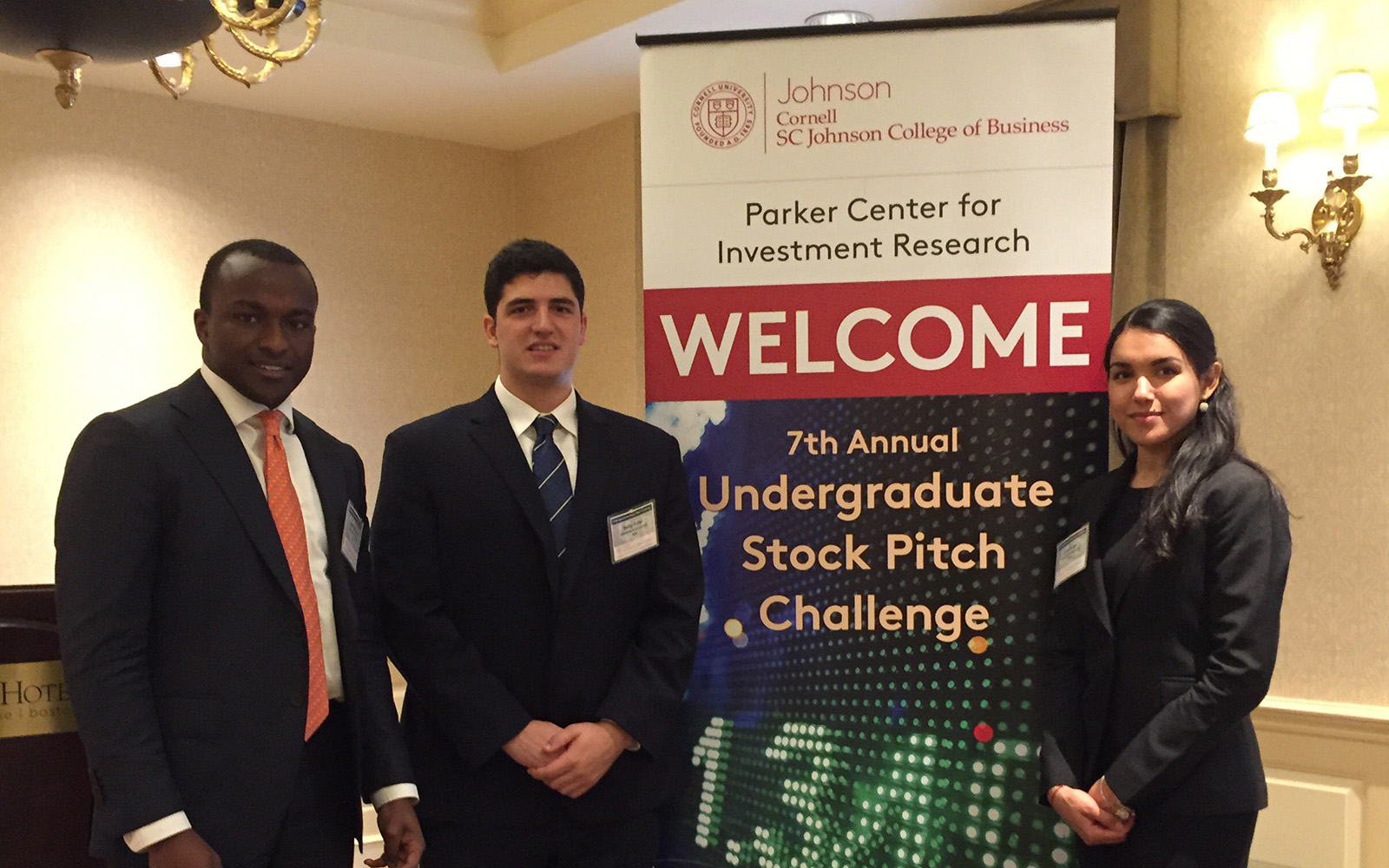 A team from the University of Connecticut came in third place at the annual Cornell Stock Pitch Competition on Sept. 15, just behind second-place winner Columbia and first-place winner Notre Dame.
Amherst College, Carnegie Mellon, Cornell University, Harvard University, New York University, University of Pennsylvania-The Wharton School, and Wellesley College also competed.
UConn's team consisted of three senior business majors: Ana Walas, Reilly Cotter, and Stephen Mwangi, who was also a member of the team last year, in which UConn came in fourth place. They were advised by UConn School of Business finance professor Paul Gilson.
"Competing against schools like Harvard and Cornell felt great! It shows that UConn is also a great school, and representing it was an honor to me," said Walas. She credited the team's hard work on the pitches and the mentoring from Gilson for their win.
"These were very experienced students, both academically and professionally, so all I did was suggest some small changes," Gilson said. "It was like polishing a diamond that had already been beautifully cut."
The two-day event began on Sept. 14, with a networking opportunity for students to interact with judges and other teams, followed by a dinner and keynote speech from Gavin S. Baker, portfolio manager at Fidelity Investments.
"The night before the competition we attended a dinner where we had the chance to interact with the other teams as well as the judges," said Cotter. "The evening was highlighted by a keynote speaker from Fidelity Investments who spoke about his career in investment management."
The next day, the competition took place at the Omni Parker House Hotel in Boston. The competition was structured so that the first round of pitches happened in the morning, with the finalists being announced at lunch and presenting their second pitch in the final round. Presentations lasted 10 minutes, with a five minute Q&A period from the judges.
In the first round, each team presented on the same stock, in this case being Canada Goose Holdings. The teams gave either a long (buy) or short (sell) recommendation. After the first round, the teams broke for lunch, and the finalists were announced.
"I was somewhat nervous, although I was more excited to finally present our recommendations," said Cotter. "Pitching these companies to the judges was the culmination of a lot of work and not a lot of sleep. Given how often we practiced, I felt confident and comfortable during the pitch as well as the Q&A."
In the final round, UConn pitched a buy on Schneider National, a trucking company.
"There are always some nerves before presenting in front of judges; however, once you got into the groove of the presentation, the nerves go away and your preparation kicks back into gear," said Mwangi. "We fielded a strong team of passionate students who, in my opinion, were just as good as the other students at other universities."
All of the students seemed to agree that this competition was a great opportunity to make connections and demonstrate their skills.
"The event was also a great experience to showcase our stock-picking skills in front of potential future employers, since our resumes were handed out to the judges prior to the event," said Walas.
"I believe our strong performance is indicative of UConn's business program and I am glad that we [had] the opportunity to showcase what UConn is capable of," said Cotter.