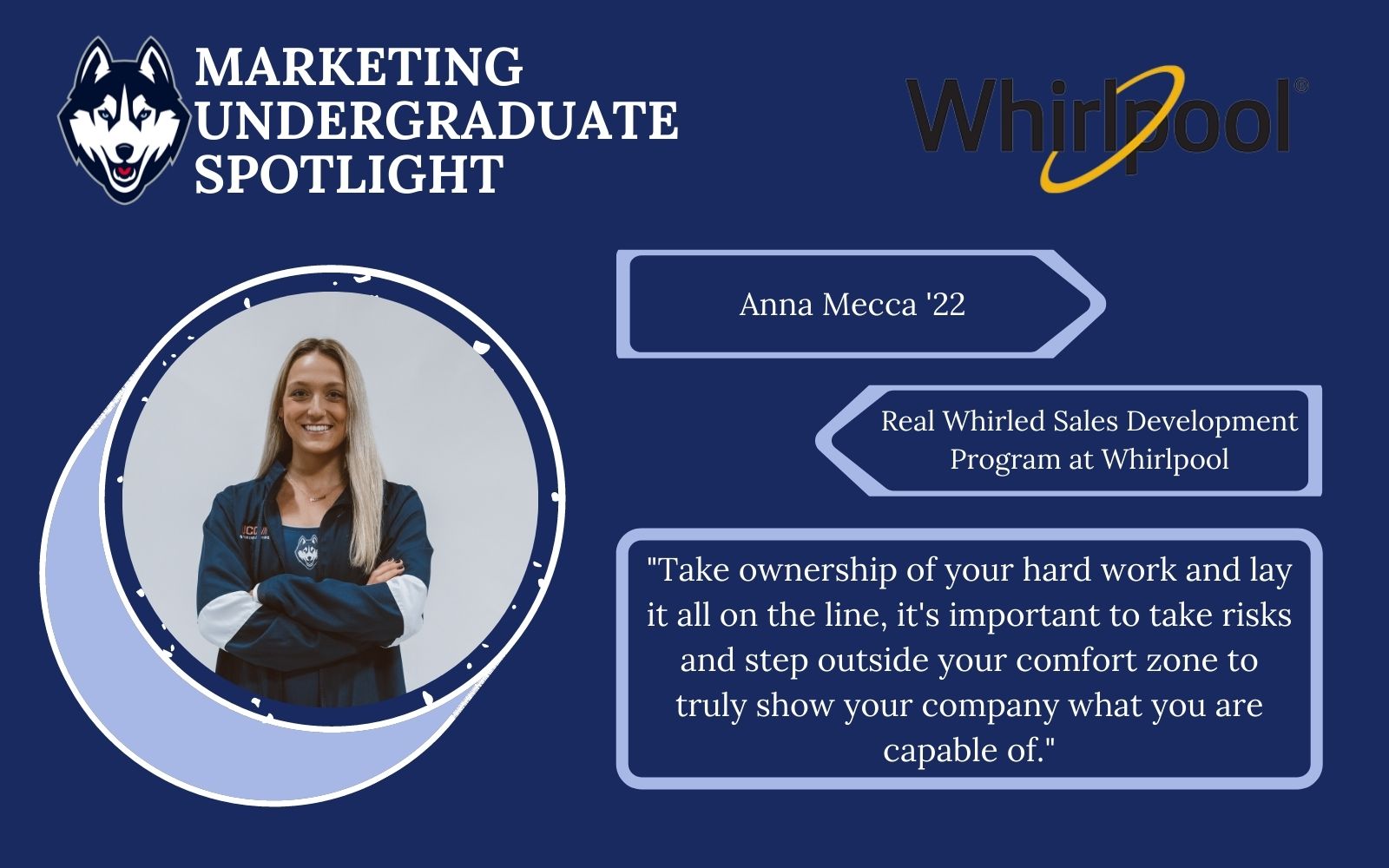 Last year, Anna Mecca '22 began the Real Whirled Sales Development Program at Whirlpool, a multi-week immersion training experience that would prepare her for her a role in the company that would see her working with several teams.
As an intern, Anna was assigned to work with the Sales Execution Team on the Real Whirled Training Continuous Improvement Project. The main responsibility was discovering, creating, and implementing a new process for better delivery of training content to Sales Execution Representatives. While working on this project, her main goal was delivering training content in "digestible pieces" while elevating SER readiness and confidence in the market. She was able to make a lasting impact in the company, as her new approach maps out a two-part strategy that is applied over the course of 8 weeks, focusing on learning, enhancing, and applying knowledge obtained.
Aside from this main project, she was also a participant in the INNOVA Competition, a 3-day shark tank style competition where she worked with a team of 7 other interns to produce innovation that addresses sustainability and water waste in the home and laundry space. One of her biggest takeaways from this work was the importance of challenging oneself beyond the scope of project objectives. "Take ownership of your hard work and lay it all on the line," she says, "it's important to take risks and step outside your comfort zone to truly show your company what you are capable of."
Anna worked cross functionally with the Sales Execution Team, Sales Execution Representatives, Channel Leads, Sales District Managers, and Field Merchandising Managers, exposing her to many people within Whirlpool Corporation. She speaks highly of her team, mentioning how supportive they were, exemplifying a positive company culture despite a remote work environment. With activities like virtual lunch and learns, coffee breaks, and other team bonding experiences, she was able to stay connected and engaged.
As for students looking for internships or full-time positions, Anna has several pieces of advice. First, "network, network, network!" Especially in a large company like Whirlpool, making connections is so valuable for future career aspirations. Next, she emphasized the importance of confidence and being aware that there is always a learning curve that comes with new experiences, "Be confident in yourself, landing the internship was the hardest part of the process, during it trust your experiences and be your true self!"