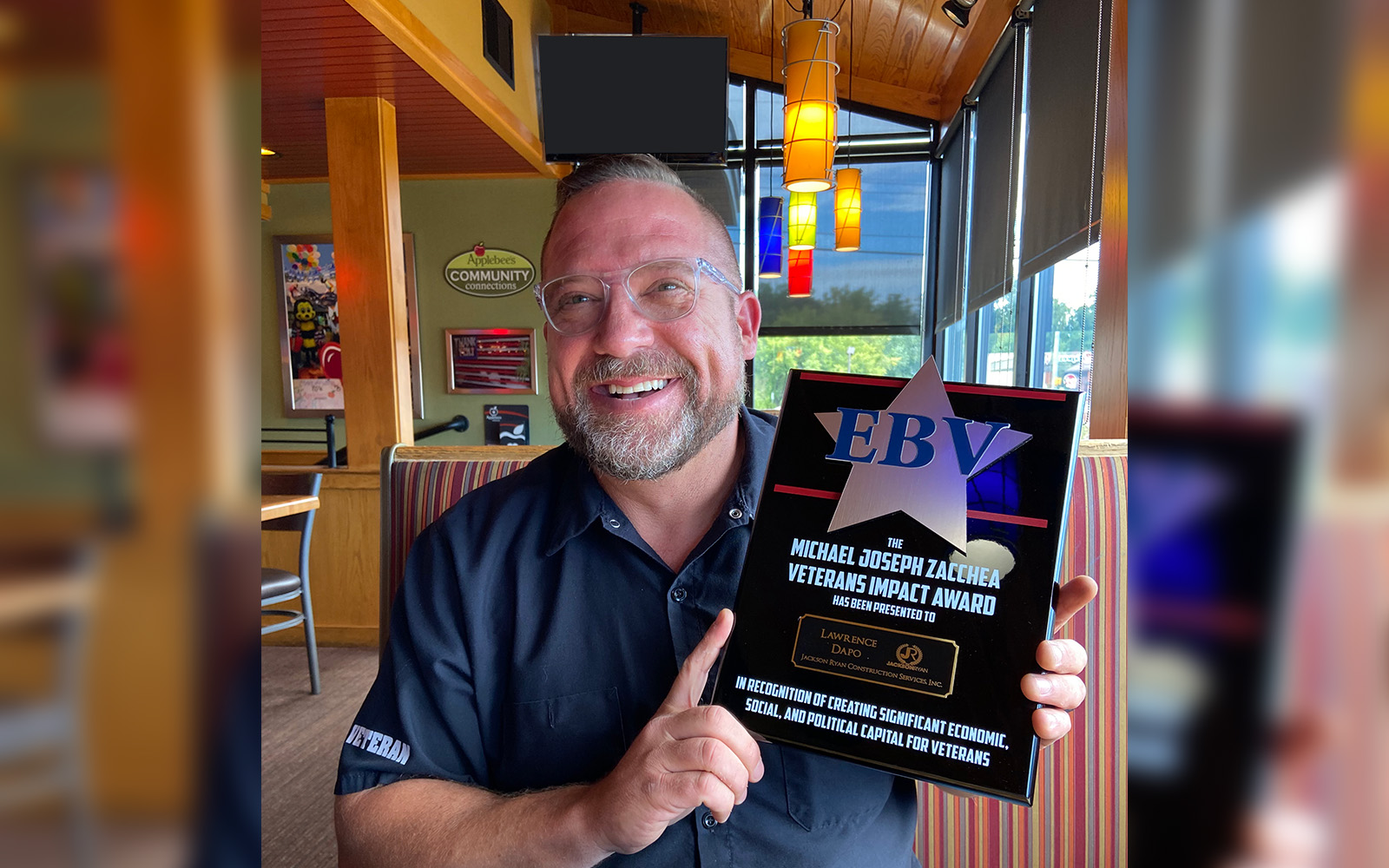 The UConn EBV program has awarded the inaugural Michael J. Zacchea Veterans Impact Award to a program alumnus who played an integral role in protecting former Vice President Dick Cheney on Sept. 11, created a successful Connecticut construction company, and continually supports his fellow veterans.
Lawrence "Larry" R. Dapo, '15 EBV received the award last week. He said it was particularly touching because he and Zacchea, the late director of the program, were such good friends. The award recognizes Dapo's impact on other military veterans.
Dapo, enlisted in the U.S. Marines at 17. During his military career, he served as the Assistant Detachment Commander at the American Embassy in Nicaragua. After completing that assignment, he became a Communications System Operator for Marine One. His duties and responsibilities were to provide worldwide communications and logistical support to the President of the United States and senior White House staff. He served in that role for four years, including the day of the terrorist attacks on Sept. 11, 2001.
In the height of the attack, Dapo was assigned to accompany Cheney to a secure location until it was safe to return to Washington DC. He also flew on Marine One with Presidents Bill Clinton and George W. Bush.
"It was the most exciting job ever," he said. "You worked 1,000 miles an hour and it never stopped. You had to remind yourself to sleep, it was that busy. You can't fill that shoe again; you just have to find a new pair!"
After completing his military service, Dapo worked in private industry. In 2010, he created Jackson Ryan Construction Services Inc., headquartered in Suffield, Conn. The construction company works on projects for the U.S. government, often tied to VA Hospitals. Dapo has 15 employees, many of them veterans. He received the Gold Medallion from the government's HIRE Vets Program.
"Veterans have the ability to do anything," he said. "You can put an Army Ranger or a Marine in any situation, and there's nothing they can't accomplish."
He has consistently participated in the annual EBV program, talking about his business and the decisions that he has made as an entrepreneur to the promising business owners. "The camaraderie of the EBV is second to none," he said. "I can't over-emphasize the importance of the program. I got so much out of it and I try to pay it forward."
"My best advice, regardless of industry, is 'Don't give away your business.' Don't lose control or lose focus, because that business is your dream," Dapo said.
Now in its 13th year, the Entrepreneurship Bootcamp for Veterans (EBV) at UConn supports disabled American veterans interested in becoming entrepreneurs. Each summer, a new cohort of veterans takes classes and benefits from training by faculty and other business experts. The intense and focused training allows graduates to enter the business world well equipped to succeed. In the last decade, the program graduated more than 200 veterans and caregivers, who have launched 187 businesses. The EBV program is now a part of the School of Business' highly regarded Connecticut Center for Entrepreneurship & Innovation (CCEI).
Zacchea, the founder and director, was a tireless advocate for veterans, both in business and beyond. A highly awarded U.S. Marine Corps veteran, Zacchea was the recipient of two Bronze Stars for Valor, a Purple Heart medal and was the first and only American to receive Iraq's Order of the Lion of Babylon award from the country's president. The Impact Award is a tribute to him, his leadership, and his dedication to those who served.