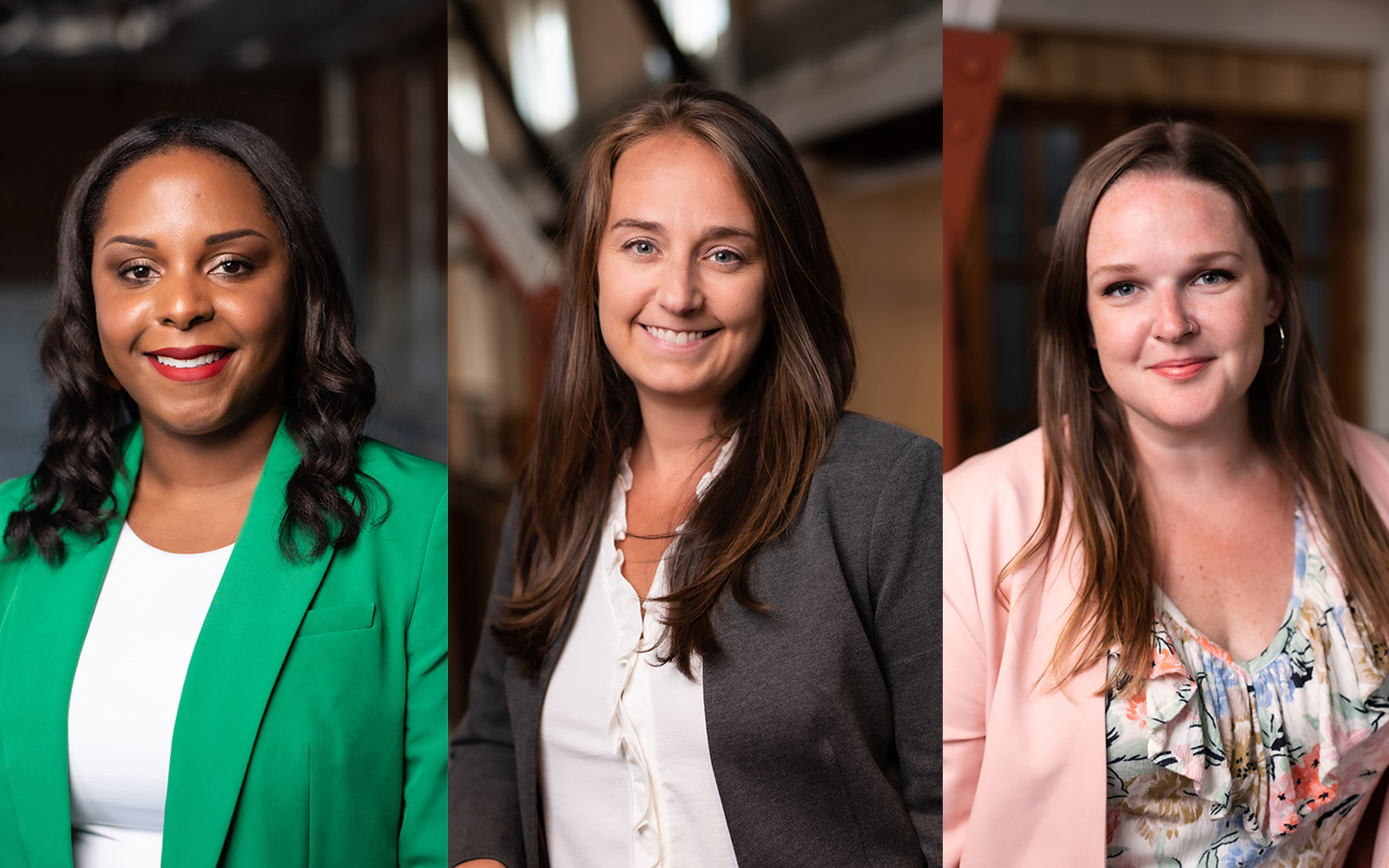 Three alumnae of the School of Business are among the Hartford Business Journal's '40 Under Forty' award recipients this year. All have been recognized as outstanding leaders in their fields, ranging from banking to accounting to healthcare innovation.
We asked Lindsay Castonguay Hany '08 MBA, Katherine Donovan '09 and Tammy Hendricks '19 EMBA to reflect on some of the skills and traits that have helped distinguish them in the workplace.
Their strategies include being a fearless and relentless goal setter; building strong relationships both within their companies but also with their competitors; and remembering that giving back to the community is an essential role for any leader.
Below, they share their stories:
Tammy Hendricks '19 EMBA is the Director of Health Equity & Outreach, a recently created department within Access Health CT. She built the department from scratch, with the goal of reducing health disparities and the rate of the uninsured in Connecticut.
Among the underserved population, there is often a lack of trust in the healthcare system, Hendricks said. Hendricks helped launch an academy that trains minority residents to become health- and life-insurance- brokers and assist others in selecting insurance plans. So far, her team has recruited 70 students, who all passed a training class, and are now eligible to take a state certification exam.
She is working hard to build relationships with leaders and community organizations throughout the state, particularly in underserved communities.
"I have an entrepreneurial background and I like to go in and get things done," she said. "I want to see measurable change. Health equity is a complicated problem that can't be solved in a short amount of time. But we can see incremental changes, through consistent outreach and new programs, even in just a month."
"In business, people often get stuck in an 'idea bubble,'" she said. "I like to do things, try things out. I'm fearless! I've always had a full-time job, but also had my own business. I have taken calculated risks. I'm methodical at assessing risks. I did that here, and I'm proud of it. We have people embarking on new careers who will make an impact in the communities where they work."
Hendricks, a two-time Husky, earned a bachelor's degree in applied science before completing an Executive MBA in 2019.
"The EMBA just catapulted my career. It gave me a new outlook on business and how things are done," she said. "I went from thinking about my day-to-day tasks to thinking about the organization and how decisions impact the whole company. The EMBA gave me both insight and higher-level thinking."
Lindsay Castonguay Hany '08 MBA is a Senior Vice President and Senior Relationship Manager at Bank of America, and her passion is working with women-owned and women-led companies.
Hany, who joined the bank in 2008, leads a commercial banking client team serving Connecticut and Western Massachusetts. She manages a portfolio of 60 companies in the manufacturing, distribution, service, and retail industries.
"One of the biggest drivers of success in the workplace is to be humble," she said, when asked about her professional beliefs. "Whatever your level, it is important not to forget about the people who support you. Give credit to your whole team. Be a good person who people like and respect, because then, even during difficult conversations, you will get much more accomplished."
"I also think it is also wise to own up to your mistakes," she said. "Everyone is human and people are going to make mistakes. I've learned that saying, 'I did this incorrectly and I'll fix it,' gains you more respect than trying to hide the fact that you messed up."
While earning her MBA at UConn, Hany built relationships with other students and alumni, developed a strong network, and made some lifelong friends.
"No matter what industry you're in, it is crucial that you build those relationships within your company, your community and even with competitors in the industry," she said. "Especially working in the Hartford area, you know a lot of the same people. Your reputation is very important. I strive to be someone that people like to do business with."
Hany serves on the Board of Directors of the Connecticut Women's Hall of Fame, and Riverfront Recapture, and volunteers for community projects focused on the environment, educating children, and the arts. She is also co-president of Bank of America's Women's Exchange, which supports, empowers, and encourages the promotion of women.
Katherine Donovan '09 [BUSN] is an Assurance Manager at Whittlesey, a leading CPA firm headquartered in Hartford. She supervises multiple auditing teams.
Known at work as the master of efficiency, she keeps projects on track by carefully allocating her time and utilizing technology. She is also a proponent of the "15 Minute Rule" with her team. If they can't resolve a problem after 15 minutes, she suggests that they either ask for help or move on to something else.
One of Donovan's deepest beliefs, passed down from her mother, is the importance of contributing to the community, and she thrives when she meets like-minded people. Donovan was a Girl Scout through high school and then became a troop leader and local treasurer. She is active in Hartford Young Professional & Entrepreneurs (HYPE), serves in several roles for the Connecticut Society of CPAs (CTCPA), and on the Board of Directors for the CT Humanities. She won a 'Women to Watch' award from the CTCPA in 2020 and believes in mentoring and encouraging other women.
Growing up as an only child, Donovan learned to reach out to make friends and it is a skill she values. In this work-from-home era (she does!), she encourages her colleagues to pay personal visits with clients and teams, and buys them lunch when they do.
"I think one of the keys to anyone's success is embracing who you are. If you really know your strengths and weaknesses, you can learn and grow from that," she said. "For instance, I'm very assertive. If someone says, 'Share your thoughts,' I'm 100 percent the first to speak. I've had to learn when to speak up, and when to be more reserved."
Donovan said she has fond memories of her time at UConn and believes the Accounting Department set the students up for a successful future. Professor David Papandria was such a thorough teacher, he taught the material so no one could forget it; and former Associate Dean Larry Gramling, was always available with career and academic advice, she said. Thankful for her mentors, Donovan always returns to UConn as a guest speaker when asked.