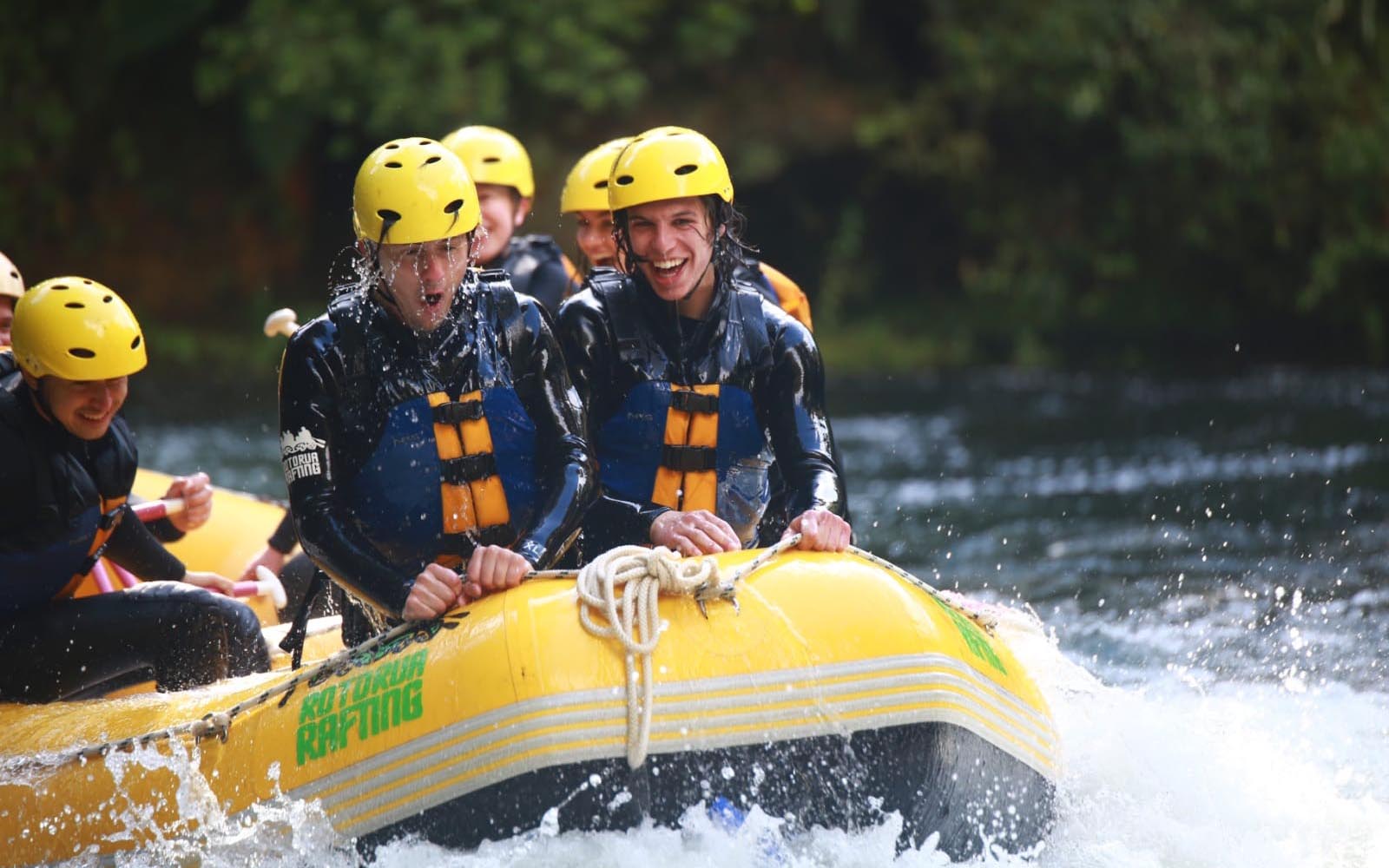 When recent graduate Jackson Guay '22 spent an extended semester studying in New Zealand, some of the travel highlights included speedboat tours, white-water rafting, and bungee jumping off a bridge and plunging 141-feet, head-first, into the water.
But his favorite adventure was cage-diving, surrounded by a school of five Great White Sharks, off the coast of Bluff, New Zealand.
"I was never so calm in my life. I wasn't scared. They were circling us; they were curious. They were looking at us," he recalled. "Seeing Mother Nature in her own habitat was incredible, and further motivated me to work toward preserving the world's environment."
Finance Major Sought Job in Sustainability Role
Guay graduated this spring with a major in finance. But a job on Wall Street was never his destination. His heart is in sustainability, and his career goal is to be part of the solution in helping both business and humanity thrive.
During his senior year at UConn, Guay had a product-development internship at CVS Health. The Woonsocket, RI-based retailer is the largest pharmacy chain in the U.S. and its parent company ranks as the fifth-largest U.S. corporation.
He worked on a project to introduce new trail mix and other healthy foods to the retailer's more than 5,000 stores. The company was seeking new, healthy foods that would appeal to the demands of a changing consumer.
Guay analyzed competitor products and helped create products for a 'flavor wall' featuring everything from Korean barbecue-flavored nuts to Campfire S'mores Trail Mix. The s'mores mix was one he designed himself by combining almonds, graham cookie squares, milk-chocolate chunks, and yogurt-flavored coated mini marshmallows.
He was able to combine his financial knowledge from UConn to create a project budget, and his enthusiasm for food, developed from working in several restaurants.
He had applied for a permanent role in the company, but it was heavily geared toward budgeting. After his final sustainability presentation, the leadership was so impressed that they offered him a job as an Assistant Product Development Manager in consumables. He'll start today.
"When I'm traveling and talking to people who are older than me, one of the things they say is to never have any regrets in life," Guay said. "Often, when you're younger, you don't reflect on life. If there's an opportunity that I want to take, I'm going to shoot for it."
Finding His Unique Path Took Required Some Travel
At UConn, Guay said he began to focus his career path, based on a series of exceptional travel experiences.
"UConn gave me an open door to study abroad for two semesters and that presented an opportunity to help me help myself to succeed; a chance to prove myself and show who I am," he said.
He credits Kathy Hendrickson, director of the Career Development Office at the School of Business, for helping him.
"She saw that I had a unique path I wanted to take; something I wanted to fight for," he said. "She helped me shape what I want to become."
Hendrickson recognized Guay's path would be distinctive.
"It was clear from the first few moments that Jackson was not seeking a traditional role and that his career path would not be a linear one," she said. "Jackson's academic and life experiences abroad were creating a foundation of 'experiential learning' that at first glance appeared disparate, but on further reflection held common themes. It was exciting to watch his confidence grow by highlighting the strengths in each area."
They discussed everything from entrepreneurship, sustainability, food services, consumer packaged goods and retail. Each conversation both narrowed down and broadened the direction of his career interests.
"One of the greatest joys of guiding students on their career journeys is opening their eyes to possibility," Hendrickson said. "For many students, the traditional career path is the right fit and leads to great success. For Jackson, he will always seek to create a new road and bring others along with him on the journey. As career consultants, we have the greatest job in the world. We serve as guides to help students find their own true path."
From a Cattle Ranch to a Surf Hostel
Guay grew up in Madison, Conn., the middle child in a family with three sons. His Mom taught him a love for the ocean; he and his father got their scuba-diving licenses together.
Guay spent his freshman year at the University of Miami and as a member of the scuba diving team. His friend, Maximillian, invited him to visit his family's home in Greece, a feat for Guay, who had to overcome a fear of traveling alone.
As a sophomore, Guay transferred to UConn "still trying to figure out my life." On winter break, he and Maximillian drove to a 4,000-acre ranch, located on a Reservation in Montana, and worked for a family there.
"I'd never been on a Reservation or a cattle ranch, and it was exactly what I wanted. It was a humbling experience. The hours were long, and the work was hard," he said. The family had just lost a three-year-old daughter to a medical issue and they needed both the physical help and the support from their guests.
Later that year, he spent a summer in the south of France, learning to surf and watched the Running of Bulls in Pamplona, Spain. He later studied family business in Florence, where he learned about many different corporations, including a coffee-bean business.
What was supposed to be a semester-long stay in New Zealand turned into nine months, due to COVID travel restrictions.
"What most impressed me in New Zealand was that quality of life was a top priority," he said. It is a value he will try to retain in his career. Guay, still unable to return to the U.S., resumed classes at UConn, rising at 5 a.m. to be "in class" in Connecticut, halfway around the world.
Future Generations Should Have a Prosperous Life
With his new bachelor's degree, Guay's goal is to build a strong and credible reputation in the sustainability field and to keep doing what he loves.
"There are a lot of people who aren't willing to acknowledge climate change," he said. "As humans we've come a long way. Look what the earth has given to humanity…food, water, oil. I think it is important to preserve mother nature and that we give back for future generations to have a prosperous life."
"As someone who has struggled with anxiety, I've really had to work on how I view the world. It's all about pushing out of your comfort zone. It's important to take calculated risks," he said. "I laugh at how far I've come in embracing pressure and uncomfortable situations. The biggest enemy is yourself. Live in the present, be grateful for every day, and when you're old then you'll have no regrets."