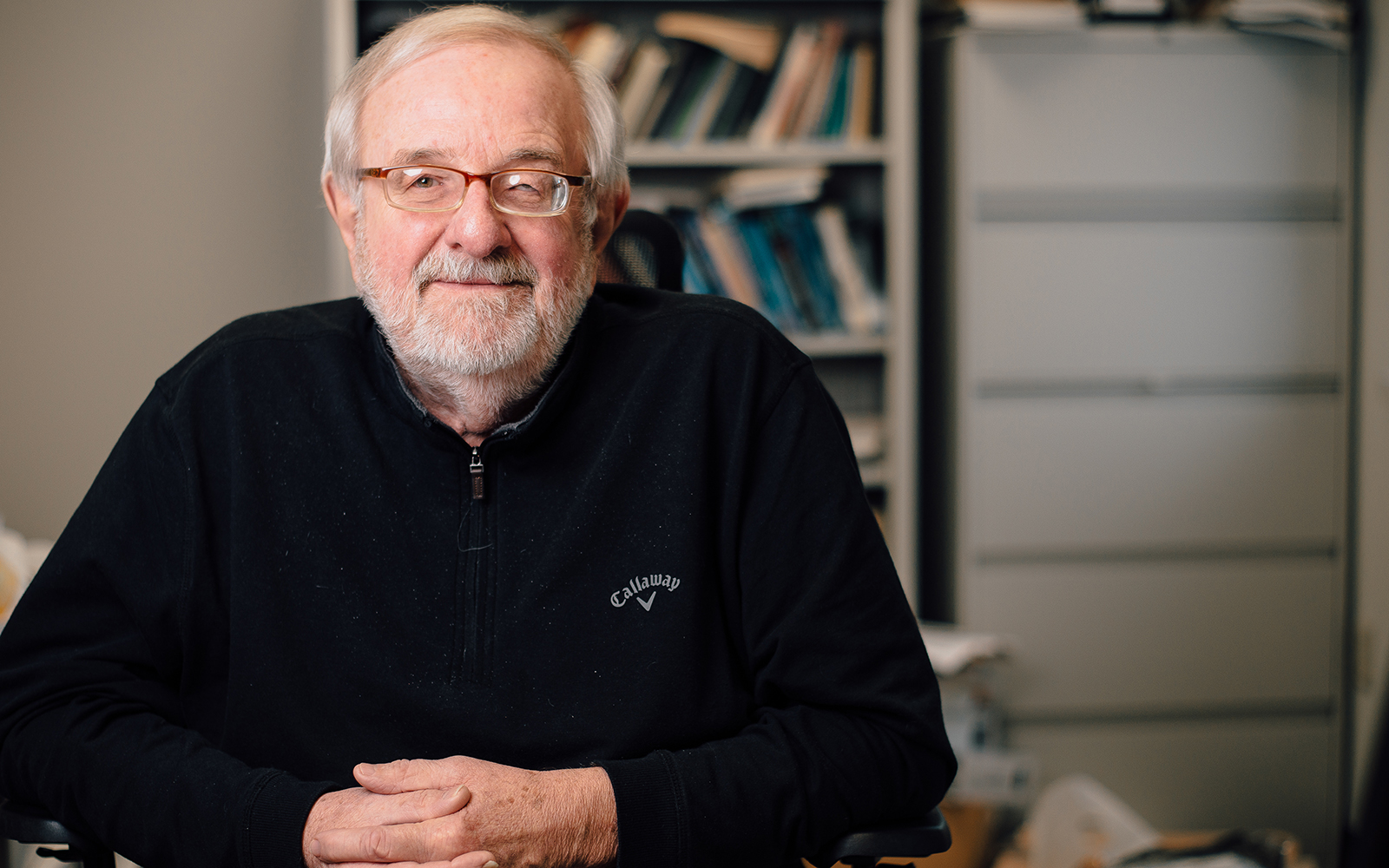 Professor Marsden Honored for Lifetime Achievement in Information Systems
OPIM professor James Marsden, a 24-year School of Business faculty member, has received an international, lifetime achievement award for his contributions to the field of information systems. 
Marsden was presented The LEO Award from the Association for Information Systems on Dec. 12 during the International Conference on Information Systems in Dublin, Ireland.
The award recognizes lifetime exceptional achievement and contributions to the field. Those selected are considered role models and an inspiration to colleagues and students in the field and are persons of exemplary professional and personal integrity.
"Jim is highly deserving of the prestigious LEO Award, which is one of the highest honors awarded in our professional community," said Ram Gopal, head of the OPIM department. "His intellectual contributions and his impact on information systems are long and impressive. From charting new streams of research at the intersection of economics and information technology, that are heavily cited, to developing innovative models for university-industry partnerships, to building successful programs that are highly ranked, Jim has done it all. This award shines a bright spotlight on UConn and our track record of success in information systems and analytics."
"It is quite an honor," Marsden said. "The previous recipients have been major 'lights' in our field and are people I've known and respected. It is humbling to be placed in this group."
Marsden is a Board of Trustees Distinguished Professor, the University's highest honor bestowed upon a professor. He also served as the OPIM department head for 15 years.
At UConn, Marsden founded and helped develop both the Connecticut Information Technology Institute (CITI) and the Treibick Electronic Commerce Initiative. He also was co-developer and UConn director of edgelab, the award-winning research partnership between GE and UConn.
"Staying on top of a rapidly changing field like information management is challenging but exhilarating," Marsden said. He believes that high value-added analytics and modeling based on expanding data forms, including social media, pictures, and video, are only in their infancy.
"My colleagues here at UConn and I share our knowledge and help each other to stay on top of ever-evolving innovations, he said. "We work hard to be drivers of innovative research and to continually push the knowledge frontier outward. We bring our research directly into the classroom."
"Our field moves rapidly forward and to keep our students at the leading edge we must constantly revise and restructure our courses," he said. "The challenges are great, but that is what makes our field exciting!"
The Association for Information Systems conference drew 1,500 participants, and the keynote speaker was Atish Banerjea, CIO of Facebook. Banerjea highlighted the just-released special issue of the MIS Quarterly journal, co-edited by Marsden, as putting forth exactly the types of research that companies like Facebook need and rely upon.
During the conference, two long-time friends and former UConn faculty colleagues of Marsden's were also honored. Paulo Goes (now the Eller College Dean and Halle Chair in Leadership at the University of Arizona) and Alok Gupta (now Associate Dean of Faculty and Research and the Curtis L. Carlson Schoolwide Chair in Information Management at the University of Minnesota) were appointed as AIS Fellows.
"Over the last few decades, Jim has made significant intellectual contributions to the field of information systems," said Associate Dean Sulin Ba. "Equally important is the fact that he has nurtured many younger scholars who have gone on to achieve impressive career success and who consider Jim a mentor."