Every year, I find myself having a fair amount of work to get done over break, whether it's job applications, scholarship applications, or internship applications. And every year, I struggle with actually getting things done. I mean it's called "break" for a reason; it's the prime time to procrastinate. 
Well, I just finished an entire semester of college and an extremely stressful finals week. I deserve at least one week off, right? The answer is yes, you deserve time off, but the hardest part is knowing when to get out of bed or off the couch and how to motivate yourself. There is always tomorrow! And then, tomorrow becomes the day after and the day after becomes the day after that. Eventually, break comes to an end.
Luckily, this winter break, I found myself being more productive than I have ever been (and this does not include watching an entire season of a TV series in one day)! Here are my 6 tips on how to stay productive:
1. Plan out your work ahead of time.
As break begins, write a list of everything you want to complete and put the list somewhere you often are around. If you are aware of your work, you will be more inclined to do it. If you walk by the list every day, you will be constantly reminded of it – similar to a dark cloud hanging over your head. You can also tell friends and family your goals so you are more obligated to finish what you promised.
2. Make a daily to-do list.
Plan out your work day-by-day. Break your larger tasks down into achievable steps to complete on different days. Don't give yourself four essays to write because you think you can do it. Instead, give yourself one/two rough drafts to write on day one and one/two other rough drafts to write on day two. If you set unachievable goals, you won't be motivated to finish because it requires heavy concentration. However, by creating various smaller and more achievable goals, you are more inclined to complete them. At the end of the day, you will feel more productive because you finished all your assigned tasks and will be motivated to do the same the next day.
3. Wake up early.
Personally, this is extremely hard for me. I like to wake up around noon when I have nothing to do. Why deprive yourself of sleep when you already do that at school? However, if you wake up early, you have more time to get work done. By waking up in the afternoon, half the day is already gone and now you are on a time crunch. Give yourself enough time to finish your work comfortably. Also, if you wake up early every day during break, it won't be as hard to readjust when you return to school.
4. Set work hours for yourself.
Give yourself "work hours" like 9AM to 5PM with a one hour lunch break. Create a work-at-home feeling. You know when you are obligated to work and to relax. It also sets a time for you to look forward to. After 5PM, you can do whatever you want – binge watch TV, read a book, hang out with friends, or stare into space while sitting in bed. It gives you a good work/life balance. If you can get everything done in your work hours, you don't have to feel guilty about enjoying the rest of the night.
5. Give yourself deadlines.
As part of setting goals and making daily to-do lists, set deadlines to hold yourself accountable. Pressure yourself so you feel the need to work. Deadlines can be "finish four rough drafts by the second week of break" or "complete three applications every week of break". However, don't just create these deadlines. You must also stick to these deadlines. It is okay if you don't achieve them, but at least know you did your best to try.
6. Find a productive work space.
Set yourself up in an area you know you can be productive. It can be your room, the living room, the dining room table, a study room, a cafe, or maybe a public library. Find a place that works for you. Make sure there are no distractions in the area that can reduce your concentration. You want to choose a space where you can get things done because the earlier you finish your to-do for the day, the more time you have to relax.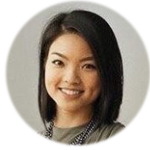 Jacqueline Ho '17
Student Communications Specialist, Marketing Department, UConn School of Business
Jacqueline Ho is a senior studying Communication and Marketing. She works on campus at the Dean of Students Office in Wilbur Cross and in the Marketing Department at the School of Business. A fun fact about Jacqueline is that she started at UConn as an Animal Science major on a pre-vet track. View Posts