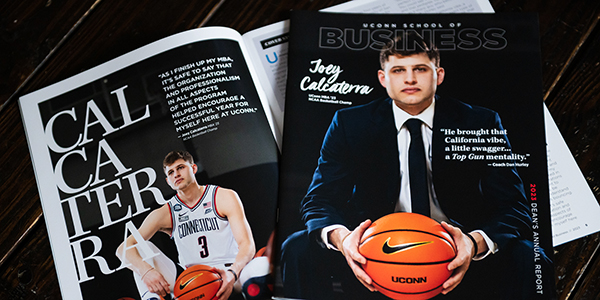 Like so many members of UConn Nation, I cheered wildly for our men's basketball team throughout March Madness, and when our players captured the NCAA Championship trophy in April.
And while every coach and player on that team contributed to an amazing season, I would be less than honest if I didn't tell you I cheered just a little louder for guard Joey Calcattera, a member of our MBA cohort at the School of Business.
"Joey California'' as he was fondly nicknamed by Coach Dan Hurley, and then the rest of the world, signed a basketball contract with the South Bay Lakers, the LA Lakers' G-League team, last month.
Calcaterra's continuing success is no surprise.
During a recent interview with the School of Business, he talked about how he chose UConn because he knew he would be "working his tail off'' both on the basketball court and through his graduate coursework. It is that kind of persistence that creates champions!
I hope you'll read more about Joey's journey in the 2023 School of Business Dean's Annual Report, beginning on page 4.
At the School of Business, we have more than 4,000 students all seeking their own championships—in business, in entrepreneurship, and in life.
Our report highlights their success, with 90 percent of our 2023 undergraduates employed or in graduate school within three months of graduation. Their employers, and their salaries, are equally impressive (page 17).
I hope the magazine will offer you a glimpse of our accomplishments, an introduction to some of our outstanding faculty (pages 7-9), and the alumni who are dedicated to our school (pages 10-11 and 14). Be sure to glance at our Words Worth Repeating (page 20), highlighting the wit and wisdom that we have shared and received throughout the year.
I want to thank you, our alumni and friends, for the many contributions you have made to the School of Business this past year. I am grateful for your support and encouragement of our students, and your partnership in our commitment to excellence in business education.
I wish you all a happy Thanksgiving, with the love and companionship of those you hold dear.