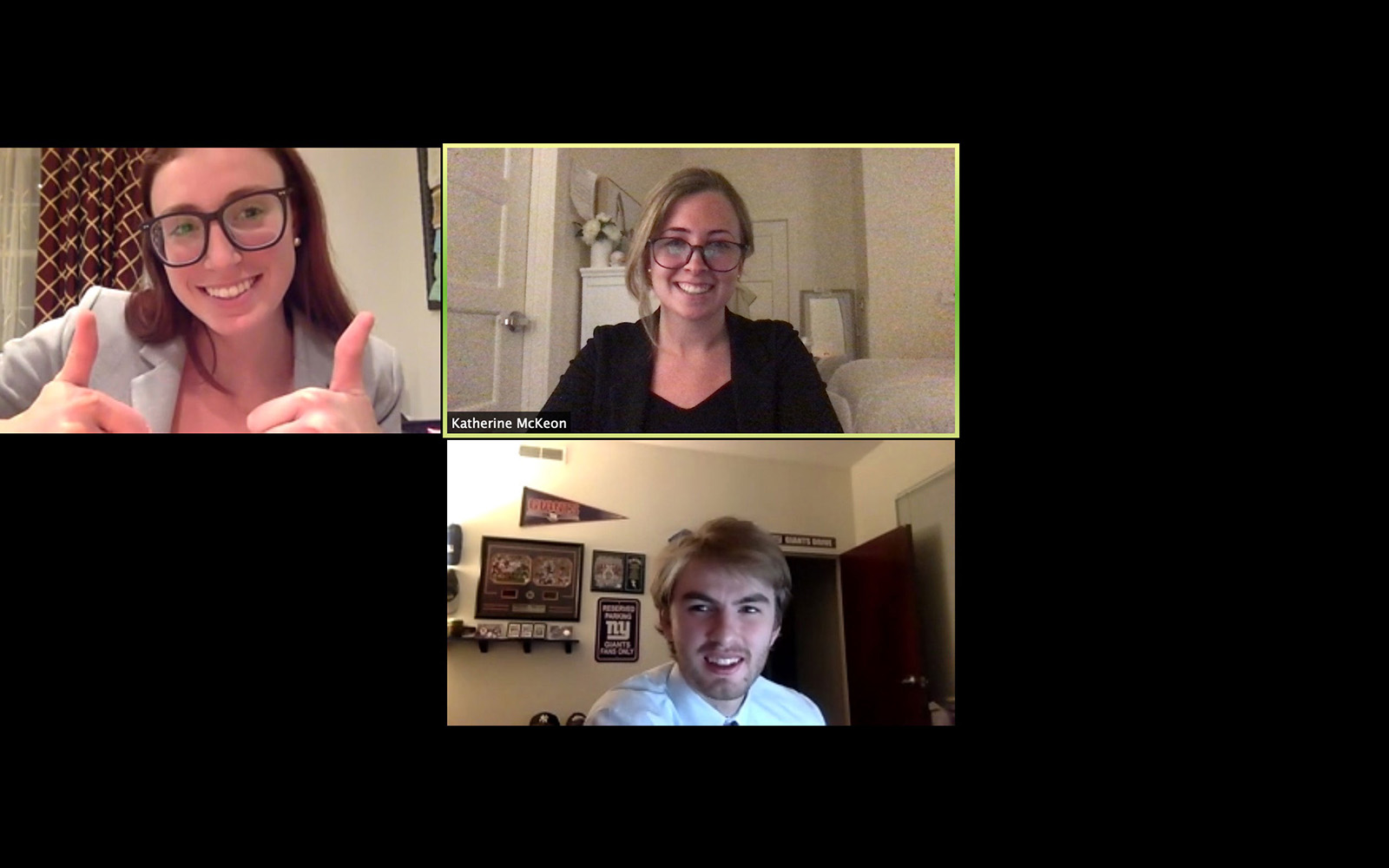 The COVID-19 pandemic prevented a team of business and law students from traveling to Barcelona, but not from finishing in the Top Three in a prestigious, international negotiation competition.
The winning team included law students Robert Eagan, Katherine McKeon and Sydney Geer. Eagan is simultaneously pursuing an MBA. Management professor Nora Madjar and Law professor Jessica Rubin were the team's advisers.
The UConn students competed in the five-round Negotiation Challenge with teams of law and business students from India, France, Japan, Spain and the UK. The event was held from April 16 to 18 and two of the nights they had to negotiate with the opposing team from 1 to 3 a.m.
This is the fifth consecutive year that a UConn team has participated in the competition, and the first time that UConn students placed in the Top Three.
"The best part of the competition was working with people from all over the world," McKeon said. "Negotiation across cultures was such an incredible learning experience. It was an honor to work with other graduate students and hear about how they approach and conduct their negotiations. Working with these students expanded my worldview and allowed me to meet many incredible people."
McKeon said the experience reinforced the value of developing a strong rapport with another team during a negotiation. Teams are more collaborative and flexible when they trust you and can speak to you as an equal, she said. "Seeing how important it is to develop relations and work collaboratively with other teams is something I will definitely take with me in my future career," she said.
Despite the hardship of conducting negotiations and meetings through digital platforms, it could be done, McKeon said.
"At times the technology posed some difficulties, but it was also really cool to take a step back and realize that we were discussing really complicated and important issues while we were all in different locations," she said. "To that point, the format of this year's competition confirmed how important e-commerce and digital communication will be in the future."
Madjar credits the team's success, in part, to creativity and good listening. The team negotiated deals between big business partners, as a union with an employing organization, and addressing other big-business dilemmas.
"The students mastered the use of technology to create relationships, manage the cross-cultural differences and achieve great outcomes in all of the negotiations," Madjar said. "I am impressed by their ability to work as a great team although they were never co-located during the negotiations. I am very proud of their dedication and motivation to stay positive and persevere in the hard negotiations during these unnerving times."