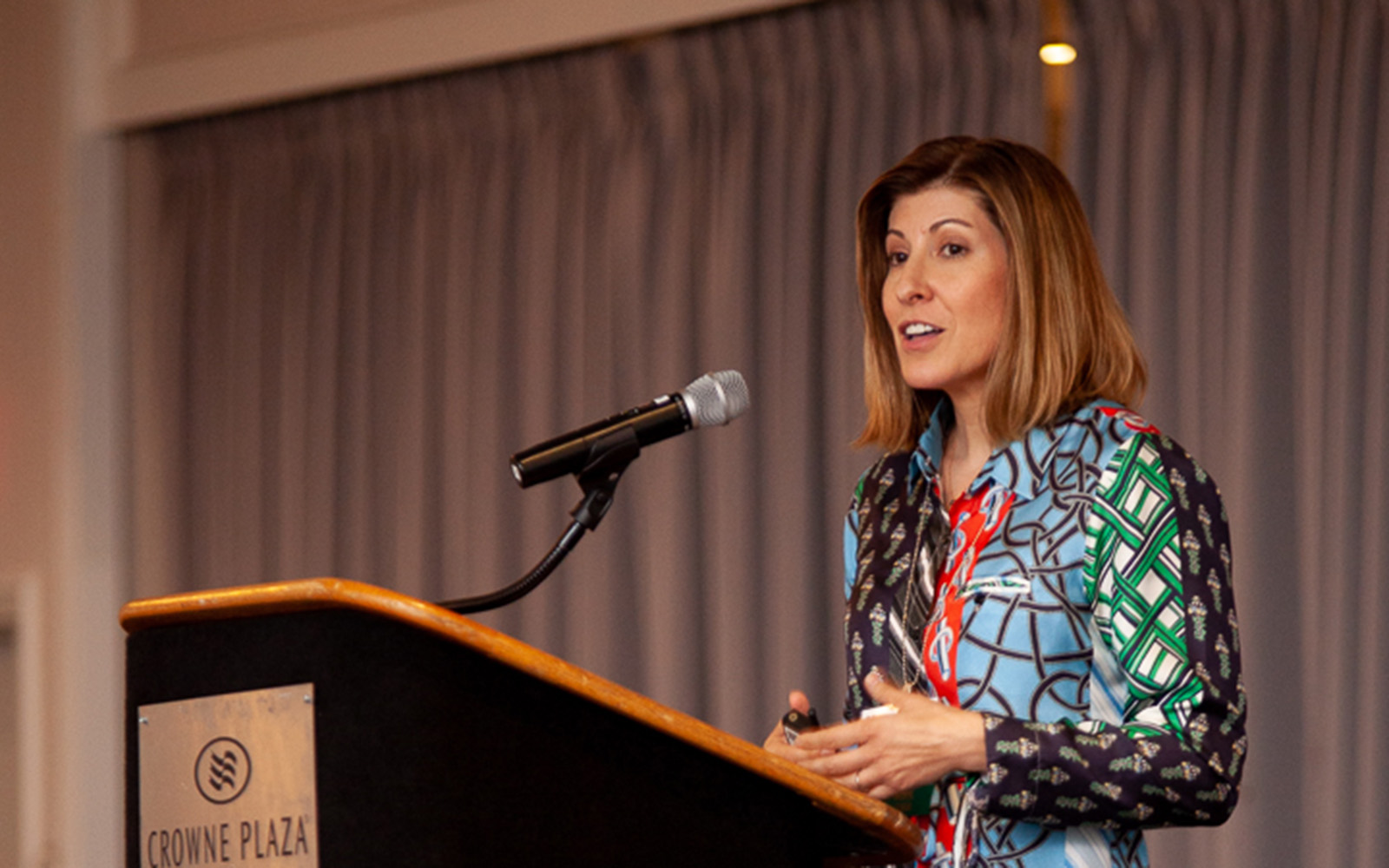 When Cristal Glangchai asked a 5-year-old girl if there was a problem in her life that she would like to solve, the youngster said she was tired of getting scolded for eating Play-Doh.
Determined to resolve that issue, Glangchai and the young girl researched and created an edible form of modeling compound, packaged it, and sold it. Before she left elementary school, the girl had become an entrepreneur.
Glangchai, a scientist, entrepreneur and mentor for the next generation of women entrepreneurs, was the keynote speaker at xCITE, a UConn School of Business-sponsored conference for women in innovation, technology and entrepreneurship. Some 250 women attended the day-long program May 2 at the Crowne Plaza Stamford.
Preventing Girls from Abandoning Their Dreams
In her keynote speech about raising girls to be tomorrow's leaders, Glangchai spoke about the need to overhaul the way our culture educates and mentors girls in order to develop a generation of creative women leaders and entrepreneurs. Entrepreneurial thinking needs to start at the very earliest ages, she said.
Today, women make up only 29 percent of the science and engineering workforce. While 74 percent of elementary school girls are passionate about science, technology, engineering and math, that number plummets to 14 percent by the end of high school. So what is happening? Girls aren't gaining the confidence and risk-taking skills that innovators need to succeed, she said.
"An entrepreneurial mindset is the best gift my parents gave me," Glangchai said, describing how, as a child, she once took apart a rotary phone. Instead of being reprimanded, her parents encouraged her curiosity. They supported her playing soccer on a boys' team, encouraged her to help tile the floor, and told her if she wanted a dollhouse, she had to help build it.
Speaker Is Scientist, Entrepreneur and Mentor
Glangchai is the founder and CEO of VentureLab.org, a nonprofit organization that offers free and open-source curriculum, entrepreneurship education programs, and teacher training focused on entrepreneurial girls and teens.
She is also the author of "VentureGirls: Raising Girls to be Tomorrow's Leaders," a book released a year ago, that offers detailed suggestions for encouraging girls to innovate and develop the mindset to become leaders.
Earlier in her career, Glangchai founded a nanotechnology drug-delivery company, and later became the the director of the Blackstone LaunchPad at the University of Texas at Austin, which supports student, staff and alumni entrepreneurs.
Raising Girls to be Changemakers
So how do you raise a generation of future change makers? One key aspect of an entrepreneurial mindset is learning to embrace failure, Glangchai said. She encouraged audience participants to discuss their project failures, and how they regrouped, with their children at the dinner table. That can help children recognize and develop the resilience they need as innovators.
In general, girls are more likely than boys to be perfectionists, fear failure, and be sensitive to criticism. "Empower them with curiosity by building, thinking and taking things apart," she said. "Ask them, 'If you could change this, how would you do it?' Have them keep an idea journal. Allow them to play and get messy."
Girls don't have to be hard-core math and science enthusiasts to develop an innovative mindset, she said. She talked about a girl, with whom she had worked, who loved fashion and spy novels. Together they 3D printed a headband with a secret compartment for passing notes.
Mentorship is very important, because it enables girls to see themselves in non-traditional roles, Glangchai said. "Be that champion, mentor or guide," she told the women in the audience.
Proceeds Benefit Outstanding Scholars
Conference attendee Cathleen Blood of Greenwich, a community liaison for Women Owned Greenwich, said she thought Glangchai's perspective was enlightening. "We hadn't brought our work to the youngest level before, we were focused on teens," she said. "But young kids are like sponges. Now I'm thinking, 'How can we get into the elementary schools?'"
UConn alumna Brooke Zelesnick '98 attended the conference for the second year, taking advantage of the workshops on topics ranging from finding a mentor, to discovering your personal brand, to fostering authentic inclusion.
"I love the mission of this conference," said Zelesnick, an executive director at UBS. "I think it is great that UConn is a resource not just for students, but for innovation throughout the state. I'm glad that people are asking, 'What can we do to attract and retain talent and grow businesses here in Connecticut?'"
Proceeds from the conference funded scholarships for six promising UConn business students. Takeya Hilliard, a UConn MBA candidate, was one of the recipients. She has worked on energy savings projects in the past, and this summer she will participate in the Verge Consulting program, helping startups overcome the hurdles of entrepreneurship. After establishing her own career, she said she hopes to give back by mentoring UConn students who follow in her path.