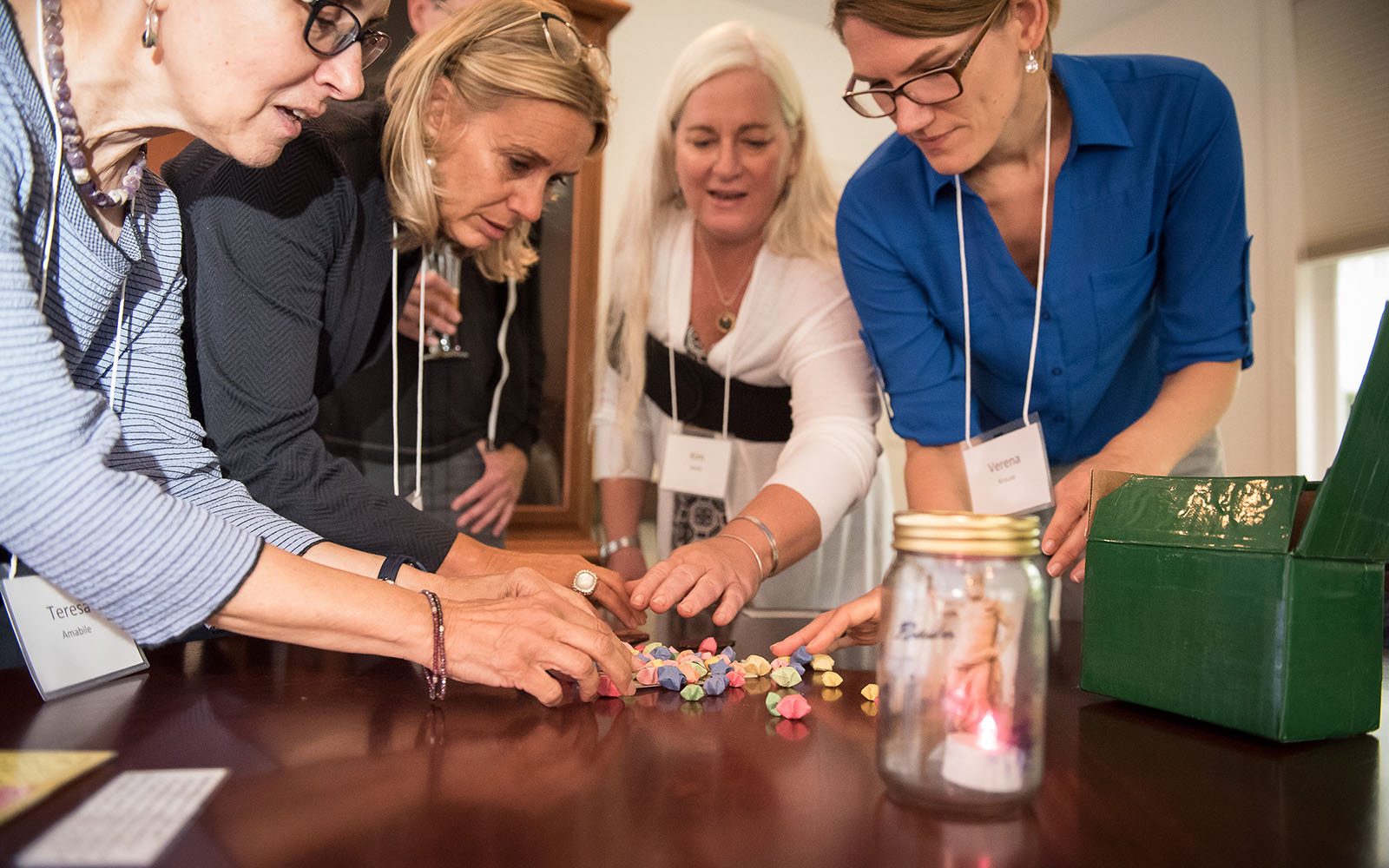 How do you host a conference for 40 of the top creativity researchers in the world?
By giving them activities that are novel, useful, and intellectually stimulating, said Management Professor Nora Madjar, who hosted the Creativity Collaboratorium in Storrs from Sept. 13-15.
As soon as the professors arrived, they participated in one of several "Escape Rooms" – one depicting a Greek Underworld and the other a Casino – to test their out-of-the-box thinking. The challenges were designed by UConn students.
Madjar also arranged for a tour of UConn's new, robotic milking facility at the Kellogg Dairy Center, where they saw what innovation looks like in a completely different realm of research and practice. The visit, of course, was followed by a trip to the UConn Dairy Bar.
The research component of the event kicked off with Harvard University professor Teresa Amabile, the recent winner of the Organizational Behavior Division of the Academy of Management's Lifetime Achievement Award, discussing her research on aging and retirement, and the importance of engaging in creative activities for individual well-being.
Professor Spencer Harrison, from the European graduate school INSEAD, presented his initial findings on a study that examines re-purposing waste products into useful items. He discussed not only the creative component of the process, but also the consumer viewpoint. How would people feel about wearing clothing made of seaweed?, he asked.
Similarly, Pier Manucchi, a professor at the London Business School, talked about an alternative-usage study and how when students can touch or feel actual objects, rather than just seeing a picture or the words, they are better able to come up with ideas of how they can be used.
"The Creativity Collaboratorium gave participants a chance to share their new ideas for research projects and obtain constructive feedback from the group on new creativity research," Madjar said.
The conference concluded with round-table discussions encouraging participants to exchange ideas for advancing research methodology, furthering inter-disciplinary collaboration, and recommendations about how to teach creativity.
"Having this caliber of scholars on our campus is great for our reputation as a research university," said Management Professor and Department Head Lucy Gilson. "We are able to showcase the work being conducted by our junior faculty and PhD students. As important, collaborating on research and then being able to discuss how we can use these finding to enhance student learning is a great benefit to all our students."
"This is the second time UConn has hosted the conference, and we are incredibly grateful to our donors whose funds are earmarked for advancing scholarship and research in the School of Business, and who make this event possible," Gilson said.