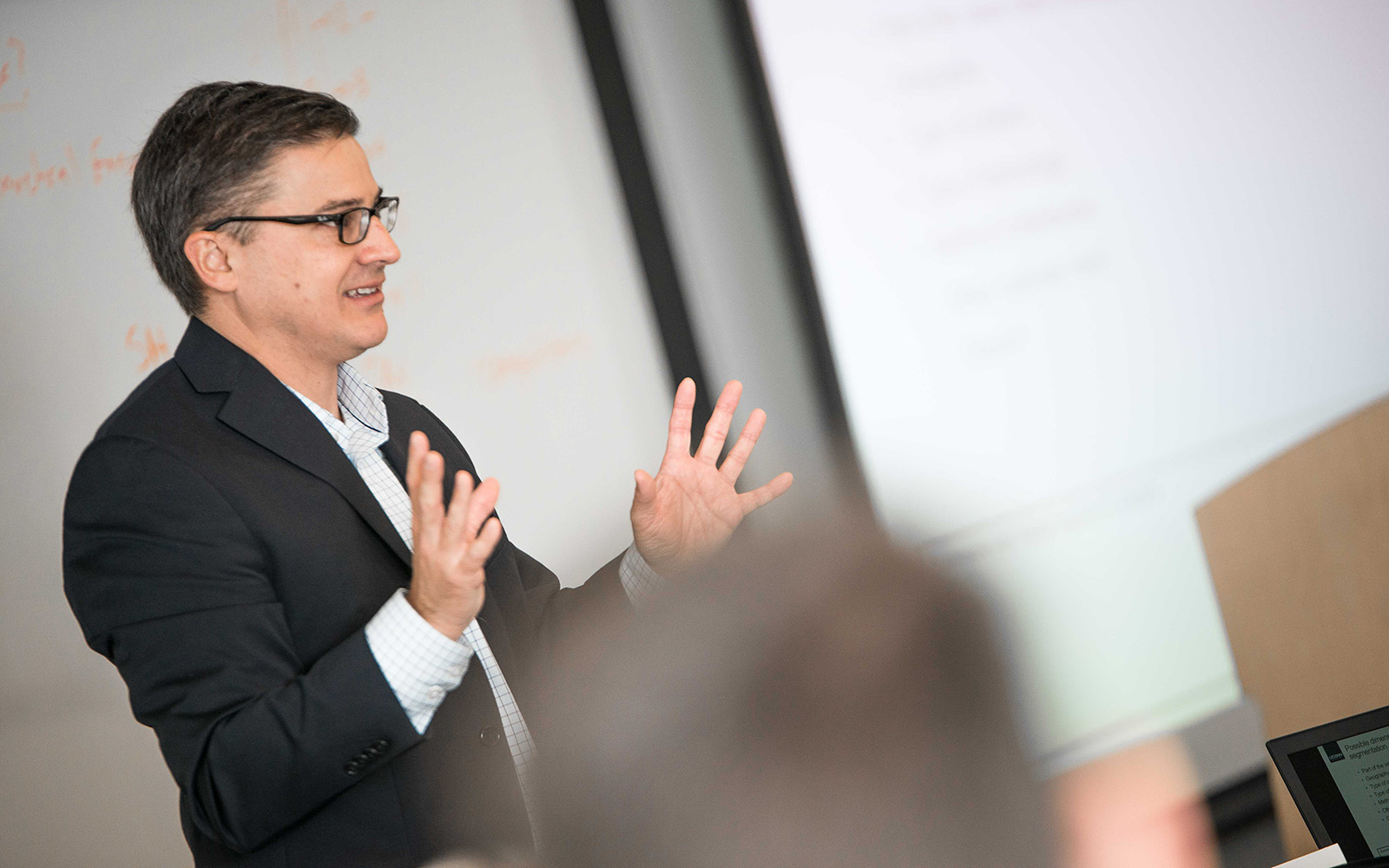 Professor Reilly Recognized for Remarkable Research; Peers Honored for Teaching Strategies
Management Professor Greg Reilly earned the School of Business' annual award for Research Excellence, an achievement that is based on five years of academic success. 
The award is presented to a professor with a history of nationally and internationally recognized scholarship and research, as evidenced by publication in premiere and high quality journals from 2012-16, who has a long-term impact on the School of Business and/or UConn research and who demonstrates outstanding service in promoting research at the School.
During that timeframe, Reilly has published eight research papers, four in top-tier journals; developed research partnerships with corporations; taught and mentored Ph.D. students; and volunteered for public engagements.
His research interests include strategic human capital, teams, time and compensation. Reilly has been affiliated with UConn since 2007.
Other faculty receiving recognition include:
OPIM Professor Bob Day who was awarded Best Paper for his piece on "Target-Adjusted Utility Functions and Expected-Utility Paradoxes," which appeared in the journal Management Science.
Management Professors David Souder and Greg Reilly received Honorable Mention/Best Paper Awards for their work on "A Behavioral Understanding of Investment Horizon and Firm Performance." Their research was accepted for publication the journal Organization Science.
Finance Professor Namho Kang also earned Honorable Mention/Best Paper for his work on "What Do Measures of Real-Time Corporate Sales Tell Us About Earning Surprises and Post-Announcement Returns?" His research, conducted with three other professors, was accepted to the Journal of Financial Economics and won the 2016 Crowell Award, second-place prize, by the Quantitative Research Group at PanAgora Asset Management.
Finance Professor Assaf Eisdorfer has won the Graduate Teaching Award and Accounting Professor Amy Dunbar won the Undergraduate Teaching Award. Both are based on student evaluations including the educator's ability to hold the students' interest, the professor's accessibility, preparation, organization and ability to fulfill course objectives.
Business Law Professor Mark DeAngelis won the Teaching Innovation Award for developing a "flipped classroom" mode of instruction for his business law class titled, "The Legal and Ethical Environment of Business."
The faculty awards, announced in early March, are supported by a generous donation from the Arnold S. & Ruth Zackin Faculty Excellence Endowment Fund and the Arnold M. Robin & Rochelle M. Robin Excellence Fund.