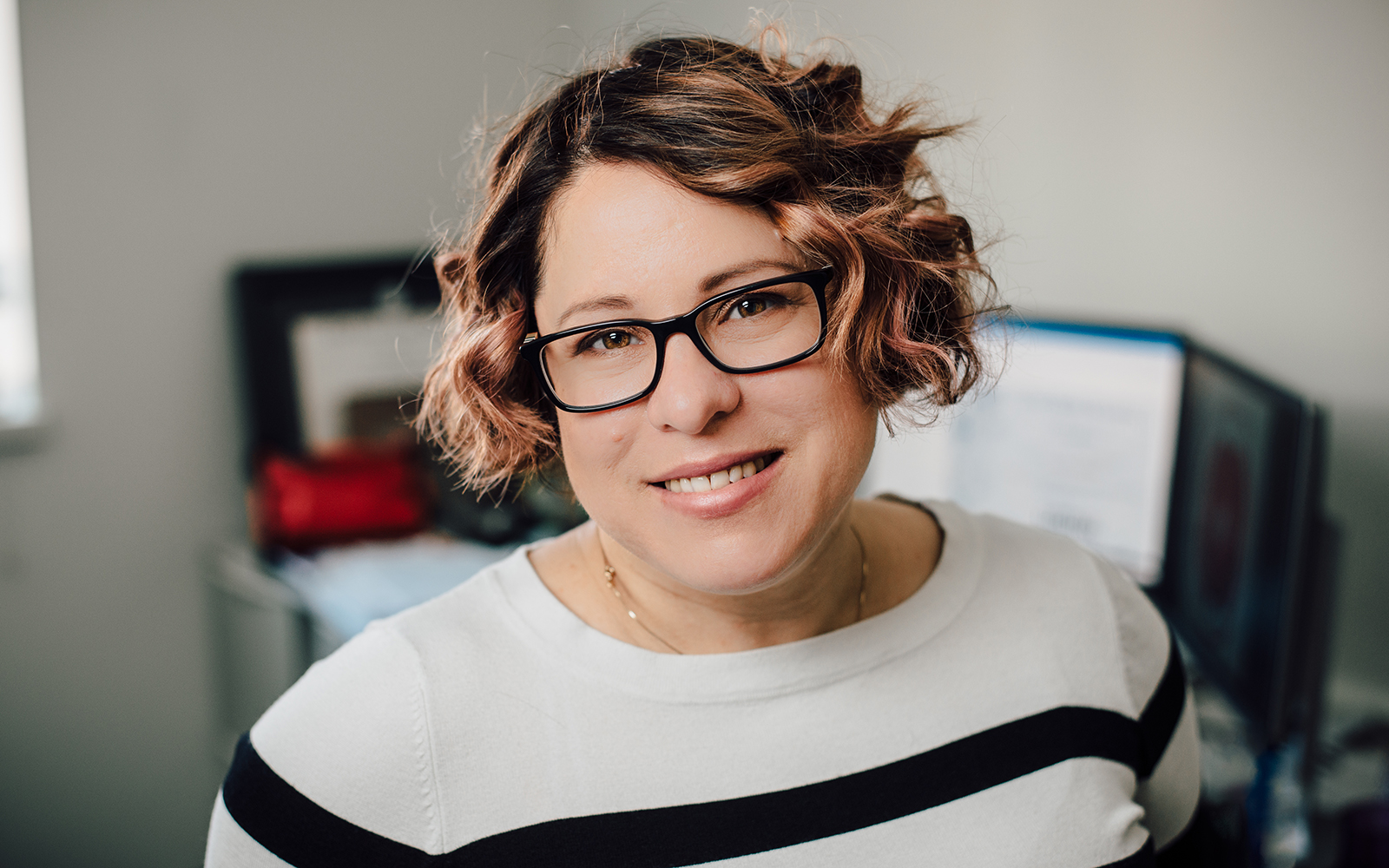 Professor Contributes to White House Agenda on Fostering Success Among Hispanic College Students
Newly hired UConn professor Cinthia Beccacece Satornino hopes to use her expertise as part of a White House educational initiative to assist Hispanic students in completing their college education. 
"The statistics are heartbreaking," Satornino said. "Hispanic students are entering college at similar rates as their peers, but the drop-out rate for them is nearly 70 percent."
Satornino, an assistant professor of marketing, joined the School of Business faculty in January, just months after participating in a White House summit, Fulfilling America's Future: Latinas in the U.S., where she spoke as part of the Latinas in Education: Reaching our Full Potential panel.
Before then-Education Secretary John King, engineers, scientists, entrepreneurs, educators and other stakeholders and decision makers, Satornino shared information about the role that Latinas specifically, and Hispanics overall, play in a thriving economy.
The invitation to the White House came on the heels of an April 2016 event at Northeastern University conceived and implemented by Satornino while serving as the co-chair of the Committee for Hispanic Excellence in Business, a Ph.D. Project/White House Initiative. The first-of-its-kind program united business schools, employers and policy makers to address the struggles of Hispanic students. Once settled at UConn, Satornino hopes to continue her work on improving college completion among first-generation students.
"The partnerships that have formed as a result of these conversations and interactions have been inspiring," said Satornino. "People are galvanized into action, and that benefits everyone. The approach is, 'How can we help everyone rise together?' UConn's reputation is ripe for taking that on."
The Northeast has lagged behind other areas of the country in addressing the potential of Hispanic students, but experts predict a new wave of Hispanic students will soon be charting college searches. That provides an opportunity for the Northeast's colleges to learn from others, and secure a reputation as a place where Hispanic students thrive, she said.
Moreover, companies are seeking a diverse workforce, and if schools like UConn don't produce the best-and-brightest across all demographic groups, others will, she said.
When Satornino graduated with her Ph.D. in marketing from Florida State University, she became only the 26th Hispanic woman to attain that status in the United States.
"That's shocking," she said.
The daughter of a Colombian mother and an Italian father, Satornino said her mother, Betty, a first-generation college student, instilled in her a passion for learning.
"She demanded that my siblings and I do well in school and it became ingrained in me," she said. "I have a narrative that runs in my head that says higher education is the way to be successful. I take that mantra seriously."
In addition to her teaching experience at Northeastern, Satornino's expertise includes 15 years as a strategic leader and consultant in various corporate and institutional settings, including the financial sector, higher-education administration and international agribusiness.
She is also the co-founder of Cordoba Parsons, a research-based consulting company. Her work focuses on uncovering how firms can quantify and leverage their social capital to increase salesperson productivity, innovation and performance.
Currently, Satornino is teaching the introductory course in marketing management and, next fall, she will take on the capstone course for the senior marketing students.
Satornino said she is thrilled to join UConn, adding that among academics, the university's reputation is stellar. It was through her work at the Ph.D. Project, an organization that promotes increasing diverse talent in higher education, that she met Dean John A. Elliott, and developed a deep respect for UConn and the School of Business. After connecting with Robin Coulter, head of the marketing department, Satornino said it was clear that the department's mission included fostering cutting-edge research, being of service to the community, and producing highly skilled business professionals. The synergies between the vision of the department and Satornino's passions made the decision to join the marketing faculty an easy one, she said.
Satornino, who describes herself as a 'research nerd,' also enjoys hiking, road trips, and creating stained glass. When relaxing, she has been known to binge watch HGTV and Project Runway, and is currently attempting to overcome her fear of heights by visiting a nearby adventure ropes course with her husband and sons. So far, she has managed to conquer the kiddie course.