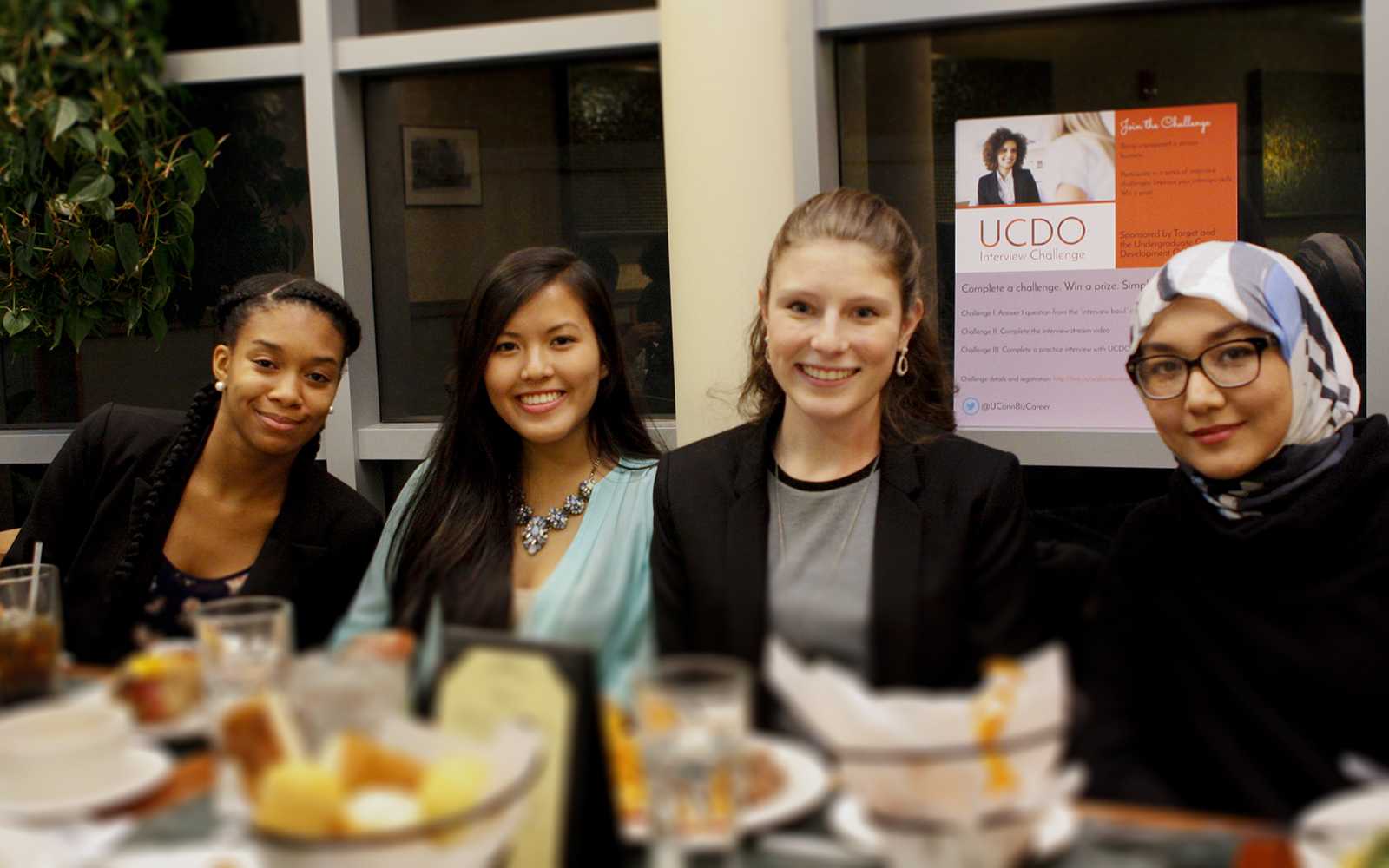 The School of Business Undergraduate Career Development Office (UCDO) successfully hosted its first "Interview Challenge" in the fall semester. With prizes funded by a Target Corporation Campus Grant, students were challenged to participate in coaching to develop their professional interview skills. Over the course of one month, students who registered for the Interview Challenge had three tasks, or challenges, to complete.
The challenges were:
Choose a random interview question from the "interview bowl" and answer it on the spot for a UCDO career counselor;
Record an online interview utilizing InterviewStream; and
Complete an in-person practice interview with a UCDO career counselor.
The goal of the program was to help students develop their interview skills and become aware of the services that UCDO offers, allowing them to feel more comfortable in the career development process.
For senior international exchange student Guzela Marisova, the Interview Challenged helped ease her fear of interviewing.
"UCDO challenge put me in a situation where I had to show my best in order to get a 'job.' What was really good about it, is that this situation was not stressful at all. Lorraine Liswell, who interviewed me, was a very nice and friendly interviewer who made me understand that I'm not in danger (as we are used to thinking while being interviewed)," said Marisova.
As a result of the program, 71% of the mock interviews that were conducted this semester were from students engaging in the Interview Challenge. These students included freshmen up to seniors, business and non-business majors, and first-time UCDO visitors. As a sidebar, another significant result of the program was that UCDO staff had the opportunity to meet business freshman, Seeyashree Sodani, who impressed us so much that we offered her a job in the department. We are happy to announce that she has accepted and will join our student career intern staff this spring semester.
All students who completed the challenge were invited to a dinner held at Chuck & Augie's on December 8th. This business casual event was an informal and fun way to network with their peers, Target Executives and the UCDO Team to de-stress before finals.
"Not only was the interview challenge fun and helpful, but it was easier than I thought it would be. The staff is so approachable and really cares about helping each student, plus there was food afterwards!"
noted Evan Wexler, a Management and Engineering for Manufacturing junior.
This program would not have been possible without the support of Target Corporation. Over the last couple of years, Target's Campus Grants have sponsored a number of career development events including:
Leadership Speaker Series—Spring and Fall 2014
Freshman/Sophomore Case Competition—Spring 2015
Intern Queen Presentation—Fall 2015
Interview Challenge—Fall 2015
UCDO would like to thank Target for their continued support and commitment to student development. The success of the Interview Challenge set the ground work for the program to be continued each year.