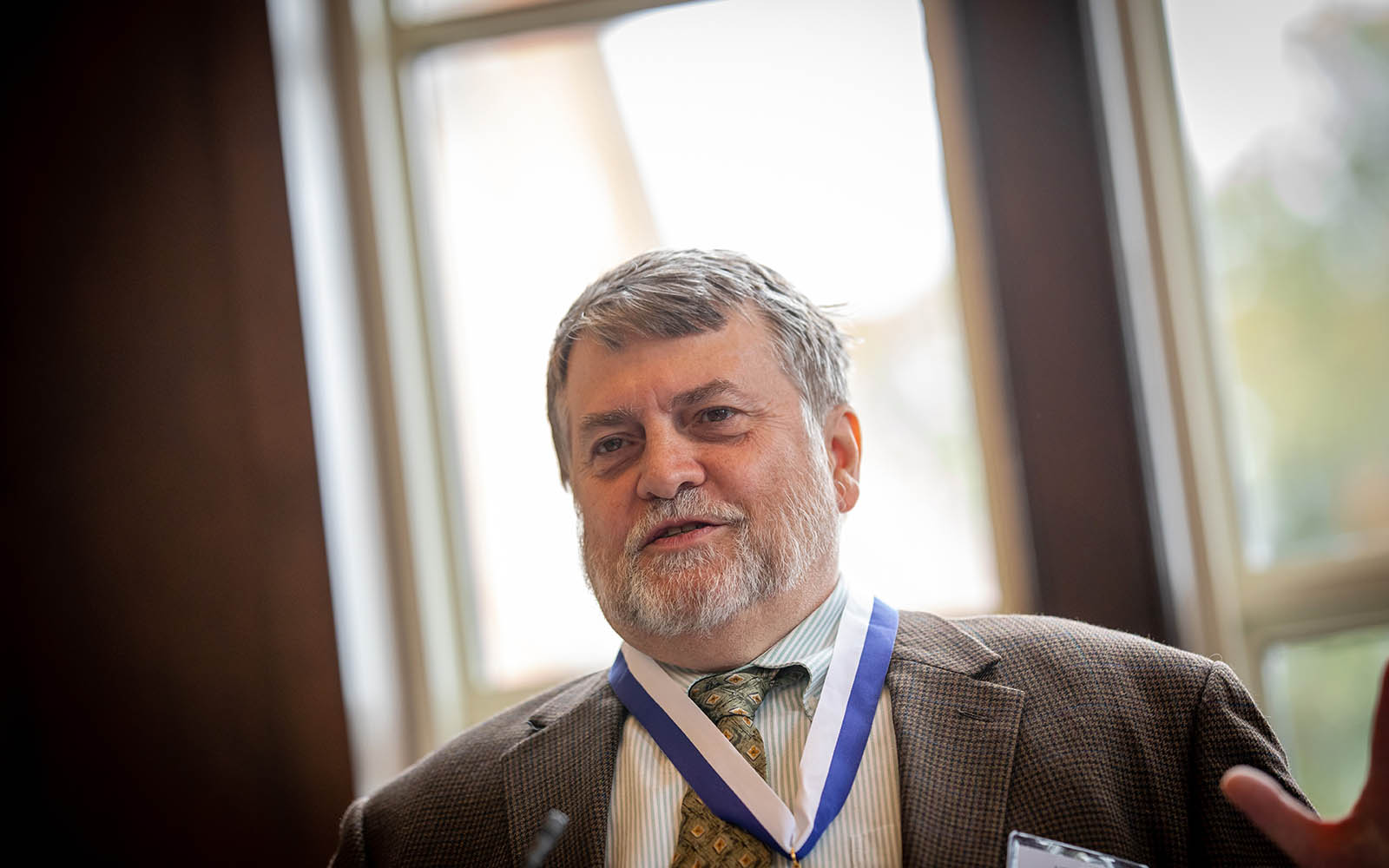 Marketing professor Kevin McEvoy, a champion of real-world learning and a perennial favorite educator among students, has been awarded the University Faculty Excellence in Undergraduate Teaching Award from the UConn Foundation.
McEvoy, who has worked for corporate giants including General Foods, Colgate Palmolive, Pepperidge Farm (Campbell Soup), Haagen-Dazs (then Pillsbury), and consulted with industry leaders including McNeil Consumer (Johnson & Johnson), Good Humor/Breyers (Unilever), Keebler, SC Johnson and many others, said he wants to develop students who think like industry professionals.
"I treat them like they're working for a company," he said. "I say, 'I've got news for you. Your bosses won't give you a test, they'll give you a task. I want to prepare you for that. Get your hands dirty. Show me what you can do!'"
For instance, at the beginning of the advertising course he teaches, McEvoy asks the students to select a brand they'd like to represent. Typically, they vie for a specific leading brand like Netflix, Tesla, or Apple Watch.
In every subsequent class session, he gives a lecture on a specific subject like pricing, or distribution, or consumer decision-making. The students have to apply it to the brand they've chosen, and be ready to present and defend their findings and plans in the following class. By the time the course is finished, they have a complete, coherent, comprehensive campaign, and the evidence, analysis, and experience to back up their findings and present their decisions.
Professor Katherine Pancak, the Academic Director of Business Programs at the Stamford campus, where McEvoy works, said he is well deserving of the recognition. She described him as an exceptional teacher, with a lengthy and impressive record.
"Kevin has a true passion for teaching that is evident in the enthusiasm he is able to generate in his students in both undergraduate and graduate marketing courses," she said. His student-assessment scores soar above the average—whether teaching in person or online. "It is abundantly evident that students love Kevin and are enriched by having him as a teacher," she said.
McEvoy has supervised more than 90 independent study projects, internships and honors projects, and enthusiastically volunteers to support students in these additional endeavors, she said.
Since becoming a full-time faculty member in 2004, McEvoy has won numerous teaching awards, including the Foundation's University Faculty Excellence in Graduate Teaching in 2019. He has been a frequent contributor to the business press, reviews academic journals, and presents at marketing conferences.
McEvoy said during his days in industry, he realized there was a great deal of 'bad marketing.'
"I wanted to help the next generation do better than some of the things I saw," he said. To often, he met marketers who were 'surfing the next wave' to a promotion and didn't really care about the consequences of their actions—either to the company or to the consumer.
He teaches students to build their own brand and to develop expertise in a segment of the business, such as advertising or new product development. He then has students collect their materials in his now campus-famous "Toolbox Project," which won the School of Business Teaching Innovation Award in 2015. He strongly encourages students to maintain their Toolbox as a part of their lifelong learning, and use it in their professions.
It is important to develop a specialty and to establish oneself early, McEvoy said. "Where companies would once give new employees a year to become impactful, they now want results within three months."
"I expect my students to be better, smarter, and use more data than I did during my tenure as a marketing executive," McEvoy said. "I never had children, so I never got to teach anyone how to fly a kite or go fishing. I get psychological satisfaction out of passing on the torch of my experience to my students, so that the knowledge I have isn't going to end with me."