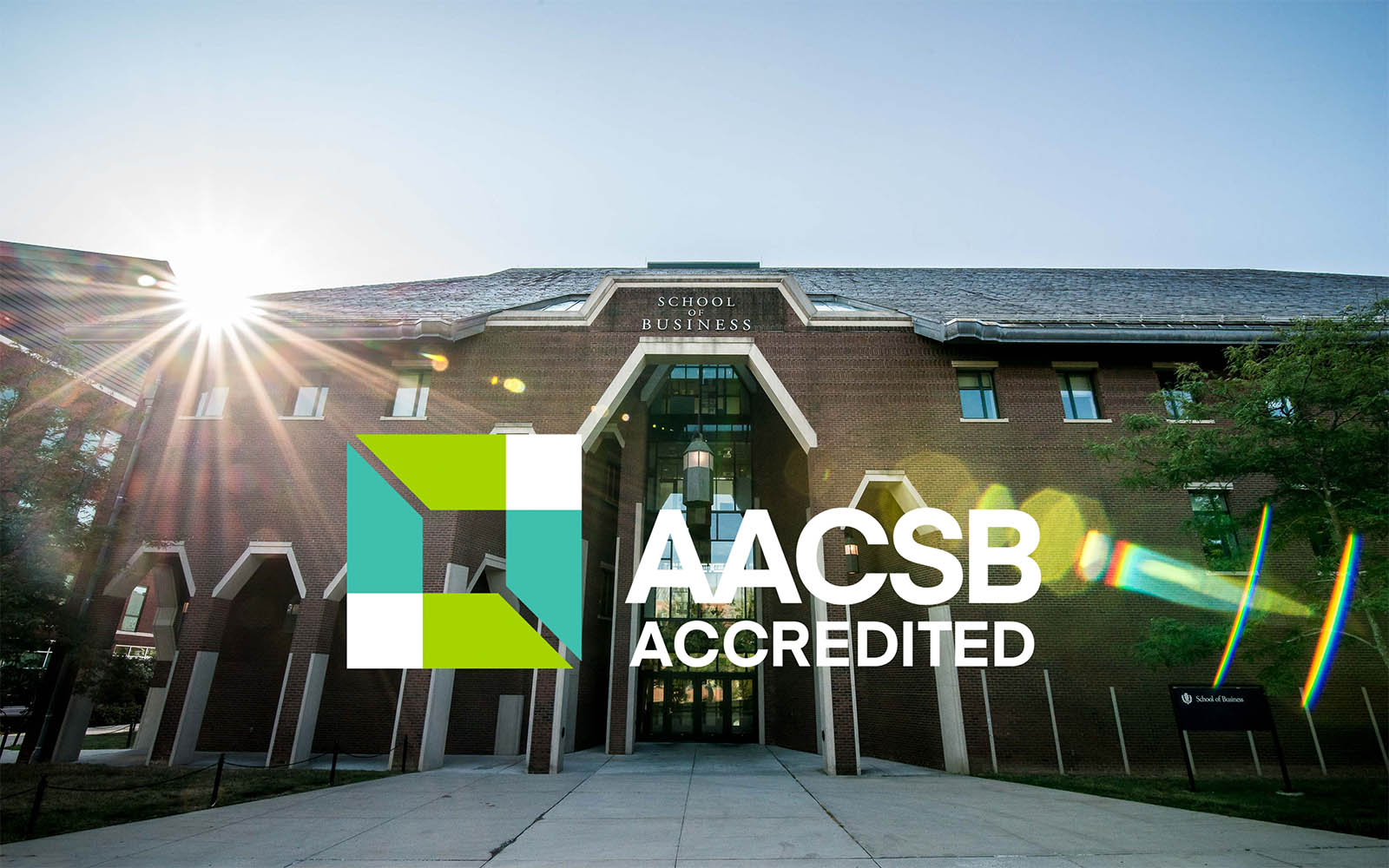 The prestigious Association to Advance Collegiate Schools of Business (AACSB), considered by many to be the 'gold standard' of accrediting organizations, has re-accredited the School of Business and, separately, its Accounting program.
"It is a tremendous honor to be re-accredited by AACSB and to be recognized among the leading business schools in the world," said Dean John A. Elliott. "Not only does the review endorse our academic achievements, but also attests to our commitment to continuous improvement, strategic management, and to the principle that business must have a positive impact on society."
AACSB's thorough review process assigns a team of business-school deans to review the entire business program, interview faculty and staff, and conference with both the UConn president and provost before determining accreditation status.
"To excel under the scrutiny of extremely knowledgeable business educators is particularly gratifying," Elliott said. "They described UConn as a well-run business school, and remarked that our faculty and staff expressed great enjoyment of their work and an eagerness to perform well. They also described UConn's School of Business as a dynamic and effective organization, with a clear mission and a strong sense of community."
The UConn School of Business has been continuously accredited by AACSB since 1957.
In addition to the School-wide review, the Accounting program applied for, and received, re-accreditation in a separate process. Both accreditations extend until 2026.
"We were the first accounting program in the Northeast to be separately accredited, and that was 40 years ago," said Professor George Plesko, head of the Accounting department.
"This most recent re-accreditation demonstrates our continuing commitment to providing a high-quality education to our students by faculty with national reputations for research," he said. "The review team noted our "current, relevant and innovative curriculum," as well as several commendations and best practices, including our "Introduction to a Profession" course and our dedicated career advising and placement activities."
"I am proud of my department and school colleagues, faculty and staff, who support our programs and allow us to perform at this level, and I am continually impressed by the quality of students our programs attract and graduate," he said.
The AACSB review team also noted the School of Business' growth and innovation, including its recent creation of an online MBA program and a new master's degree program in financial technology.
Founded in 1916, AACSB International is the longest-serving, global accrediting body for business schools. Some 900 collegiate business programs worldwide currently have AACSB accreditation.