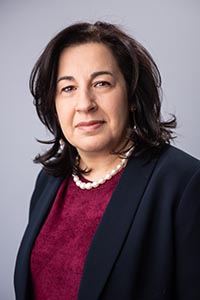 The UConn Chapter of the American Association of University Professors has recognized professor Nora Madjar of the management department for teaching excellence.
"Teaching offers me a satisfaction I cannot put a price tag on, and I have always been motivated by the opportunity it provides to share knowledge and help students develop further," Madjar said. She often receives emails from alumni telling her how they've applied lessons from the classroom in their careers and that's something she finds enormously gratifying.
Madjar said she strives to keep her undergraduate and MBA classes fresh and engaging.
"I always try to adapt my classes to make them relevant and the skills from them applicable right away. In the last year alone, I've enriching my materials with new readings and up-to-date research about negotiating during adversity, current examples of best leadership practices during COVID-19, or discussions on how to talk about race in the workplace," she said.
"This keeps my teaching current, alive, and exciting for me, and, hence, I hope some of my excitement inspires my students," she said. "In addition, I see classroom discussions as an integral part of my job and make sure my classroom provides a safe environment for sharing ideas, enabling students to also learn from sharing ideas, experiences, and knowledge among themselves, as much as they learn from me."
Madjar has devoted her career to studying creativity in the workplace and her research has contributed to a better understanding of the social and contextual factors that stimulate or hinder creative performance.
She also leads a popular negotiation competition with professor Jessica Rubin each year, pairing UConn MBA and UConn Law students in a negotiation challenge. Last year's team took third-place in an international challenge and this year's winning teams are preparing to move on to compete internationally.
Madjar is a standout faculty member because of her thorough command of subject matter, her extensive preparation and organization of class sessions, and her personal interest in each student's learning journey, said Greg Reilly, head of the management department.
"It is clear to me that Nora delivers transformative experiences for her students, whether taking them to the other side of globe for a negotiation competition or helping them develop into stronger thinkers via online learning during the pandemic," he said.
While the award honors Madjar, Reilly said it is uplifting to her colleagues as well.
"It is important and valuable to pause and acknowledge excellence in teaching. The past twelve months have felt like a scramble to adapt to new challenges and changing conditions so being able to focus on our accomplishments is a nice change," he said.
Madjar, and professor Kelly Herd of the marketing department, who will receive an award for teaching innovation, will be honored during a ceremony in April.