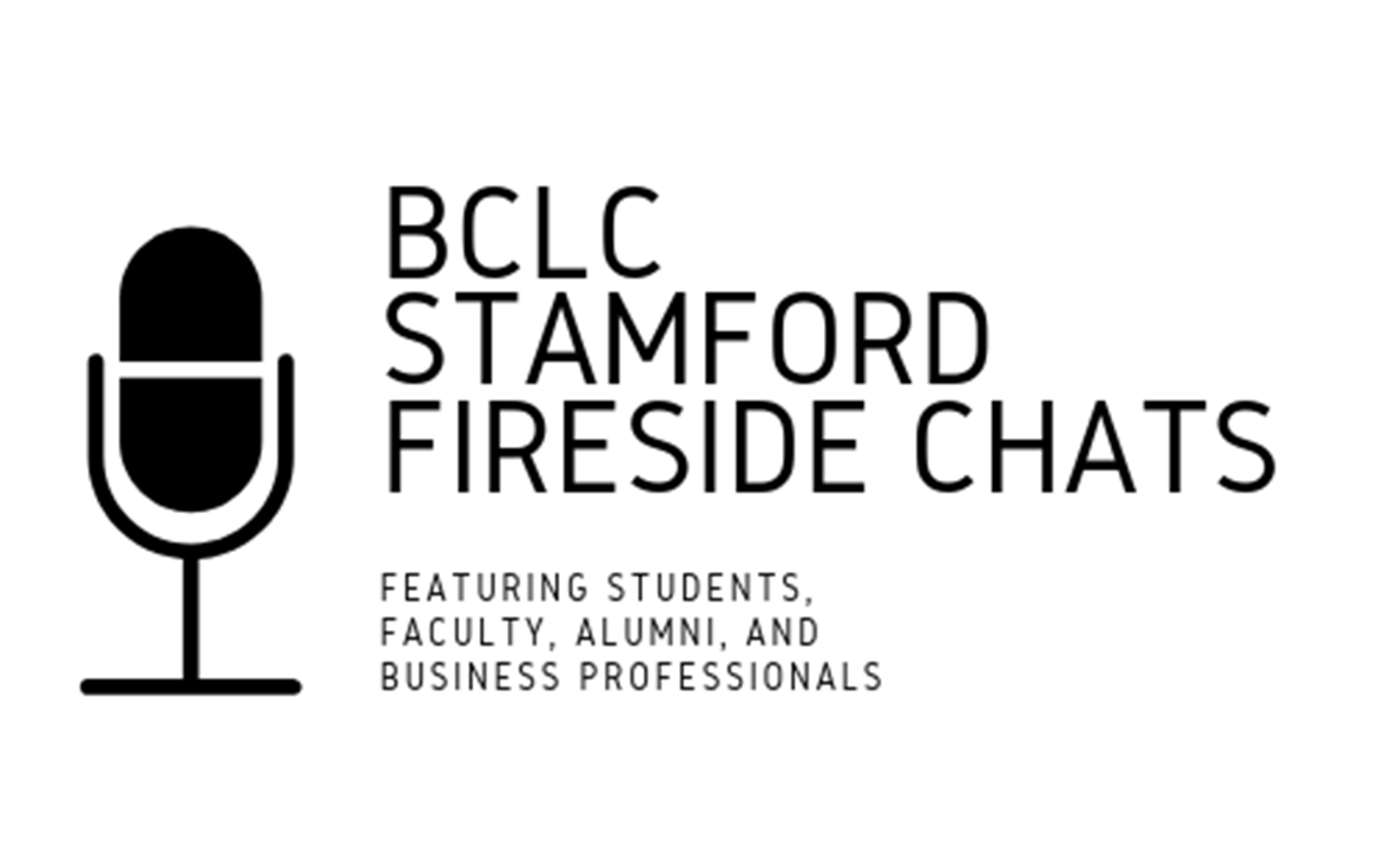 As a freshman, Ryan Stone loved listening to the guest speakers invited to campus through the Business Connections Learning Community (BCLC) Stamford.
"They were super interesting," said Stone, a junior and a Fairfield resident. "You would take away something different from each one."
But by semester's end, Stone was dismayed to find he couldn't instantly recall all the speakers' helpful tips and career insights when he was studying for an exam or prepping for a job interview.
The solution? He came up with a way that he and his classmates – and interested students and jobseekers everywhere – could access their business acumen through BCLC Stamford Fireside Chats podcasts. Ten sessions strong and growing, the series, which Stone now creates with sophomore business major Dominic Zaleski, features words of wisdom from an intriguing band of alumni, faculty, students and business professionals who took to the mic over the last year.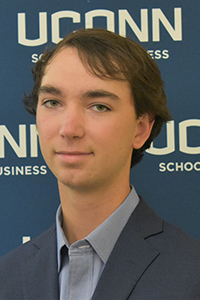 Stone, BCLC Stamford's co-vice president, researched and fashioned the podcast proposal in Fall 2019, said Katherine Santos, the School of Business Alumni Relations Coordinator. She was struck by his commitment to learning all the technical skills he'd need to provide the lasting legacy for the BCLC, a business-career enhancement program which was established in Stamford in 2018.
"He was a one-man shop," Santos said. "He did the interviews, recording and editing."
Santos helped Stone, Zaleski and a small committee they've formed to secure speakers. "The alumni love to share and giving back," she said. "It's been fantastic for us."
In their first two semesters, Stone and Zaleski have completed compelling 10- to 30-minute chats with Melinda Brown '77, '85 MBA, who spent 30 years at PepsiCo before becoming a senior vice president with Coach, and Josh Cohen '05, the founder and CEO of locally headquartered Junkluggers. They've also talked with student Ahmed Diakhate, founder of LOST! Clothing, who created 250 face masks for healthcare workers during the early days of Covid-19, and UConn Stamford Campus Director Terrence Cheng, who outlined the future of the University's growing downtown presence.
Stone and Zaleski chose the podcast format because it mirrors how they and classmates gather their daily news and career advice and – it's relatively easy to do, Zaleski said.
"You only need a mic and someone to talk to," he said.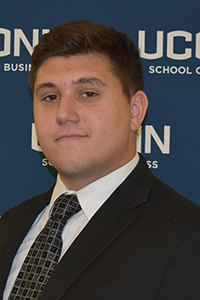 The pair and their team work to make the Fireside Chats informal peeks into each guest's life and work. The BCLC's regular speaker series provides some interesting and sought-after speakers.
"Why not capitalize on it and interact with all of them?" Zaleski said.
The chats have had an unintended, but more-than-welcome side benefit for those who work on them. Most of the speakers have been gracious enough to offer Stone and Zaleski personalized job-seeking help, references, and even internship possibilities.
Best overall advice so far? All the speakers agree projecting an air of confidence, researching the company ahead of time, and asking informed questions that show you are listening and are truly interested in the job are all key.
Zaleski hopes to use the advice to move into financial management and possibly a gig with Goldman Sachs or J.P.Morgan. Stone, who is interested in business analytics, plans to earn his master's in accounting and eventually break into the venture capital industry.
Until then, they will keep adding to the BCLC Fireside Chats library.
"What I like is you don't have to be part of the BCLC," Stone said of his brainchild. "You can be anybody and listen to it."
Click here for a full list of BCLC Fireside Chats and to start listening: https://bclc.business.uconn.edu/about-bclc-stamford/bclc-stamford-fireside-chats/#