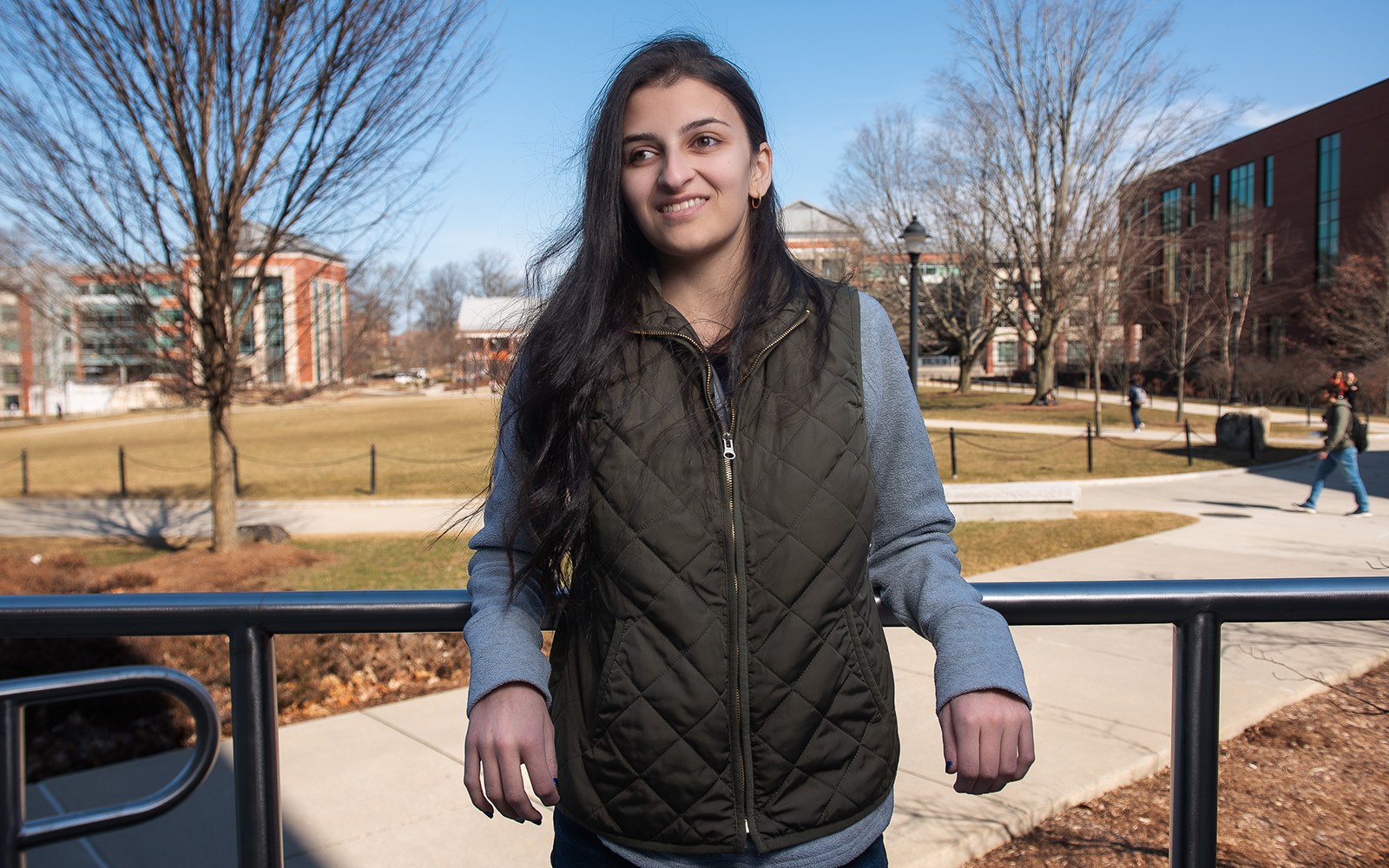 Maybe it was because she took her first transcontinental flight at 4-months old, or that she's flown some 60 times since, but junior Shreya Murthy is fascinated by commercial aviation.
"I was always the kid who walked up to the airport window and pressed my face against the glass and watched the planes take off," Murthy said. "My family used to say that I could identify all the different aircrafts, even from two runways away."
Murthy, a triple major in finance, human rights and criminology, is examining the regulatory and ethical concerns in the commercial aviation industry, specifically as they relate to the interests and safety of passengers and crew. As part of a three-semester research project, she is studying six crashes in commercial aviation, including the recent crashes of two Boeing airliners, in October 2018 and March 2019. At the conclusion, she will propose a new method of mitigating problems through international human rights and security principles.
"This project is a great way to bridge the gap between my personal and professional interests and advocate for responsible business practices," she said. "I want to figure out how to prevent these tragedies from happening."
Ambitious Student is One of Just 23 'University Scholars'
Murthy is one of only 23 'University Scholars.' The University Scholar Program is considered one of the most challenging and prestigious programs for undergraduates. Murthy is mentored by an advisory committee of three faculty, finance professor Paul Gilson, political science and human rights professor David Richards, and political science professor Kimberly Bergendahl.
After she graduates in 2021, Murthy plans to pursue both law and research through a JD/Ph.D. program.
"I believe that the next generation of businesses need to be more conscious and responsive to how their actions and decisions affect not just the bottom line, but the people impacted by their business practices, from employees to the communities in which they operate," Murthy said. "In my career, I want to work on innovative, responsible business practices."
From RA to Husky Ambassador to Patriots Fan
Murthy grew up in central Massachusetts, the older daughter of parents Pali, an engineer, and Harini, who works in health insurance. Both her parents immigrated from India. From her father, Murthy learned to love football; from her mother she developed a robust work ethic.
Growing up as a first-generation American, Murthy said she learned to appreciate both the culture she was born into and the one she lives in. This intercultural perspective has helped her in her pursuits by developing a globalized lens on the issues she studies.
While in high school, Murthy was a strong student, but when she started classes at UConn, her appreciation for learning and her interest in her courses deepened.
"I really love to learn new things and I don't want to squander any opportunity to do that," she said. "This love of learning and the topics that I am studying are what motivates and gets me through the really stressful periods of the semester."
One of the things she most appreciates about UConn is the ability for undergraduates to become involved in research almost immediately, said Murthy, who is a member of the UConn Honors Program and the Special Program in Law.
In addition to academic pursuits, Murthy has embraced other chances to grow. She is also a Resident Assistant, a Husky Ambassador, and a student administrative specialist for the mathematics department. During her free time, she enjoys photography, watching TV ("The Big Bang Theory," "NCIS-LA" and "Brooklyn 99"), joining friends for dinner, and watching the New England Patriots.
"One of my favorite memories was when my Dad surprised me by taking me to my first Patriots' game for my 18th birthday. We were freezing for most of the game, but it was such a fun day!," she said. "Even now, since I've been in college, we do our best to watch games together, even if it means being on FaceTime for hours on end, watching the game!"
Joslin Valivayeettil, a friend since freshman year, said Murthy is passionate about all her pursuits.
"Everything she does, whether it is for her academics, work, or others, is done through giving her 100% self," she said. "I have seen how seriously she takes her job as an RA while doing it to the best of her capabilities, and she applies that same high standard to everything else she does in life."
Initial Career Plan Went 'Haywire'
As a freshman, Murthy thought she knew exactly what her career path would be.
"I stepped on campus at UConn and immediately it felt like I was home," she said. "I came to UConn hell-bent on studying criminology, going to law school, and becoming a prosecutor."
During the summer before sophomore year, she completed an internship in the Worcester (Mass.) County District Attorney's Office.
"I loved the internship and my boss was amazing and taught me so much, but I didn't think it was the right choice for me," she said. "I came back to UConn and had a crisis. I thought, 'What am I going to do? My plan has gone haywire!'"
At her parents' suggestion, she looked into a business major.
"I had more or less made up my mind to apply to the business school. When I was introduced to the business human rights field in my 'HRTS 3252: Corporate Social Impact and Responsibility class,' I was enjoying it so much and that is what cemented my decision to add my third major."
"Shreya is hardworking and intellectually driven," said business law professor Robert Bird. "She represents the best of what our fine undergraduates have to offer. I have no doubt she will go far in whatever career she wishes to pursue."
Juggling three majors (and a political science minor) poses its challenges, Murthy said. It's often not possible to get a regular night's sleep and daytime naps have become part of her routine.
"On campus, I work to stay in the moment and prioritize what I need to be doing. I don't try to be multitasking, but I do have to think four steps ahead," she said.
"There is plenty of stress with a triple major. Sometimes I'm up until 4 a.m. getting projects done or, on my longest day, I don't get back to my dorm until 9 p.m. Every day, I spend an hour watching TV, hanging out with friends or calling my family. I have to take that time to get out of school mode."
Best Advice: Believe in Yourself, Your Choices
"I think the best advice I've gotten is to listen and believe in yourself and your choices," Murthy said. "My parents, advisors and friends continuously give me this advice in one form or the other and it has helped me make the decisions I need to about my academics and my life."
"Most importantly this advice helps me push through tough times and come out on the other end by reminding me of all of the people who care about me, and that I have the strength and confidence I need to succeed."