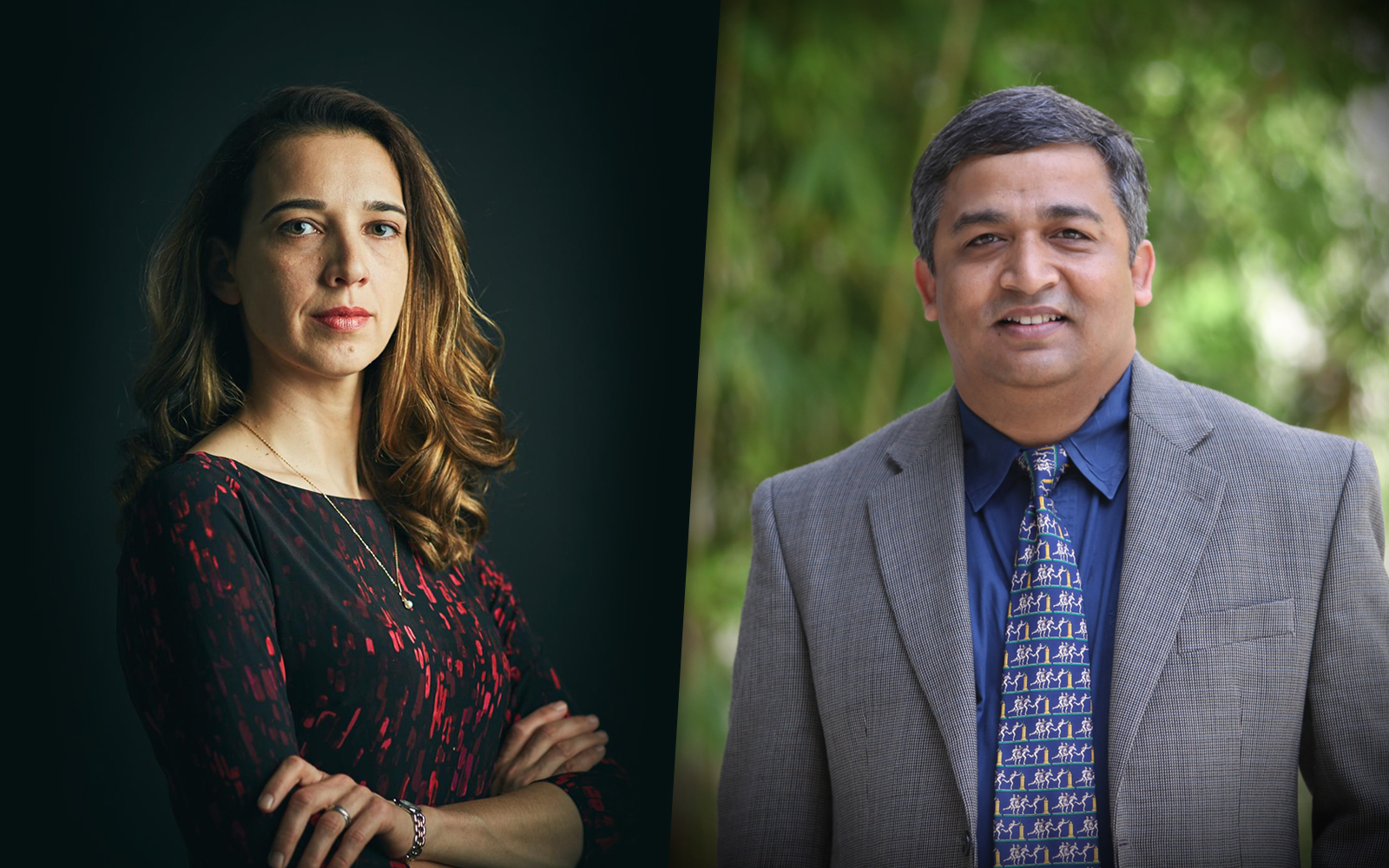 The UConn School of Business is welcoming two distinguished veteran faculty members this fall, including an accounting expert from Yale and a marketing professor who studies innovation.
Alina Lerman, who has worked at the Yale School of Management for eight years, will join the faculty as an assistant professor of accounting, and will teach in the MBA and Ph.D. programs.
Debanjan Mitra, joins the faculty from the University of Florida, bringing a passion for marketing, particularly exploring ways to quickly identify innovations that are more likely to succeed. He said he was drawn to UConn because of its marketing and big data expertise, and the opportunities to collaborate with the business school's research centers.
"We are excited to welcome these two distinguished faculty members who bring experience, excitement and academic excellence to their acclaimed departments," said David Souder, associate dean for graduate programs. "UConn's commitment to outstanding business programs helps attract top-caliber faculty that engage students in the classroom and develop new research partnerships."
Lerman Brings Up-to-the-Minute Accounting View to Classroom
Lerman earned her bachelor's degree in economics summa cum laude and her Ph.D. in accounting, both from New York University. Her research interests include financial accounting and capital markets, investor sophistication, corporate mandatory and voluntary disclosure and accounting regulation. Her work experience includes three years as a research associate for LECG, a securities litigation and forensic accounting firm.
"The accounting group at UConn is fantastic," she said. "The faculty have a wide range of interests and are known as productive researchers, excellent teachers, and significant contributors to the field of accounting."
Having worked with executives and other adult learners, Lerman said she likes to bring real-time news and accounting changes into her teaching. She added that she is eager to work with Ph.D. students.
"The Ph.D. program at UConn has been lovingly developed and attracts accounting students who are smart and intellectually curious. I'm looking forward to adding my perspective," she said.
Accounting, like most fields, is undergoing rapid change and there are many opportunities for those willing to take them. "Accounting continues to be a discipline where the demand for specialists is outstripping the supply," she said.
Lerman's empirical research focuses on the role of accounting information in capital markets, specifically the issues pertaining to mandatory and voluntary disclosures and the processing of disclosed information.
"I am particularly interested in contributing to our understanding how accounting information is utilized by market participants with varying degrees of sophistication, how various channels of disclosure transfer information, and what contributes to inefficient processing of information," she said. She is also interested in examining accounting regulation. Her work has been published in the Journal of Accounting Research, the Journal of Accounting and Economics and Review of Accounting Studies.
In addition to her professional accomplishments, Lerman is a mother to three children ages 10 and younger. In her spare time she enjoys reading and art.
Mitra Intrigued by Identifying Promising Innovation
Mitra said he was drawn to UConn because of the opportunity to explore innovation and whether it is possible to predict the success of a new idea or project in the early stages.
"I'm excited to be moving to UConn to achieve and build, and explore a new opportunity," he said. "My key focus is the idea of innovation. Everyone talks about it but I see great potential in researching it. Can we figure out, in the beginning stages, what will work and what will not? I look forward to working with people, including through the Werth Institute, who share my passion."
Mitra, an electrical engineering undergraduate from the Indian Institute of Technology who earned a Ph.D. in Marketing from New York University, said his interests include quality, customer satisfaction, new product development, and brand management, with a current focus on developing analytics using customers' verbal inputs.
His research has been published in the Journal of Marketing, the Journal of Marketing Research, Marketing Science, Management Science, and the Harvard Business Review, among others. He has been recognized with numerous awards from premier organizations including American Marketing Association, the Institute for Operations Research and the Management Sciences, and the Marketing Science Institute. His research has received media coverage in the Wall Street Journal, Financial Times, Bloomberg Businessweek, Forbes and CNN. Prior to his academic career, Mitra held various marketing positions at Coca Cola and Diageo.
Mitra jokes that 15 years in Florida have made him oblivious to the weather outside, but after moving to Connecticut he will have to pay closer attention. He and his wife have two young-adult children, one in high school, the other in college.
"I'm blessed. My wife is quitting her teaching job to move up here with me. She has always made my life easier," he said. "I'm just blessed."