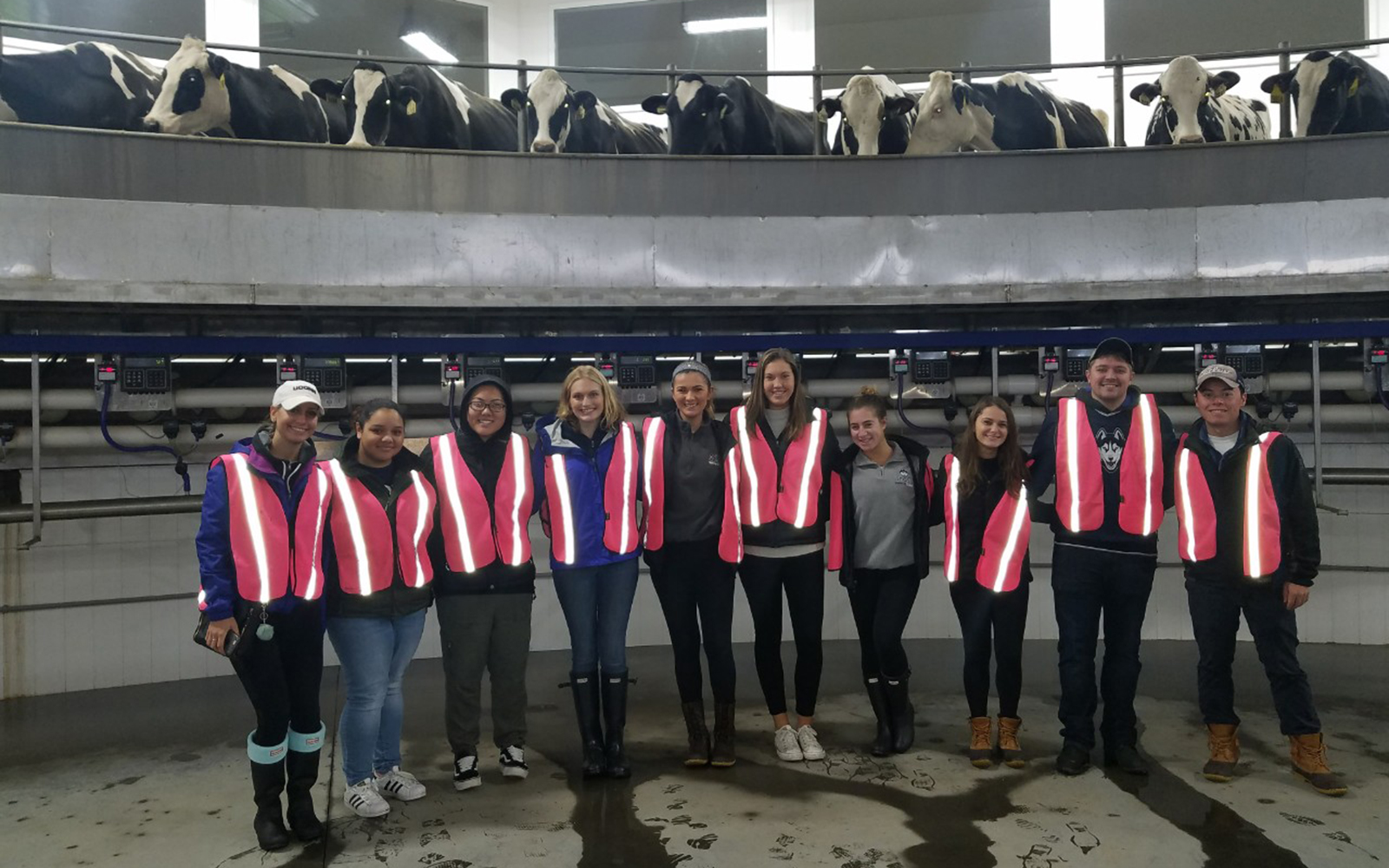 Ellington's Oakridge Dairy Seeks Business Expansion Suggestions from Marketing Students
The CEO of Oakridge Dairy Farm in Ellington is asking UConn's senior marketing students to offer ideas on new ways to generate income for the sprawling, 1,600-acre farm, which is one of the largest of its kind in Connecticut.
"We're looking at all different possibilities for expansion. This is something we're very serious about," said CEO Seth Bahler. "I thought that since we're close to a university with young ideas and millennial thinking—why not ask them for ideas? We've been brainstorming here, but 30 ideas are always better than one."
The 120-year old dairy farm has recently invested in new facilities and modern equipment to care for its 2,500 cows, and is looking to agri-tourism, and other options, as a means of offsetting the cost of modernization.
The students in Professor Cinthia Satornino's Marketing Planning and Strategy (MKTG 3362) senior capstone course were given carte blanche to come up with ideas, which will be presented to a panel of judges, including executives from Oakridge Dairy and their corporate partner this week.
"To truly add value to the organization, I urge them to think outside the box and to be innovative in the solutions they generate," Satornino said. "At UConn we emphasize the importance of preparing our students for the 'real world' with real-world experiences, and this kind of project does that.
"What I love most about this project is that our students are working with a local company and making an impact in the local community, while simultaneously applying the skills and knowledge they've learned throughout their marketing program," she continued. "This is a win for the company, the students, the community and UConn."
After doing extensive research about dairy farming, agri-tourism, Connecticut demographics and more, students have created a vast array of recommendations, ranging from summertime camp programs to offering vocational-agricultural classes to turning manure into energy.
Star Schoenmehl and her teammates recommended that Oakridge offer summer camps, as well as seasonal activities, such as a scarecrow contest, that will draw people to the farm.
"I'm from the heart of New Haven, a city girl through and through!," said Schoenmehl, unabashedly, but the chance to learn about agricultural commerce intrigued her. "This project has been really great. We don't always get to apply concepts that we learn in class directly to the business world. With this project we were given all the creativity we wanted to go about it in our own way."
Connor T. Jones said his team thought the dairy farm would be a great place to provide programs for children in elementary school science classes to learn about where milk comes from, as well as nutrition and food education. Jones, a native of Berlin, Conn., said after visiting the farm with his classmates, he was sure the staff would excel at informing and entertaining young students.
The project was much harder than Jones anticipated, especially finding reliable data on dairy farming. He credits his team's diverse talents with creating a successful proposal.
"Our professor cares about us as students, not just about grades. She wants to make sure we understand the concepts and can apply them to the real world," he said. "With this project, there was no right or wrong. There is no path, you have to make your own."
Sarah Curtis and her teammates opted to go out on a limb, avoiding tourism suggestions and recommending the farm use manure to create energy, sell extra feed to community partners, and offer vocational-agricultural programs to high school students.
"We didn't hold on to what the client expected, which was scary but exciting," said Curtis, of Southbury, Conn. "We tried to provide innovative solutions and we wanted them to be able to make money quickly."
Curtis, who lives across the street from a farm but isn't well versed on agriculture, said the project was among her favorites. She has already accepted a job with a Washington, D.C. management consulting firm and she thinks the capstone project will be valuable.
"To me this was a perfect opportunity to take the strategies that I've learned and test them out in a fail-safe environment," she said. "What's special is that this project could change people's lives and their impressions of the dairy industry. It was not an easy task, but I think it is absolutely something that will be beneficial in my career."
Bahler, who is a second-generation farmer, said the student project is exciting for the farm.
"This may open up a whole new arena for us," he said. "When we select an idea, I'd like to make it happen quickly."
He is even willing to hire a UConn graduate to spearhead the implementation. His parameters are few—simply a project that fits appropriately with the farm. If it helps promote the importance of farming, that's a bonus, he said.
"One of the real challenges we have is the way farmers are viewed by the public," Bahler said. "We're trying to produce food for people to eat. We are feeding the world. Yet we are not paid well. When you can buy milk for $1.50 or $2 a gallon, but it costs the farmer a lot more than that to make it, we struggle with expenses.
"We may be able to use these ideas not only to increase our revenue but to educate people about what we do and why we make some of the decisions we do," he said. "We want to educate people about modern-day farming because there are many misconceptions out there."
Student presentations to a panel of experts from Oakridge Dairy are scheduled for the week of December 4. Check here to learn which projects were selected for continued consideration.