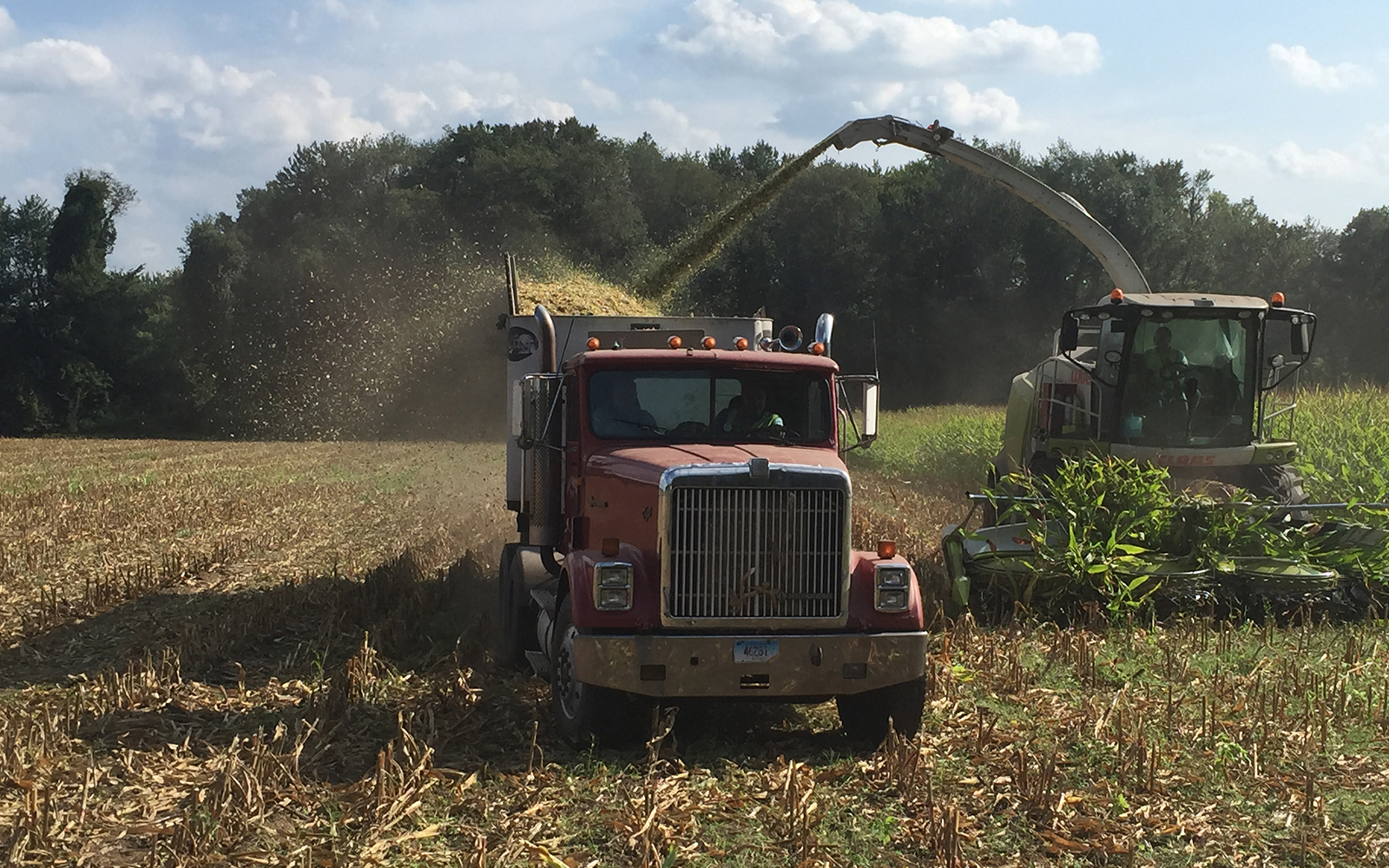 Student Marketing Team Wins Oakridge Dairy Competition with Creative Ideas to Draw Consumers to Farm
While all the students in Professor Cinthia Satornino's capstone marketing class brainstormed unique and creative growth ideas for Ellington's Oakridge Dairy, Team 2 was comprised of "udder" geniuses.
Seniors Matthew Erickson, Alexandra Fragola, Wenwen Chen and Connor T. Jones devised a marketing plan that includes:
Educational tours for elementary school students to learn about nutrition and farming;
Special Dairy Days that would include themed cooking and eating contests, including best mac-and-cheese recipe or fastest cookie eater;
Creation of private-label cheeses;
Tours of the farm on special six-seater bicycles; and
Wine-and-cheese painting nights in one of the barns.
But the idea that made CEO Seth Bahler chuckle was creating specialty bottles of milk featuring a photo and bio of an Oakridge Dairy cow, to be sold to premium retailers. "Meet Agnes," the mocked-up bottle said, "Single. Likes long walks through grassy meadows and being scratched between the ears!"
'We Took Our Work Very Seriously'
Oakridge Dairy Farm in Ellington asked UConn's senior marketing students to create revenue-generating ideas for the 1,600-acre farm, one the largest dairy farms in Connecticut. Bahler said he chose UConn as a strategic partner to tap into "young ideas and millennial thinking." The 120-year old farm has recently invested in new facilities and modern equipment to care for its 2,500 cows and is looking to agri-tourism as a means of offsetting the cost of modernization.
"We realized that Oakridge was reaching out to us, trusting us to make an informed business decision. That was our motivation," Jones said. "We had our light moments as a team, but we took our work very seriously. We had some luck, a lot of coffee and good instruction."
Erickson said the team tried to keep their ideas from becoming too complex.
"Although we were trying to come up with a fun, new way to draw people to the farm, we wanted to still keep most of our ideas relatively simple to implement," Erickson said. "We suggested hosting multiple farm-related events. One of the ideas that I'm excited to see is the multi-person bike. Visitors will have the opportunity to rent a bicycle that seats up to six people to tour the farm."
"Team 2's ideas were all very cool," Bahler, who judged the team projects–which ranged from summer camps to vo-ag classes to turning manure into energy–with other dairy executives and representatives of their corporate partner.
"The students had a lot of great ideas that really could boost our visibility. We are very serious about completing this project. We're looking for a 'star player' to come join our team. We want someone who wants to take this on and make it happen!"
The students in the capstone course worked very hard on their presentations for Oakridge Dairy, Satornino said. "As a result of their efforts, their presentations were very professional and the judges and I were impressed. The competition was very, very close, so I'm quite proud of this group of students for standing out in such a competitive field," she said.
Project is Final Preparation for Career
Both Chen and Fragola said they enjoyed working on a project that would benefit a real, not fictitious, company.
"As a marketing major, my future career purpose is to create value for a company, and enhance its brand image and value. This project provided me a real and unforgettable experience," said Chen, who liked the bicycle tour because it could satisfy families' needs to spend time with their children. "I learned so much."
"I'm most excited about our wine-and-cheese paint night recommendation," Fragola said. She can envision participants at the barn, with a glass of wine, fresh cheese and a group of friends all enjoying the evening.
"I think this project helped prepare me for my future career in many aspects," she said, including market research, data analysis, consumer needs and preparing a final presentation.
Satornino described the project as a "win" for Oakridge, the students, the community and UConn. "At UConn we emphasize the importance of preparing our students for the 'real world' and this kind of project does that," Satornino said.
For more details about this project, see 'Thirty Ideas Are Better Than One."