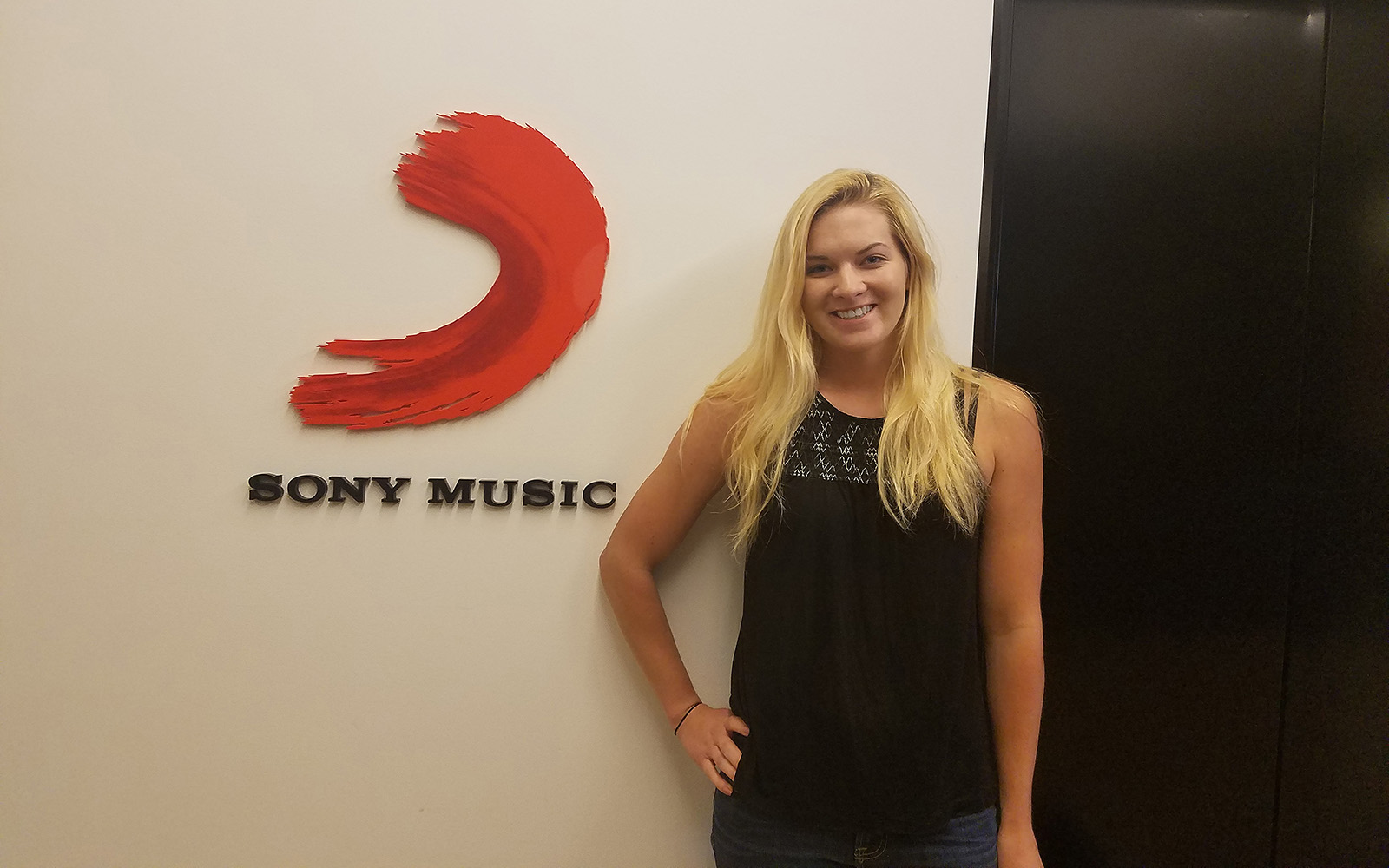 Maggie Quackenbush '17 Joins New, Two-Year Rotational Program for Recent Graduates Interested in Information Systems and Technology
Maggie Quackenbush '17 happily accepted a job at Sony Music because she can leverage her management information systems degree and learn something new every day.
But, if the members of her favorite bands, Aerosmith or AC/DC, happen to walk through the doors of the Manhattan record company, that will be a bonus thrill.
"I'm very excited to be joining Sony Music. I wanted to work in a creative industry," Quackenbush said. "I enjoy constantly learning new things, and I think that is what is great about the music business. There are always new genres, new artists and new ways of producing music."
Sony Music, the world's third-largest "record" company, is launching a new, two-year rotational program for recent graduates interested in information systems and technology. The applicant process was very competitive and Quackenbush is one of only two recent graduates accepted.
She expects to be working in both the Manhattan and New Jersey offices for 18 months, before spending six months abroad, most likely in Munich. Her first assignment will probably involve data analytics.
Finding the Right Major: Management Information Systems
Quackenbush's route to her MIS degree was a bit unusual. She enrolled in UConn as a human development and family studies major, interested in building on her experience working at a daycare center in high school and fostering her interest in psychology. But by the end of sophomore year, the Framingham, Mass.-native missed her math classes, craved a new challenge and began exploring different majors.
"I found MIS and it was the perfect match for me," she said. "As a former human development major, I'm interested in the perspective of how people interact with technology and also in helping people to use it."
Being Herself
Quackenbush, who played piano and violin as a child, now considers herself simply a music consumer who "can't be in the car without the music playing."
When she interviewed for the Sony position, she opted to be herself.
"I think they were looking for someone whose personality matched their culture," she said. "I have learned to acknowledge the fact that my background is different from many others. I've learned to make it a strength.
"From working with children, I know how to present things in easy-to-understand ways. I think creative companies are seeking people who can bridge the different aspects of their business," she said. "I tried to be myself and I figured if it was the right match, then it was meant to be."
It's OK to be Somewhat Picky
It was her adviser, OPIM professor Jon Moore, who told her about the job and urged her to apply. Living in New York City wasn't even on her radar, Quackenbush said.
"Jon advised me in the fall of senior year that it is OK to be somewhat picky, but not overly picky," she said. "He said, 'You can take your time and figure out your interests. You don't have to have an offer by winter break.' He understood that I wanted to find a creative company where I really wanted to work. He was supportive of that."
Moore describes Quackenbush as a top student who produced a number of creative projects in class that exceeded expectations.
"What always struck me most about Maggie was that she was a very hard worker. She switched her major halfway through to MIS, which is quite the different life path," he said. "She's really into gaming and design, so naturally she and I connected in my OPIM 4895 Gamification in Business course. I recommended her for the Sony position because it was something 'out of the box.' She had been looking around for something different, and I thought that it might be a good fit."
Someday, Quackenbush said, she can see herself designing video games for special needs children, a group that touches her heart. She has ideas for virtual-reality games that might help autistic and other children overcome anxiety in unfamiliar situations.
UConn: A Broad Educational Experience
During her four years at UConn, Quackenbush said she experienced a great mix of academic accomplishments and extracurricular activities.
"I definitely think I got the broad educational experience I wanted from UConn. Taking the general education classes was beneficial and I was lucky enough to be at a big school that allowed me to switch majors," she said. "I had a really good experience."
Outside the classroom, she volunteered as a mentor in the First Year Experience program; served as a member of the American Sign Language Club and as a teaching assistant for the class; became a member of the Information Management Association and was morale captain of the HuskyTHON dance marathon in which she participated for three years.
Beyond that, the experience of attending a large university taught Quackenbush to look for opportunities to distinguish herself.
"Going to a big school and finding 'your own place' in it is really great. I know that I can go to a big company and I can find ways to stand out," she said.
After completing two internships at Fidelity Investments during previous summers, she also recognizes the importance of tackling big challenges.
"Of course, I intend to do the work that I'm assigned, but I think it is a huge help to be a self-starter," she said. "I always try to look for projects that would enhance the company. That's something that benefits your career and your company."