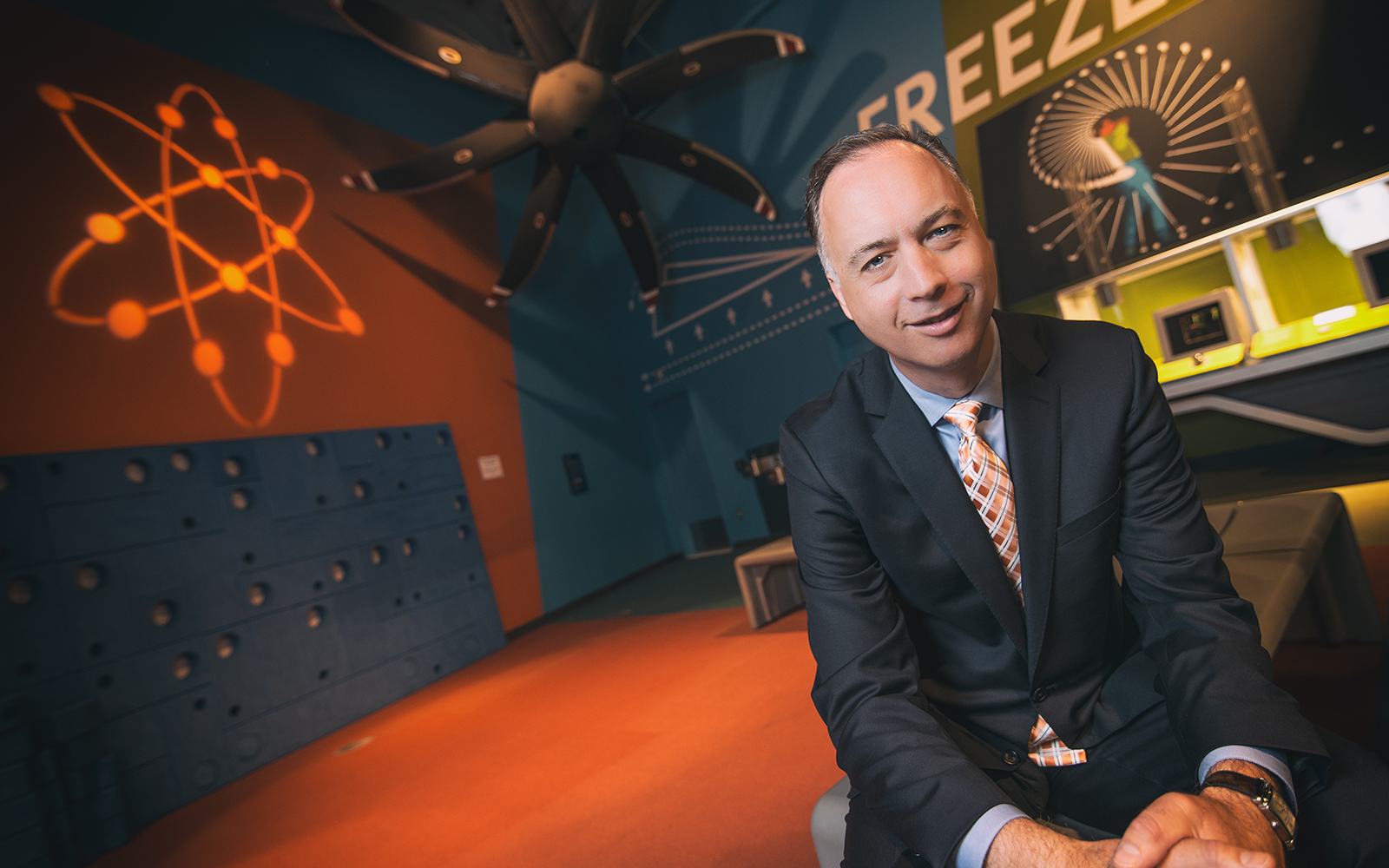 'You Can See People Enjoy What You've Created' Says Matt Fleury, CEO of CT Science Center
You can hardly blame Matt Fleury '07 EMBA for wishing it would rain.
The president and CEO of the popular Connecticut Science Center in Hartford knows that rainy days create skyrocketing attendance. On warm, sunny days, families head to the beach or to pick apples.
On a quick walk through the Science Center, which draws some 300,000 visitors annually, Fleury's eyes light up as he shows off his favorite exhibits: the laser harp, the outer-space displays, the hurricane simulator, the "mind ball" exhibit and the weather-forecasting center, to name a few.
A quick stop in the Freeze Frame 360 video station — where you can jump and dance in front of a backdrop of Downtown Hartford and then watch it replayed from every angle — brings a chuckle to Fleury. "This one doesn't guarantee your best angle," he quipped.
Promoting Science, Starting with Tots
Beyond his humor, Fleury is one of Connecticut's young, respected and exuberant leaders. He earned his MBA from UConn's Executive MBA program in 2007, while simultaneously creating the business plan for the nine-story museum that rivets downtown visitors.
More recently, he was appointed chairman of the Connecticut Board of Regents for Higher Education, the organization that oversees the state's 17 public universities and colleges, including Charter Oak State College, where Fleury earned his bachelor's degree. In a way, he said, he has an investment in Connecticut's young people—from tots to college.
At the Science Center, it is clear that Fleury loves what he does for a living—and its importance. Studies have shown that if a child isn't "hooked" on science by age 13, he or she is unlikely to develop an affinity for it, he said.
"I'm extraordinarily lucky to be doing something that I care about, that the community is invested in and that means so much to our kids," Fleury said. "It isn't many jobs where you get to see people enjoying what you've created. I step outside my office and get to see people soaking up, and enjoying, all that hard work."
Today, Fleury said, he still uses the analytics, the ability to frame scenarios and develop changing business models that he learned in the MBA program.
"I didn't expect to open a Science Center in the midst of a recession [June 2009] and it took discipline to manage through that," he said. "We've proven to be very resilient."
Selecting a traveling exhibit to host, like the Science Center's current one featuring some of Leonardo da Vinci's creations, is a big gamble. Not only does the exhibit need to be scientifically relevant, but able to draw a large audience, Fleury said, as well as be durable enough to survive a roving group of 11-year-olds.
"The whole magic is in presenting science, which can be daunting to many, in an intriguing way so that the audience wants to see it and learn more about it — and start to see science as something interesting and relevant," he said.
A Synergy… That Defines the Region
Beyond the day-to-day management of the Science Center and its 75-member staff, Fleury's role includes creating awareness of the museum and advocating and building support for the Science Center among individuals, businesses and policymakers.
"It's easy to do when you have a terrific story to tell," he said. "People appreciate what the Connecticut Science Center offers to our city, in terms of tourism, and what it offers to our state by exposing children to science, technology, engineering and mathematics."
"The Connecticut Science Center has become a significant tourism draw in Hartford, which the city had not had in many years," he said. "It's exciting to bring it in at a time of reemerging interest in the area. We have the Science Center, the expansion of UConn downtown, and other players that are creating synergy here that defines the region."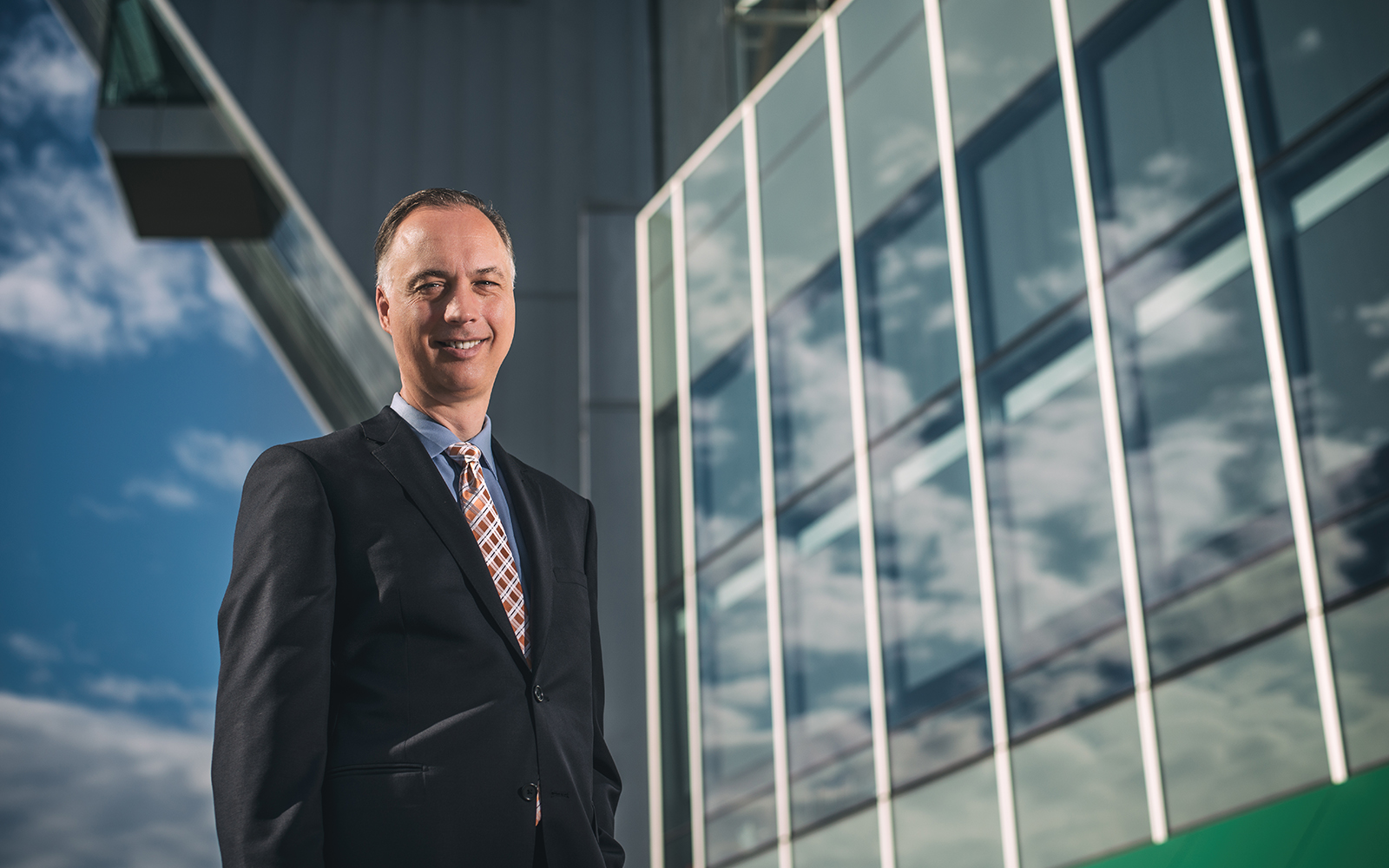 Board of Regents: Keeping College Accessible to All
In July, Fleury became chairman of the Board of Regents for Higher Education, the organization which governs the state's four smaller universities, 12 community colleges and Charter Oak, where Fleury earned his bachelor's degree in business and communications. He had previously attended Berkshire Community College in Massachusetts.
"The community colleges provide an opportunity for a great preponderance of people, young and older," he said. "They offer a great sense of value and opportunity for students facing economic challenges but who have the potential to succeed, and need a way to realize it."
He noted how many Connecticut companies rely on people on the cusp of retirement and that there are strong, high-paying jobs available to students who can master the skill sets needed.
"Connecticut's financial condition forces us all to think about things in a different way. Our challenge will be to work through all that," he said. "There are great opportunities within the state. We must make sure our higher educational institutions remain accessible to our citizens and remain the excellent academic institutions that we cherish."
Fleury said he believes a business background is useful to employees in any industry. "I find that employees who have a business sense have an advantage," he said. "The ability to make your good work 'sustainable' is important. The reality in any business is if you can't make enough money to pay your employees and give them a good quality of life, you won't survive."
Wife is a Local Celebrity
Fleury's wife, WFSB morning anchor Irene O'Connor, is a Hartford native. When asked if they are a "Hartford power couple," Fleury laughs. Hardly, he said.
"We're very fortunate to both have careers we find interesting and to be able to take care of our family. We both love our community and are invested in being here. We feel very lucky," he said. "Yes, we have challenging hours sometimes, but a lot of families are fighting a greater battle to make ends meet and their challenges are a lot greater than ours."
Their 7-year-old twin sons attended summer camp at the Science Center and now they think they own the place, Fleury jokes.
From the Science Center lobby, Fleury can see UConn's newest downtown Hartford campus. He talks enthusiastically about the changing city, the excitement over new apartments, the enthusiasm surrounding the new mayor and how some downtown restaurants are expanding. The growth in the city of Hartford has been inspiring, he said. Everyone benefits when a city thrives, he continued.
When asked about some of his favorite memories at the Science Center, Fleury doesn't hesitate. About two years ago, the Science Center added a 47-foot, animatronic T-Rex, a traveling display, to its exhibit halls. The dinosaur had to be lifted up on a crane from the street, leaving onlookers gaping, much like the kids who roam the Science Center's exhibits every day. You couldn't find a better way to showcase the Science Center — unless a real T-Rex had stomped down Columbus Boulevard, Fleury said.