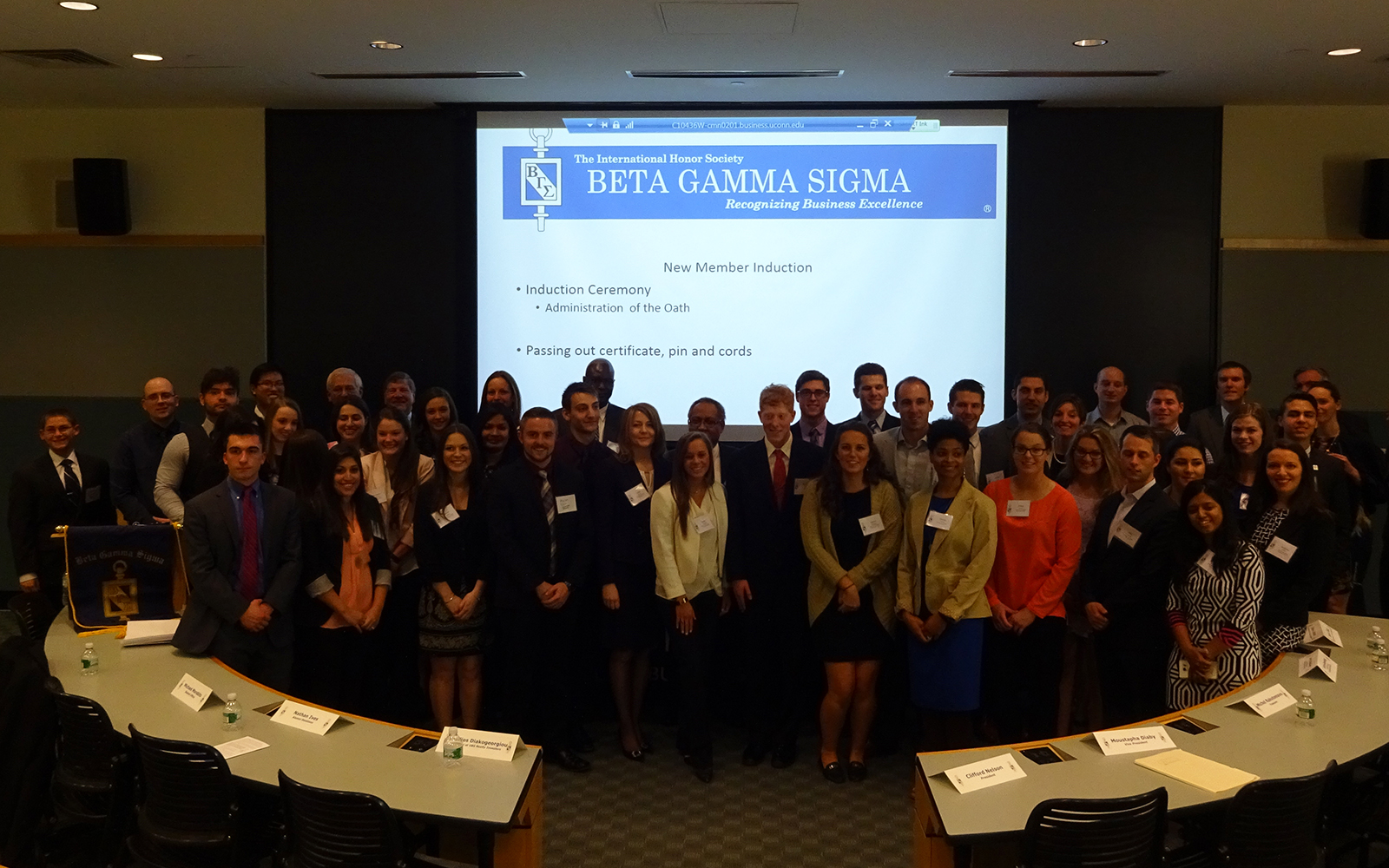 UConn Business Society Receives Highest Honors; Thriving Group Attracts Elite Students
The UConn chapter of Beta Gamma Sigma, an international honor society that recognizes outstanding academic achievements of collegiate business scholars, has been qualified for Highest Honors for the 2015-2016 academic year.
The status is indicative of a campus where academic excellence is valued and where the faculty officers of the chapter work diligently to enhance Beta Gamma Sigma's stature on campus, the society said in a written statement.
"We have built a robust presence at UConn," said Cliff Nelson, an accounting professor who has served as the organization's president of the Beta Gamma Sigma Faculty and Student Committee. "Last spring, 120 undergraduate, masters and doctoral students accepted invitations to join. This organization is for the elite students: the top 10 percent of undergraduates, top 20 percent of master degree students, and all doctoral students who are completing their thesis."
"It is prestigious, the highest honor you can achieve as an academic business major," he said. "I think it is something great to put on a resume and grab the attention of an employer. It is one more way of promoting yourself in terms of your performance and your talent."
Among the benefits of the high ranking is the opportunity for a UConn student to earn a leadership scholarship to attend the 2016 Beta Gamma Sigma Global Leadership Summit in Dallas in November.
For student members, there are also many networking opportunities, discounts on everything from rental cars to CPA exams, an exclusive job data-base and more. There are also career events sponsored by the UConn chapter of Beta Gamma Sigma.
Last year, Paul Millerd '07, who earned dual degrees in engineering and business and is a member of the society and a strategy and talent consultant at Russell Reynolds Associates, came to campus and spoke about how to "Land your Dream Job." It was well received, Nelson said.
The fraternity has been active at UConn since the 1970s. When John Elliott became the dean of the School of Business, he wanted to improve the presence of the society at UConn. Nelson, who became president five years ago, developed a strategy with the BGS committee to drive toward the dean's goal. Nelson and the chapter leaders worked diligently to inform students about the organization and to grow the membership through sponsored programs, including senior management speakers, displays, videos, presentations and even personal invitations.
It is difficult, Nelson said, to get students' interest, simply because there are so many competing opportunities to participate in interesting clubs and organizations on campus. But with input from students, staff and faculty, an aggressive "game plan" was developed and implemented, leading to the present recognition.