McEvoy and Jackson Earn Best Presentation Award
At the Academy of Business Research Conference in New Orleans on March 23-25, Nicole Jackson, Assistant Professor of Management, and Kevin McEvoy, Assistant Professor In-Residence of Marketing, earned a Best Session Presentation Award for their work titled, "Mindfulness, Marketing and Management – Is it all that?"
The two professors, both of the Stamford campus, were recently discussing their various interests in research. They realized they were both looking at studies concerning "Mindfulness." Mindfulness, considered a meditation practice, has shown positive effects in concentration, stress control, creativity and many other areas.
Nicole Jackson (Melissa Ferrigno/UConn School of Business)
Mindfulness has recently found its way into the academic realm. Marketers use mindfulness as a way to enhance decision making, reduce distractions and enhance creativity. Management professionals use mindfulness to improve training and development for human resource management and many other issues.
"My co-author, Nicole Jackson, and I are thrilled to have been able to present our research and represent the University of Connecticut at a level considered by our peers to be worthy of this award," McEvoy said. "We are excited to see UConn honored for research at a conference attended by colleagues from over 34 countries."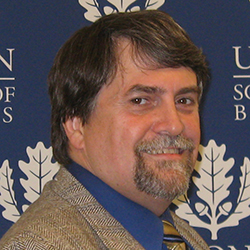 The pair reached across their own departments to team up and research mindfulness. They plan to continue their research collaboration.
"Both Nicole and Kevin are fantastic professors frequently receiving some of the highest teaching evaluations in the school," said Lucy Gilson, management professor and department head. "Seeing them collaborate together on research is truly the icing on the cake, and their work highlights a topic that is of interest to both academics and practitioners alike, we all need to start being more mindful rather than running around with our 'minds full.'"