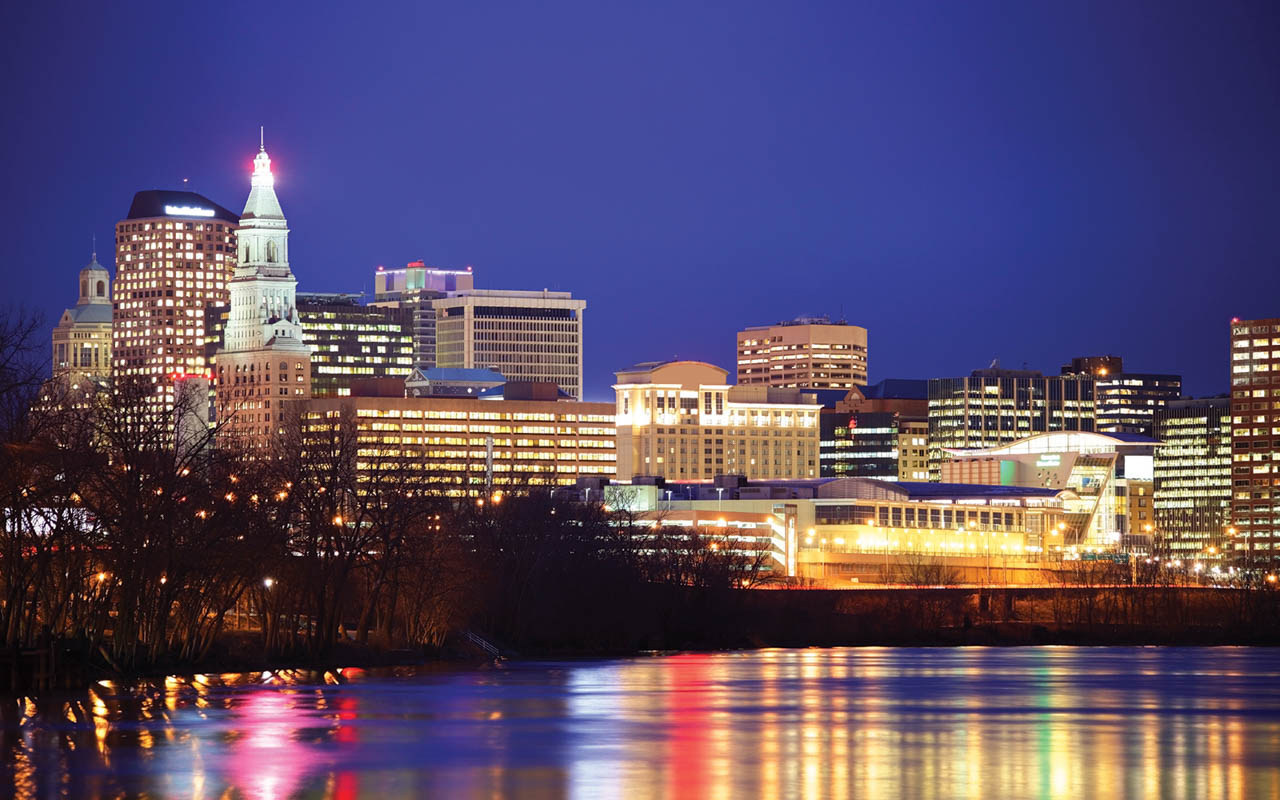 Executive MBA Grads Reconnect at Hartford Event, Say UConn Education Bolstered Their Careers
Joe Connolly '06 MBA, the vice president of administration and chief experience officer at St. Mary's Hospital in Waterbury, earned an MBA degree through UConn's Executive MBA (EMBA) Program because he thought greater financial knowledge would enhance his career. It did.
Caroline Ward '14 MBA, owner of Wildlife Artists, a plush toy company based in Bethel, Conn., said the EMBA program gave her important insight to manage a family-owned business. She learned the importance of surrounding yourself with people who think differently than you do.
Both Connolly and Ward are proud alumni of UConn's Executive MBA program, which structures courses around the work demands of busy executives.
Dozens of the program's alumni gathered at Agave Grill in downtown Hartford on Jan. 28 to network, socialize, and discuss how they could help promote the redesigned premier program, which has more than 850 alumni. Following the reception, the group attended a UConn men's basketball game at the XL Center.
School of Business Dean John A. Elliott and graduate program's Executive Director Colleen McGuire greeted the alumni. Elliott said he was impressed both by the varied career pursuits among the group and by their enthusiasm for the program.
"It was a great mix of some very recent alumni along with some of our alumni who graduated a decade or more ago," said Professor David Souder, the academic director of the Executive MBA program. "The energy was great and I enjoyed talking about everything from education policy to the local economy."
David Marceau '15 MBA, CEO of Ridgefield One, a temporary staffing agency, said the program has been a lifeline for him.
"When I started in the program, I wasn't sure it was the right one for me. I thought it was only for middle managers in large companies," he said. "I ended up learning a lot of things that I could apply in my business, and the program bolstered my confidence to make difficult decisions and to run with them."
After a difficult financial struggle and some personnel changes, the company is now poised for 100 percent growth this year.
"The program gave me the expertise, and the courage to lead this company," he said.
Chris Lappas '98 MBA, senior vice president at Stifel financial services, said he was always proud of his UConn degree and that he's committed to doing his part to promote the program.
His message to a prospective MBA student is straight-forward.
"Investing in yourself is the most important thing you can do throughout your career. Look for value in your investment."
"The most expensive is not always the best," he said. "This is a great school. We have to let people know. I got a great education from UConn."
Connolly also said the education he received served him well.
"I wanted to learn all the financial information," he said. "When I came into the program I was financially illiterate. I wanted to learn how to evaluate a balance sheet, how to understand risk, and much more. I earned my bachelor's degree from Boston University and my brother said, 'You really always wanted to be a Husky.' The brand was a part of it."
Connolly said he liked that the program was clearly structured and had a definitive start and ending. Since he paid for the program himself, the price was important. And he appreciated the "executive treatment" in the program, which is designed to be as worry-free as possible for students.
"Your energy is invested directly in the program, not in worrying about scheduling classes," said Connolly, now an adjunct professor in UConn's part-time MBA program in Waterbury.
Bob Sawicki '84, '95 MBA, senior vice president of talent management at Magellan Health Services, attended the event with his wife Marianne Sawicki '84, executive recruiting lead at Cigna.
"At the time, I enrolled in the Executive MBA program to learn the language of business, to help me as a human resources professional. I did not expect to get the variety of learning experiences that I did," he said. "I appreciated the variety of people in the program and the range of topics we covered in class. It broadened my exposure. I felt more capable of dealing with the senior executives where I worked, at Otis Elevator."
In addition to his classroom experience, Sawicki traveled to Singapore as part of his education, which he described as extremely valuable.
"I would say to prospective students that this is a great way to accelerate your business savvy, regardless of the field you're coming from. The classes, networking and the people you meet are going to change your life. It's a lot of work, but the investment pays off," said Sawicki, who is now an adjunct professor at UConn. He said he enjoys teaching the EMBA students, who have had valuable professional experiences, are invested in their courses, and are eager to learn.
Michael Bozzi, assistant director of UConn's executive business programs in Hartford, said he is looking forward to planning other networking events for the Executive MBA alumni.
"With EMBA alumni spanning 25 years, our graduates are doing incredible things, and to draw them together is beneficial for them, their businesses and for UConn," he said.