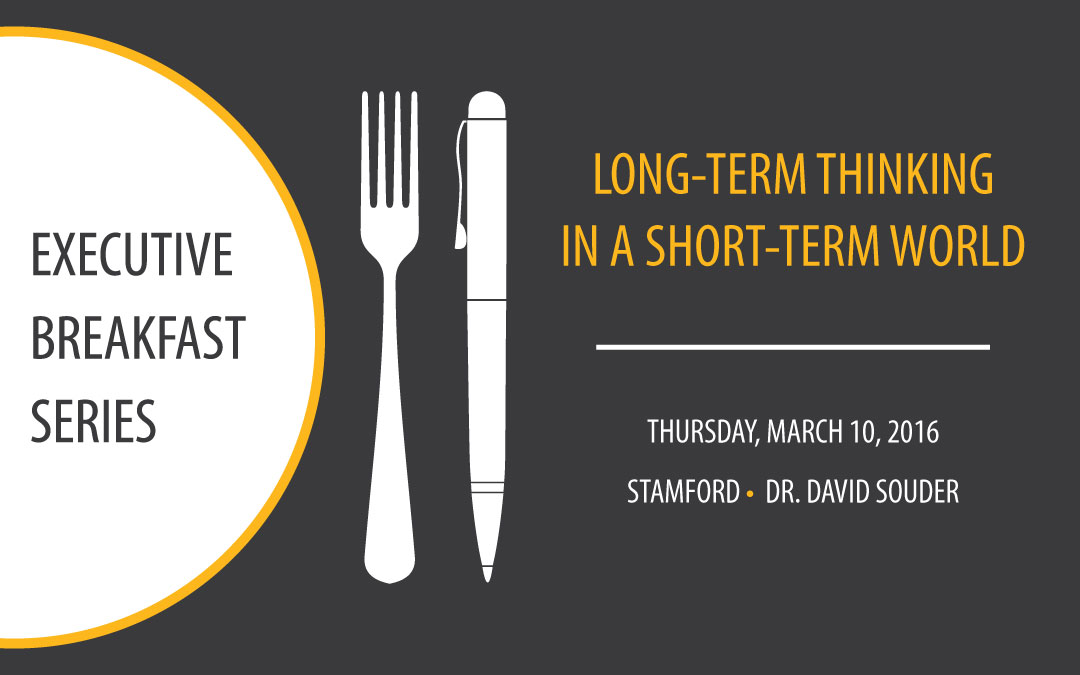 "Long-Term Thinking in a Short-Term World" is the topic of the UConn School of Business' second program in the Spring 2016 Thought Leadership Breakfast Seminar series.
The program will be March 10 at the UConn Stamford Campus, 1 University Place, Stamford, beginning at 7:30 a.m. with breakfast and networking. The keynote presentation, by management professor David Souder, will be from 8 to 8:45 a.m. Register here or for more information, please contact Katherine Ruiz at (203) 251-8465 or Katherine.Ruiz@business.uconn.edu.
In times of crisis and rapid change, short-term thinking helps firms survive. But, to prosper over the long-term, the transformational impact of long-term action is a necessity. Souder will share the latest thoughts on how to keep your organization prosperous by incorporating long-term thinking, even when facing pressure for short-term results.
Souder's ongoing research analyzes the experiences and consequences of firms' long-horizon investments, including capital infrastructure, organization design and mergers and acquisitions. His articles have been published in top academic journals. In conjunction with the Network for Business Sustainability, Souder is the lead author of a report on ways to incorporate long-term thinking into current business decisions.
Souder is the academic director of UConn's Executive MBA program and the Ph.D. Coordinator of the management department. Before joining academia, Souder spent a decade in the private sector as a strategy consultant based in New York and London. He also serves as the finance director for a start-up that launched a non-profit charter school in New York, and continues to advise business and community organizations.