Dean Elliott Assures International Students for Fall 2021
Watch this video to learn more about campus reopening for Fall '21, COVID vaccinations, in-person classes, and more.
The View From The Dean's Chair
The Dean's Fund
Gifts to the School of Business Dean's Fund provide support for the areas of greatest need at the UConn School of Business. The Fund supports innovative career programming such as FinTech, Data Analytics and the Business Connections Learning Center; international business and culture immersion experiences; and assistance for students affected by the COVID 19 pandemic. As we continue to mobilize the Dean's Fund to help support our students in need, I encourage you to join us and make a donation to the Dean's Fund through the UConn Foundation.
Dean's Fund Scholarships
The School of Business is offering emergency aid to current and future Business students whose financial need had been brought on or amplified by the effects of the COVID-19 Pandemic. This includes, but is not limited to, additional scholarship support, funding for access to remote learning, and access to supplementary learning opportunities if necessary.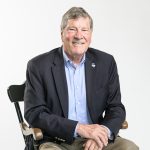 John A. Elliott
Dean and Auran J. Fox Chair in Business
Office of the Dean